As you may already know, 3veta strives to be your "go-to solution" for meeting clients online.
However, there are many different offerings in the market with different features and packages that are directed to a specific niche of online service providers.
It can be baffling how many options are available out there, but I'd say that only a few of them offer the optimal range of features for your business needs.
In this article, let's explore the pros and cons of 3veta and MeetFox, depending on your use case.
Overview: 3veta and MeetFox comparison
To begin with, both platforms offer excellent solutions to freelancers and online consultants –and really anyone who requires an online meeting to get paid.
Indeed, the two are rather similar in many aspects. If we must nail one big difference between the two, that would be their focus: 3veta is quite individual-centric, while MeetFox has enterprise plans, too.
To dig a bit deeper, 3veta's features could be narrowed down for those who are specifically working independently and are looking for an easy way to offer their services online and get paid.
These are wellness professionals, consultants, coaches, sales representatives, and other specialists who are working alone or in a small team.
All the essentials that are vital for starting an online business could be found at 3veta.
MeetFox, on the other hand, can also be used by bigger businesses, for example, attorney firms which want to allow their clients to keep in touch with them "from the convenience of their home". There are great team-access management features that can assist in this.
In terms of pricing, you can start for free on both platforms. 3veta allows you to use its full features during a 14-day trial, while MeetFox has a completely free plan or a 14-day free trial, as well.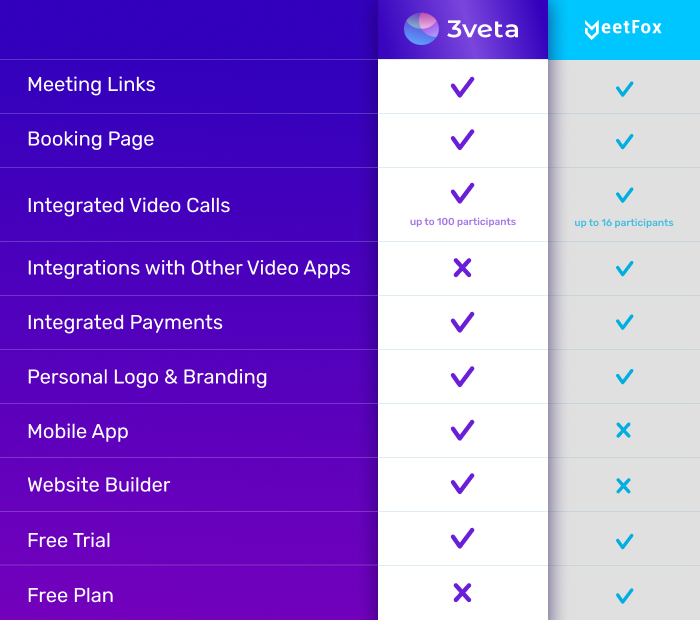 This is the overview.
In the following sections, we'll be closely looking at the key components for a successful online business and what exactly are MeetFox and 3veta putting on the table.
First steps
Both platforms have a great onboarding process. Upon registration, you'll only need to fill out a form with your name, email, and some details about your business. Nothing challenging, or time-consuming.
Once you join one of the platforms, you'll be able to enjoy a 14-day free trial. You'll have access to all of their features and you'll be able to examine how everything functions and see for yourself if something is exceeding or lacking.
We highly recommend starting your free trial and trying the tools for yourself!
Video conferencing
Video meetings are crucial for all kinds of service providers. So, let's see what 3veta and MeetFox got for us.
Both platforms have easy and secure in-browser video conferencing. Meaning that there's no need for you to download any additional tools or make registrations to other platforms.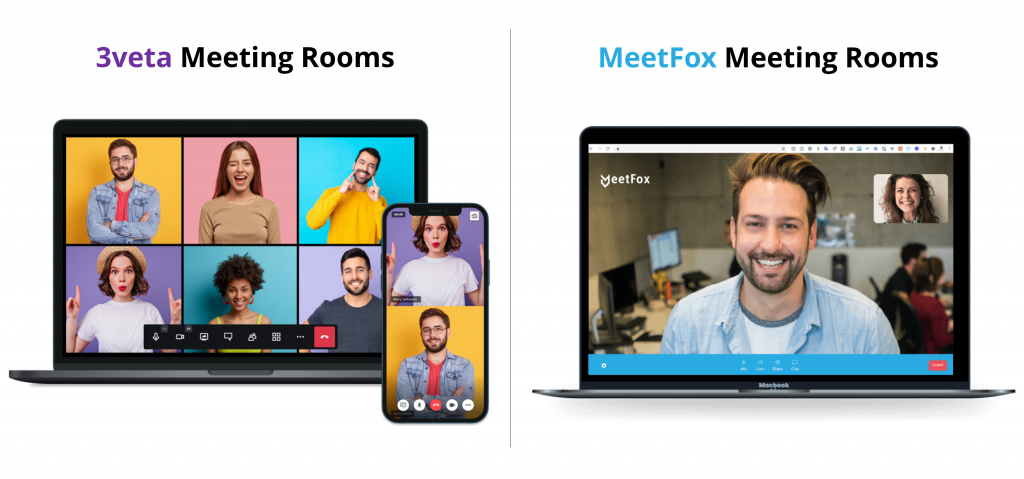 The video in 3veta is always in the browser and has Full HD quality. No matter the plan you choose, the video quality is the same. The capacity on the free plan is a maximum of 50 participants, while on the Premium plan it's up to 100.
MeetFox only has a free trial for its integrated video. However, if you're already paying for Zoom or Google Meet, they allow you to integrate this service.
Both platforms allow you to create a meeting link with a few clicks and send it out as an invitation to your clients. They also have all the standard features: screen sharing, meeting controls, recording, etc.
In terms of the best features, 3veta and MeetFox are on par, too. On both platforms, you can add your personal logo and branding. Pretty cool!
The main difference is that MeetFox meetings have a maximum capacity of 16 people on their highest-paid plan.
Need a booking page?
Both 3veta and MeetFox have great functionalities for building booking pages. They compare quite well in terms of this feature.
The main difference here is the visual appeal you're looking for.
Both look great – it depends on you which one you prefer!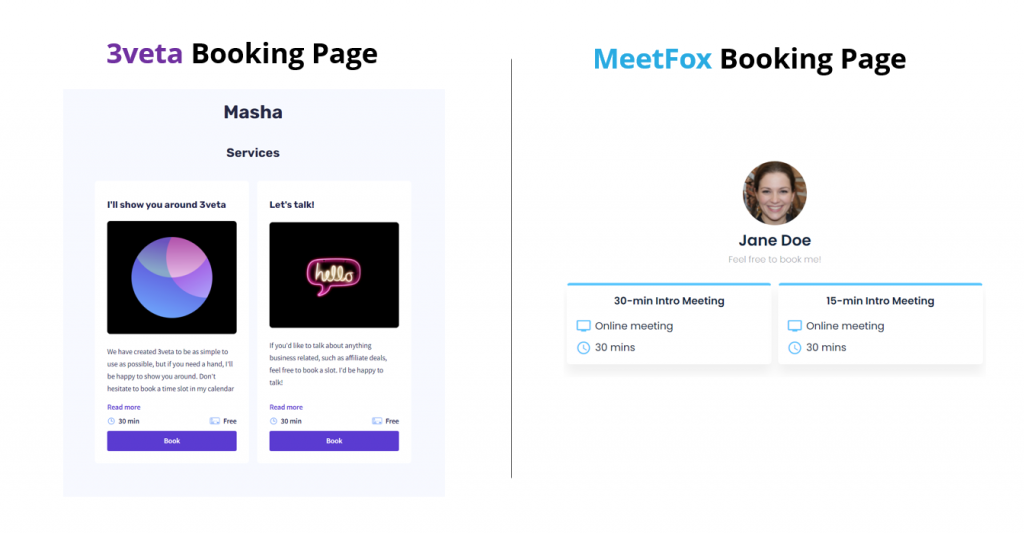 Building a website
No website yet? Feeling anxious about creating one because you don't have any previous experience in such matters?
No worries!
As one of 3veta's co-founders says, using the website builder "feels like child's play, it's fun instead of frustrating and there's nothing to figure out".
Indeed, you don't have to be tech-savvy to create an eye-catching, elegant, and well-functioning website that will satisfy both your business and your client's needs.
Such a website will be an amazing tool that will make you more approachable and your clients will be able to easily contact you.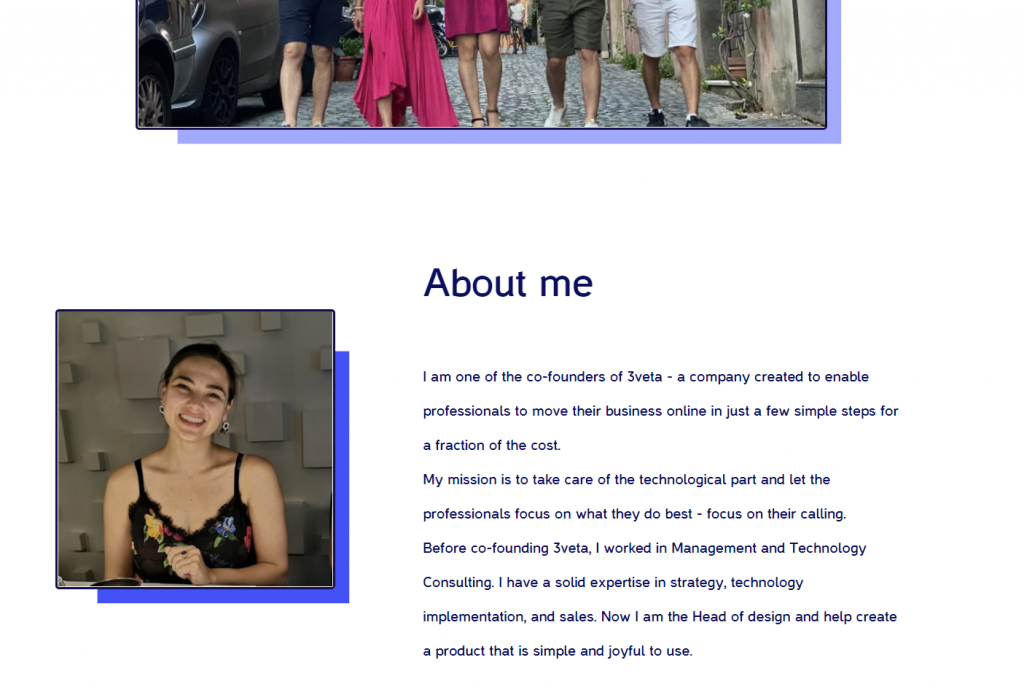 Check the full website over here.
As for MeetFox, the platform doesn't facilitate service providers with a website builder.
If you already have an existing, established website, then you'll be able to integrate it to MeetFox, but if you're new to the business this might appear as a slight inconvenience that you should take note of.
Mobile app
Working remotely sometimes poses different challenges, one of them is using multiple devices to manage your business.
If you're hitting the road or you don't have access to your laptop, a mobile app is a life-saver.
3veta's mobile app is available for iOS as well as Android, allows you to see all your appointments, and has a video call function, which makes you available at all times and in all situations.
Your customers can also use it!
MeetFox fails us in this category since they are entirely web-based. While the platform is fully functional in the mobile web browser, the in-browser video calls can be interrupted since they're not in a standalone app.
Payments and pricing
Here, you'll find more similarities than differences.
Both scheduling platforms integrate Stripe payments no matter your subscription plan.
You'll be able to securely arrange your payment process without worrying about no-shows, difficult conversations with your clients, and other inconveniences.
The platforms will send automatic invoices to your clients and you'll receive your payments after each meeting.
As for the transaction fees, 3veta and MeetFox both charge 5% per transaction on their lowest plans. For their higher-paid plans, both companies do not charge a commission.
In terms of the fixed fees, the 3veta Basic Plan is $7/month, while the Premium plan is $49/month.
MeetFox on the other hand boasts a free plan, $10/month for the Pro Plan and $35/month for the Premium plan.
The game is over
Now that you know what each player's capabilities are, it's your turn to decide.
To summarize, we have highlighted that both platforms offer excellent solutions for your online business.
As always, it really depends on what your use case is.
One thing is for sure – both software have a 14-day free trial. Don't hesitate to take advantage of it!