The benefits of home-based businesses are endless and becoming a successful self-made entrepreneur is no longer an impossible task thanks to the technological modern era we live in.
However, there is a particular toolset that you'll need in order to navigate through the virtual space and manage the needs of your business.
It is not rocket science, but it could be confusing because of the abundance of apps and platforms on the market.
In this article, we'll be presenting 21 of the top remote team software that could help your online business grow in alphabetical order.
1. 3veta
3veta is an online video conferencing tool that came up during the pandemic.
It is an all-in-one solution for teams (and individuals) who need to communicate and collaborate remotely. Some of its core features include: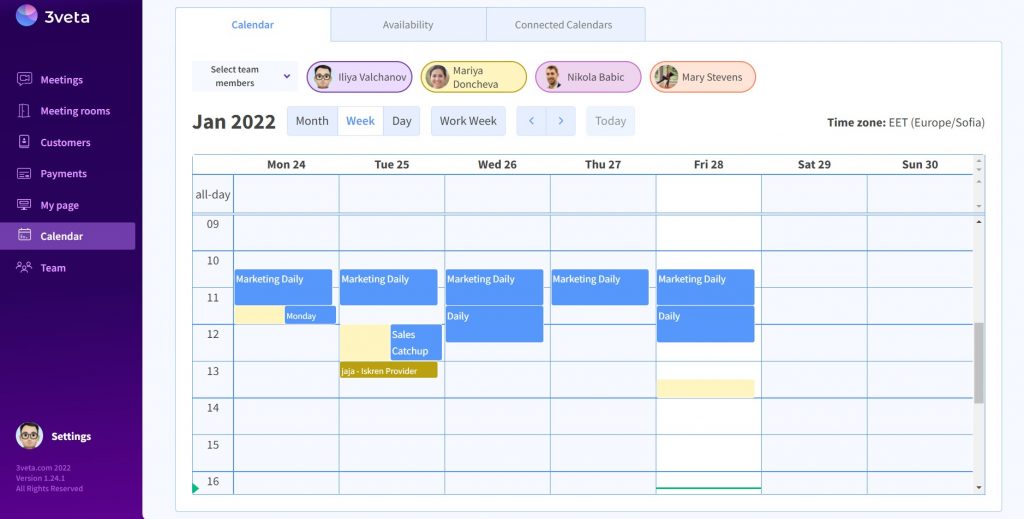 The platform guides you through the most essential steps for your digital venture and helps you work remotely in the simplest manner possible.
You can share links for video meetings, set your availability and create a booking page, organize all your calendars into one, even build a compelling website, receive payments via Stripe, and brand all of this with your own company name and logo.
💡 Pro tip
3veta gives you complete freedom of action and control over every step of the meeting process. You and your team members will always be up-to-date thanks to the great team features and email reminders.
2. Assista
Assista is remote team software that tracks your time and performance and gives you insights into how your team is doing.
It's an add-on for Trello (see below) and once you grant the app access to your board, it can automatically track how much time you or your colleagues spend on a task.
It is a perfect tool both for tracking the time internally, as well as working with freelancers on a pay-by-the-hour basis.
The bot creates time-related reports based on your actions on the boards you've authorized access to.
You can try it out for free and after 14 days a small fee per active user will be applied.
3. Canva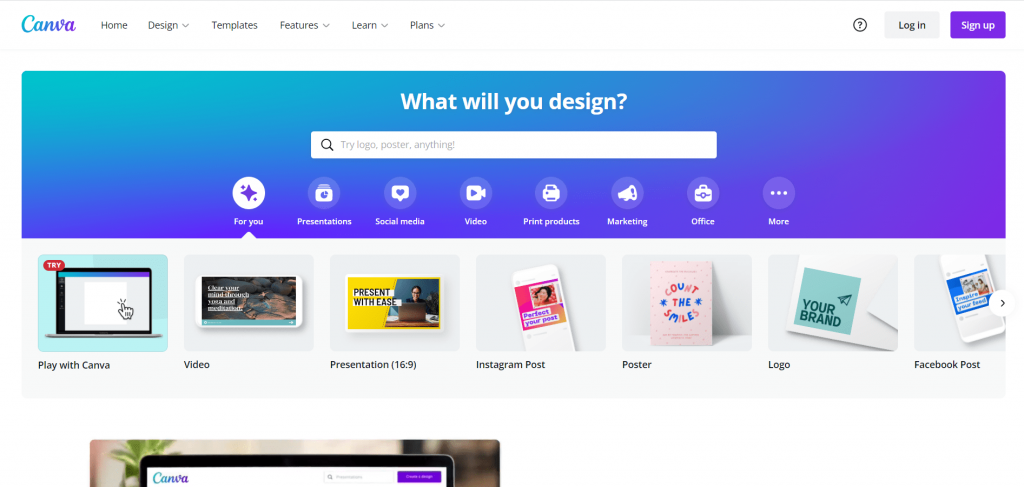 We can all agree upon the statement that the virtual world slightly depersonalizes ideas, making them more difficult to follow or imagine.
People are visual creatures, most of them won't remember the text on the presentation but they'll remember the pictures.
That's why business professionals have to focus on the visuals they provide alongside the reports, stats, plans, projects, and other wordy files.
Canva is an amazing remote team software that is not only great for creating your design, importing it in the desired format, and sharing it with others, but it's also great for collaboration with freelance designers, for example.
The possibilities for your creativity are endless because you can create presentations, videos, social media posts, posters, logos, flyers, resumes, and documents and add your individual sparkle to each project.
It has almost no learning curve and even the person with the worst imagination can create stunning visuals using it.
4. Channels
Channels is a key remote work software for businesses that can benefit from a data-driven phone system.
The platform displays important customer information before each call which makes you feel more prepared and well-informed. For instance, you'll get to see a client's name and purchase history.
Your customers will be able to call you from all around the world directly from your website, no charges applied. After all, their needs come first and you need to provide the best possible customer experience.
Furthermore, you can make your customer service more diverse by taking advantage of the two-way SMS feature. This makes it easy to talk to your clients via text messages as well.
5. Doodle
Doodle is a quite efficient time-managing tool that will help you find the best time slot for a particular task, meeting, or any collective activity.
Usually, when you have to meet with somebody you'll exchange a few emails back and forth until you synchronize your schedules. This platform helps you automate this process completely and save a lot of time and hassle.
You can create a booking page or see someone else's availability to arrange a meeting within a few minutes.
No more struggling with time zones, no-shows, endless emails, and impossibly busy schedules.
6. Dropbox
Dropbox is one of the most popular virtual cloud storage systems. It provides you with (un)limited (depending on your plan) storage of documents and files. Dropbox is quite useful for individuals but it also has quite powerful team plans for securely sharing files and information.
Here are some of the key advantages of Dropbox:
Recover deleted files and restore previous versions.
Deliver final files that are up to 100 GB to your clients.
Have full access and control over your folders and delete data from lost or stolen devices.
Protect your links with passwords, set expiration dates, or disable downloads for ultimate security.
I for one use Dropbox for years to backup all of my most important files or share them with external people.
7. Email Analytics
Email Analytics gives you access to daily email activity reports and calculates your average email response.
You can track your employees' inbox activity remotely and keep tabs on their productivity.
If your business is mainly focused on customer support, the calculation of average email response time is of utmost importance. The platform can help you optimize your team's productivity and identify top performers.
You don't need to install anything, all you have to do is connect your email and add team members.
After that, you'll receive weekly or monthly reports with all the data needed to improve the email response time.
8. Figma
When it comes to design, Adobe has always been at the forefront. Until Figma came along.
Figma is a graphics editing app that is created with collaboration in mind. With it, you can craft social media posts, wireframe websites, and prototype designs.
You can use Figma to create interactive designs thanks to the smart animation and dynamic overlays.
And you can share, present, and test out your creations to gather feedback or further iterate the design.
The platform also offers an introduction to user-interface design learning in case you are unfamiliar with the subject. It includes a number of video tutorials with additional exercises.
Unlike Adobe products, Figma is entirely web-based, meaning that there's no need for you to download any additional applications because everything is happening in your browser.
9. GitHub
GitHub is the go-to place for IT specialists who need a virtual space to store and manage their code. As the name suggests, GitHub is the hub for Git. The platform provides developers with two a sleek UX and UI for Git (an open-source version control system that allows developers to access the entire codebase and history of changes to conduct branching and merging).
And when it comes to code, version control is what matters the most. Through git (and obviously GitHub) professionals can track and manage changes to a software project's code. This allows developers to safely modify a particular part of the code without the risk of damaging the original source code. These changes are made by the practice of branching (duplicating part of the code, usually locally) and merging (making the changes official by merging into the core codebase).
The interface of GitHub is so easy to navigate that even IT newbies can make use of the platform.
It is also suitable for hosting other types of projects such as writing a book or sharing a data science or coding portfolio with prospective employers.
10. Google Sheets & Google Docs
If you are collaborating actively with others on documents, files, sheets, and slides, then you must be aware of the features of Google Docs, Slides, and Sheets that are a part of the Google Workspace.
Through these, Google set the standard for simultaneously working on projects with your clients or colleagues without continuously exchanging updated files.
Everything happens in the cloud and you, as an admin, get to decide who has access to the files, who can only see the contents, and who can also contribute.
For every change, comment, or shared file, you'll get a notification via email. There's also full version history of all changes in case you want to roll back to an older version of a file.
11. Krisp
One of the most essential parts of every online business is that you'll inevitably have to host a lot of virtual meetings. And we mean A LOT.
However, another essential part is that you'll often be on the go – traveling, or at home – with your kids or pets, and it can be noisy around you.
Krisp is a great remote team software that solves this problem.
It works on every system and removes background noise and echo from meetings. Now your clients and teammates can finally appreciate your beautiful voice and not those of your children.
12. Kudos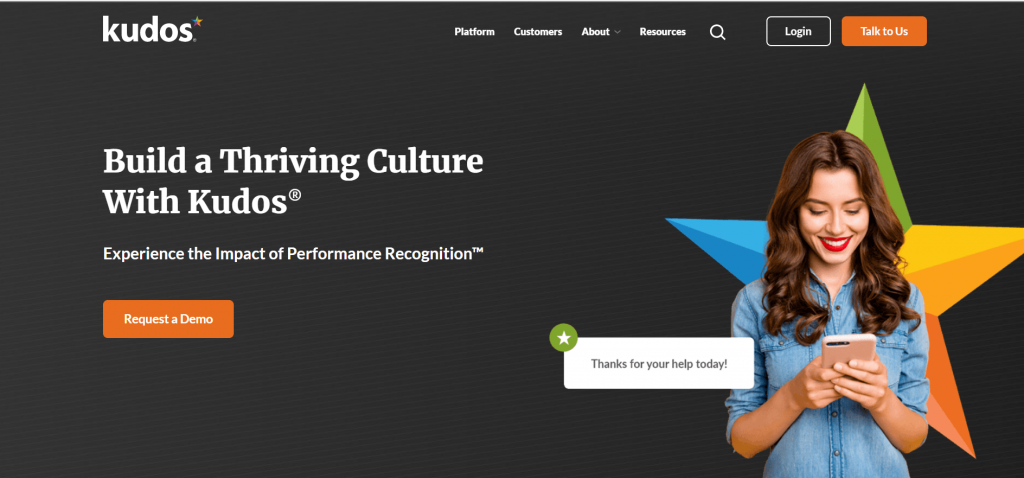 While speaking of making friends and how important relationships are, we have to mention that using employee engagement software helps in this regard.
Kudos provides social functions for team celebrations and point-based peer-to-peer recognition. The platform facilitates the promotion of individual and group wins, the celebration of birthdays and anniversaries.
All of these things can be tricky when working remotely but their significance should not be undermined.
Everyone likes to be appreciated and seen as a valuable member of the team so instead of physically giving each other fist-bumps, why not send a virtual 'thank you' card?
13. Leave Dates
Small businesses are usually composed of small teams, but as your online venture grows, you'll find yourself in need of remote work software that tracks the absence of staff members.
A staff holiday booking system such as Leave Dates records everyone's time off and helps you plan better and be aware of the availability of your manpower.
Of course, the app gives employees the right to privacy and they can choose to hide the reason behind their leave.
The core idea behind the app is to avoid having people on leave without notifying their colleagues whose projects might depend on them, or without having someone as their substitute.
If you are using Slack, you can even automate messages to let everyone in the organization know if someone will be absent that day.
14. Loom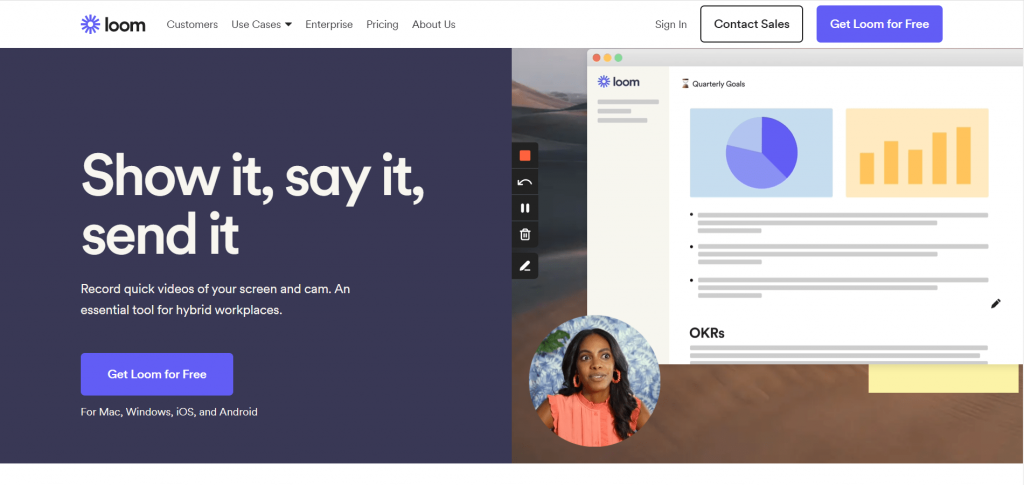 I know that sometimes you want to pass on a message that is too long to be written in the chat, too short to organize a whole video meeting for it, and too complicated to be explained without any visuals.
Loom gives you the perfect solution. With this app, you can record short videos while sharing your screen so that you can make a high-quality voiceover.
You can turn on your camera and position yourself in a screen corner of your choice to make it more personal or let the viewer focus on what you're discussing and rely solely on the screen recorder.
It is a great app if you are tired of making one-on-one calls in order to explain the same thing over and over again.
Save time and effort, use Loom.
15. Microsoft OneNote
Microsoft OneNote is another great software that flourishes when it comes to remote work.
No matter what your profession is, note-taking is a must because it helps you be more organized, remember all the important stuff, plan and highlight your future activities.
You can use the app across all of your devices to revise, highlight or make ink annotations on your notes.
You can also share all of your ideas with other people and collaborate on them together.
Not to mention that you can attach different files such as recorded audio notes, videos, documents, images, and others.
16. Miro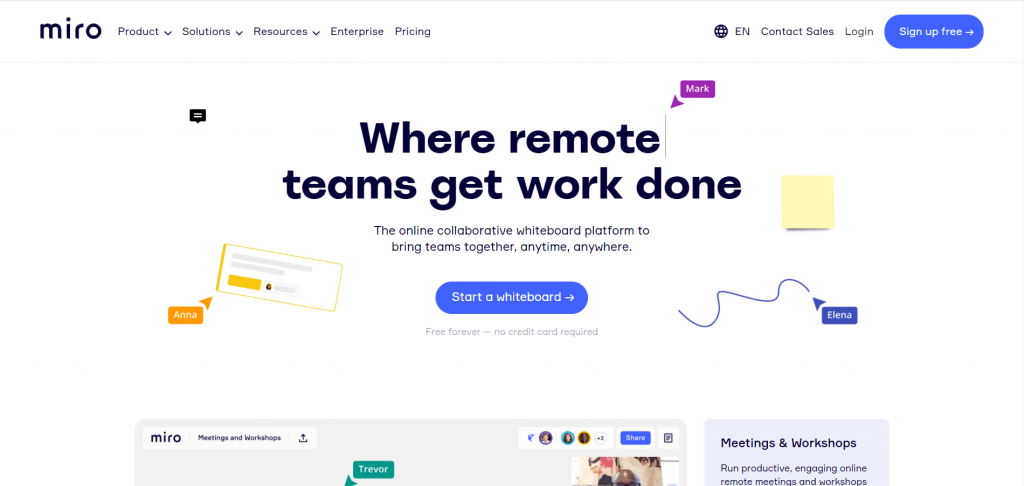 Miro is a remote team collaboration software that provides you with an online whiteboard with an infinite amount of canvases.
As soon as you register, you can start working on your projects with the help of others.
You can use Miro to digitize your handwritten sticky notes, brainstorm ideas with your teammates, present proposals, and collaborate on projects in real-time.
Furthermore, it is suitable for the organization and support of workshops and online classes.
You can make use of their free plan and see whether it is the right solution for your business!
17. Qooper
Qooper is an excellent remote work software if you are working with a more extensive number of people and you want them to interact with each other more and exchange experiences.
The platform offers team follow-ups and check-ins, built-in mentoring, and mechanisms for matching mentee-mentor pairs.
The whole idea is to allow employees to enrich their skill set by learning from others. It is important to create a knowledge-sharing network and employ e-learning techniques to improve your team's functionality.
Additionally, they'll be able to create lasting team bonds or even meaningful relationships. Because the virtual world often takes away the opportunity to make friends in the workplace.
18. Slack
Who has not heard about Slack? Still, not everyone is yet using it and it is a notable addition to this list.
As we mentioned, miscommunication is one of the biggest issues online. If you want to easily contact your teammates, colleagues, employers, or employees, Slack is the way to go.
The platform offers different ways to interact with each other:
Channels – You can create virtual spaces for each team and gather the right people together to share information about, discuss, and collaborate on different projects.
Slack Connect – This feature allows you to contact your partners or other companies who work on Slack.
Threads – Every message can turn into a thread. With threads you can only focus on the most important messages, instead of following all messages at all times.
Voice and video calls – In case you are tired of typing and you want an immediate response. While Slack's video features are not top of the class, they still do the job.
Integrations – Integrations are what made Slack… well, Slack. You can connect your profiles to Google, Office 365, and around 2,200 other apps.
19. Team Viewer
Now, a common issue among professionals working from home is that when they face a technical or another type of challenge it could be hard to explain it to someone and fix it without any help.
That's when TeamViewer comes along and gives them remote access, remote control, and remote support over someone else's computer.
Don't panic in case of tech mishaps, glitches, system crashes, and device failures. Instead of calling experts and requesting on-site help, you can just use TeamViewer's services.
The platform offers you IT professional help and secures instant remote support.
20. Trello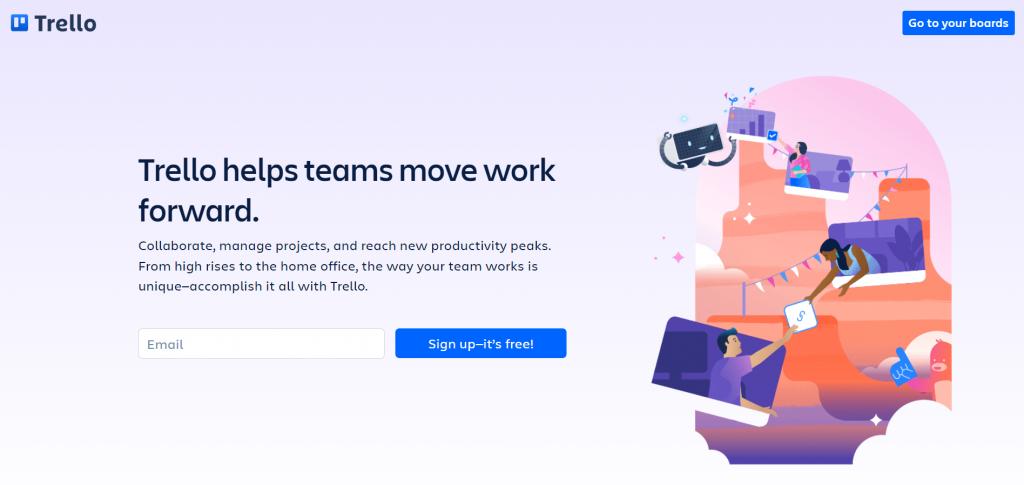 Trello is the perfect tool to use when you are working on various projects with different people. It facilitates collaboration by organizing your projects into boards.
The platform helps you follow the work progress, shows who is working on what and what are the next steps.
Every project looks like a sticky note and can be customized and personalized by adding members, photos, documents, comments, checklists, and so on.
It is the ultimate collaboration tool because you can access it on every device you own and modify it according to your purposes.
Trello is the go-to solution not only for to-do lists but also complex pipelines.
21. UpWork
UpWork is a great platform for finding freelancers that could help you do something that is out of your scope but is essential for completing a project.
How does it work?
You post a job and tell the platform what you are looking for with as many details as possible and within 24 hours you'll receive qualified proposals from potential candidates.
You can meet up and start collaborating on a project after your approval.
The payment process is also quite simple, you'll receive invoices and make payments through the app. Don't worry about potential confusion, you'll be asked to pay only for the work you've authorized beforehand.
Did you find the best remote team software for your business?
We believe that with this list of 21 remote team applications, you can do wonders with your virtual business!
We tried to cover almost every aspect of a successful online venture and it is now up to you to decide which one/s could be useful for your growth.
Our advice is to experiment, combine different platforms, make use of the free trials, and be persistent.
Because Elbert Hubbard has once said, "A little more persistence, a little more effort, and what seemed hopeless failure may turn to glorious success".
And this could be very much applied to every new take-up.