Our team at 3veta wanted to understand more about the customer attitude towards online services provided via video meetings.
We have already presented you with the overall results of our market study, carried out in 2020. They clearly show that most of us have already adopted services via virtual consultation and will continue to use them in the future. But which ones will be most in-demand in 2021 and the years to come?
Here are the top contenders.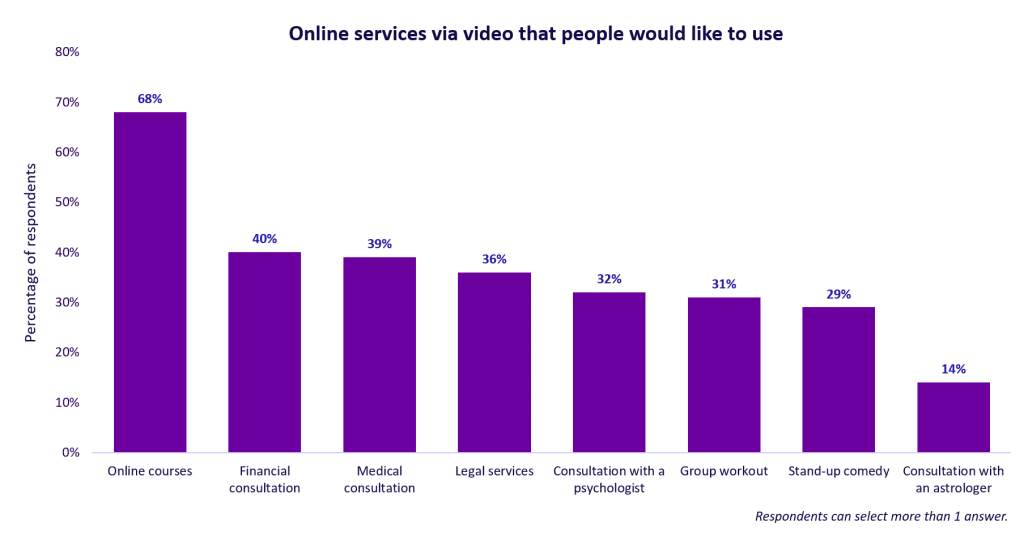 Educational services – 68%
68% from our participants are happy to try online video lessons.
What makes this category so popular?
Education is one of the most valued assets everywhere in the world. Many people have realized that there is nothing more rewarding than investing in yourself. And these days everyone can do it regardless of their age.
There is another significant fact to consider. Thanks to virtual consultation calls we now have access to "lessons" that were previously possible only with a face-to-face meeting. Some good examples include:
Professional trainings
Consultations for university applications
Job interview/assessment centre prep services
Preparation for driving theory exam
Cooking lessons
Courses for future parents
This is only a part of the list. There are barely any skills left that you can't learn via online lessons. And new skills are always in fashion!
Financial consultations – 40%
Financial consultations are the vice-champion in the category "Online services with greatest potential". They are spurring an interest in about 40% of all respondents! Given the boom of investment platforms and robo advisors in the recent years, it is surprising that many financial consultants have not yet started offering their services via virtual consultation.
Just like people are ready to invest in themselves via education, they want their other investments to be well planned, too. This applies to pension savings, inheritance, prenups or even just the choice of a credit card.
Medical consultations – 39%
I wouldn't say that the high potential of medical consultations shown in the survey is surprising to anyone. They are already among the most popular video services and despite that they still have a lot of room to grow. It is interesting to reflect a little as to why they are in so much demand.
When it comes to mild discomforts, we often postpone making an appointment with the doctor until they become an unbearable pain. It is now much easier to find time for this appointment thanks to online platforms offering virtual consultation services regardless of how far the doctor's practice is. It's reasonable to think then that our desire for a healthier life makes us turn to telemedicine more and more often.
If this is so, then specialists such as homeopaths, endocrinologists, paediatricians, psychiatrists, dermatologists, etc. will be at the top of the list when it comes to growing demand for telemedicine. The question is – are these doctors ready for the upcoming wave of patients?
Legal consultations – 36%
We already talked about why video legal consultations are real life savers for the lawyers' clients. But why are we having to turn to these services more frequently in the first place?
There are several reasons:
People use more products and services and thus need protection of our consumer rights more often
People make more financial investments and some of them require legal support (such as property)
People get married and divorced more frequently
It doesn't look like these trends are about to change. Although legal consultations aren't among the most demanded virtual consultation services at the moment (18% of our respondents used them), people seem more than ready to make use of them in the future.
Consultations with a psychologist – 32%
This category is particularly interesting. Psychologists are not medical doctors, but we tend to think of them as such because they are "healers for the soul". One third of our participants consider a virtual consultation with a psychologist to be something they would use. And this is confirmed by the ever growing demand for psychologists, especially in the US.
Psychologists are our personal advisors, too. They can help us strengthen some of our qualities, such as patience or communication skills. Many of these skills are directly related to our careers. Therefore the increased need for psychologists can be partially due to our desire to advance quicker in the workplace.
Psychological consultations show one strong trend – they are much more popular among ladies than among men. 63% of those who would like to have an online meeting with a psychologist are females. Keep this in mind if you are thinking of offering your psychology services online.
What do we like about online services via virtual consultation?
We also asked our respondents to tell us which advantages of online services via virtual consultation they consider as most important. The answers are clear: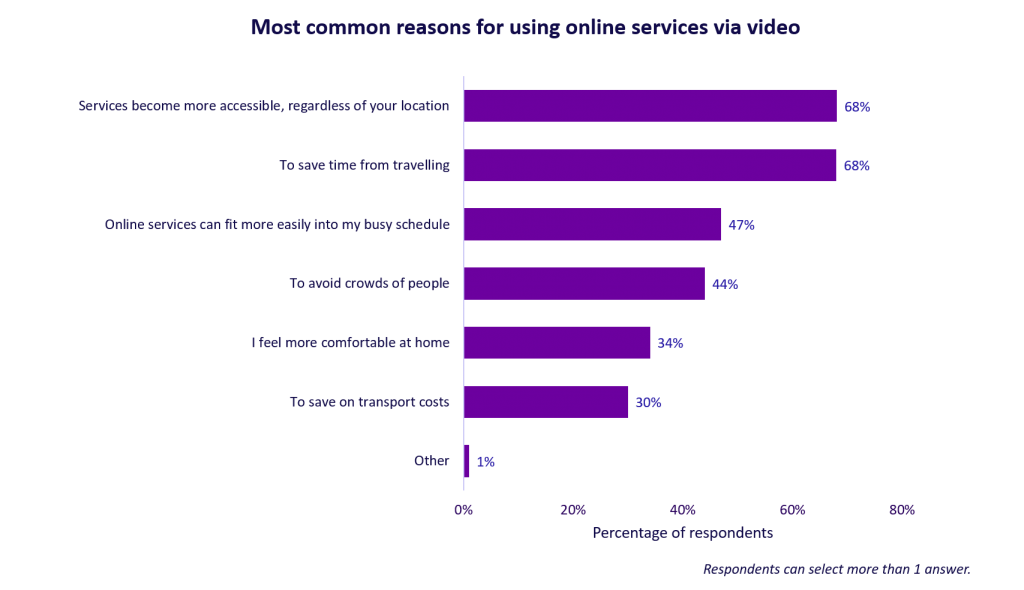 Most people consider service accessibility and time savings as the main advantages of online services via virtual consultation.
Before the video option was there, access and traveling time were a significant barrier to some people (imagine having to take a train and two buses to go to a medical specialist next town). These barriers no longer exist though. Therefore customers themselves might soon start asking their providers to offer them a video meeting instead of a face-to-face one.
To conclude, it's not just the direct benefits from using a service that determine its demand. The advantages from the way it is delivered can also significantly increase its popularity. And what does the provider need to be aware of when offering a video meeting to his or her customers? Find out in the next part of our 3veta survey, where we explore what is actually important for clients when attending an online consultation.