Employees want to have the choice to work from the office. They crave the human connection they had in the pre-pandemic era. That seems less and less likely in a fully remote world. Instead, nine out of ten organizations imagine a hybrid working model.
But here's the thing.
Transitioning to a hybrid work schedule requires constant mind mapping and strategy for managing hybrid teams. That's where companies experience hybrid leadership challenges and the real 'tug-of-war'. They try ways to create smoother processes but end up mismanaging both teams working from the office and home.
Moreover, not having the right approach to this transition may backfire tremendously (as we have already seen).
And that's exactly what you'll learn in this article.
We'll look at the elements that make hybrid teams and remote teams different and share actionable practices that set you straight to manage your hybrid teams the right way.
How are hybrid teams different from remote teams?
First things first.
Most companies confuse hybrid and remote teams.
Why?
Because of a misconception thathybrid team members can work at a higher pace only from the office.
But, working in a hybrid setup doesn't stop the team members from working from home. And this is what companies fail to understand when differentiating between hybrid & remote teams.
To understand what exactly makes a hybrid team different from a remote team, let's break the ice:
| | |
| --- | --- |
| Remote Team | Hybrid Team |
| They demand remote collaboration, solely based on remote tools | They demand mixed collaboration based on both remote tools & physical setup |
| Team members can work remotely anywhere—at home, cafe, airplane or even beach | Team members are offered options—to work from the office, home or choose the split option where they work from office for a few days and from home for the remaining days of the week. |
| Every team member present in the meeting is working remotely | Some team members work from the office & some from home |
| Teams communicate face-to-face virtually. | Teams meet & greet in person. |
How can you start managing hybrid teams?
Managing a hybrid team requires a combination of strategy and discipline. But most of all, you need to execute strategies to establish team norms for hybrid work.
Here are 5 hybrid team's best practices you need to implement:
1. Coordinate schedule
Hybrid teams have the freedom to choose their work environment. And this does not mean 'having the freedom to work from home or the office'. It means choosing WHEN to work from the office.
Here's a great example of why it's crucial.
Apple ordered their corporate employees to return to the office for three days per week which is likely to go up to 5 days per week.
When compared to comparable tech giants like Google, Amazon, and Meta, who have offered the flexibility of white-collar workers to work remotely for a lifetime, this hybrid model by Apple appears to be too strict.
Worst of all, Apple seems to have missed the point and is trying to impose also which days of the week their employees should be present at the office.
And that's a big turn-off for employees it seems. They rebel and simply quit their jobs. We've seen it in Apple and we are seeing it in Tesla.
When creating a hybrid work environment, prioritize flexibility for your team members.
Do they want to work from the office?
Do they want to work from home?
Or are they flexible in working from both the office and home?
Take inputs from your team to find what your team loves the most and then create the work schedule.
If they choose to work from home, decide how you will set the communication and work process between your remote and in-person team members.
If they choose to work from the office, decide the days they will be working from the office and which teams will be present on the specific days.
If they choose the split work option—work from home for a few days and work from the office on the remaining days in a week, ask the team members how many days they would like to spend working in the office.
Once the team members have chosen their preferred work option, provide them with a great hybrid experience by focusing on a few things:
When working from the office, people from the same team should go to the office together. Teams without their coworkers in offices are also the reason employees don't opt for working from the office. Going to an office where you know no one, indeed feels lonely.
People don't like being told when they should be present in the office. So, when the team members choose the split work option, let them book the days suitable for them to work from the office in a week
Use software like Flydesk to create a plan that allows your team members to book a spot for the days they would like to work from the office.
How does this work in practice? Let's say, your content team has booked the office hours. They come to the office along with their team members and work on a rotational basis. When a different team selects the time, they choose different working hours to reduce congestion at the office.
2. Give access to workspace tools
Consider this: two team members—one working from the office and the other working from home pick up their daily tasks. The employee working from the office completes their tasks one by one whereas the employee working from home is stuck on the first task.
Why? Because they couldn't access the tool credentials they needed to work. They've been ranting about this to their colleagues, the IT team, HR team but no one seems to prioritize their issue.
That's a big blunder!
When working in a hybrid setup, team members must have easy access to tools to communicate and collaborate effectively. Alternatively, getting stuck all the time breaks their flow and results in poor performance.
How to avoid this?
List down the tools your hybrid workforce needs to work on and share the company credentials with them for easy access.
How does this work in practice? Let's say, your content team is starting to work on a new project. Give them access to your Google drive documents, details about the clients, and credentials, or invite them to the SaaS tools you work with.
If that's a problem you often encounter you may find this useful: Train both your in-office & remote employees on the tools used at your organization.
3. Make your work visible
In a hybrid work environment, two types of friction are likely to happen:
In-office and remote team members working on the same project might end up working on the same task.
You might not know which tasks remote team members completed.
In both scenarios, the only challenge that comes up: mistrust and annoyance.
'That's the (project) manager's job!' – one might say.
Not really.
In a remote work team, it is extremely hard for a manager to know what's going on every second.
Remote and hybrid teams require project management systems that are more automated.
The best way to eliminate this challenge is to use project management software such as Trello. Here's how Trello works (but it's quite similar to other PM software). Start by creating a Trello project for your team.
In the example below, you'll see different Trello cards—Topics Assigned, Working, Editing, One Step Away, Done, In Review, Approved, and Published to know the progress of your team members.
When the team member moves the assigned task from Topics Assigned to Working, you know the status of the work.

4. Organize frequent meetings
One question likely to arise when conducting meetings is, "should we conduct daily meetings or should we do them weekly?"
Daily stand-up meetings are great to cut the chances of a hybrid workforce struggling. Most people dread long daily meetings. Keep them short and stay updated with your team.
Let's say, the content writer from your content team takes time to produce one piece of content. Instead of waiting for the weekly meeting, highlight the issue in the daily meeting and resolve it quickly.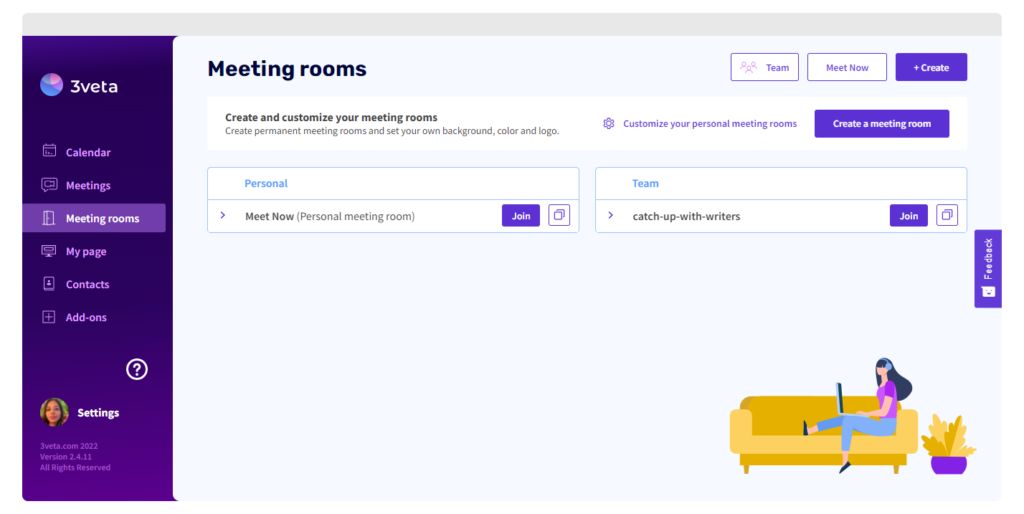 During the meetings, check on the progress of your team members & exchange two-way feedback. Ask your team about:
the work blockers they are facing
the work processes the organization needs to improve
Once the feedback has been exchanged, make notes and resolve the issue in the meeting itself. However, if you fail to resolve it quickly, set up a 1:1 meeting with the concerned team member and find a way out.
5. Switch to asynchronous communication
Asynchronous communication is just the opposite of real-time video calls. It's all about working on your schedule and getting back to team members on chat messages, screen recording, and emails accordingly.
Let's say, your priority is to check in with the designer on the latest design updates so you message them on the team's WhatsApp group. The message might distract the other team members as each one is focused on their assigned tasks.
With async communication, you can send them messages async. However, to run smoothly, your team must have a hang of written communication. If not, it will again lead you back to getting on video calls on & off.
So how can you strengthen your hybrid teams with async communication?
Designate a specific communication channel such as Slack for urgent conversations. Because team members might not check the messages constantly in async, notify them about the urgency.
Provide examples & templates for written communication. For status update messages, create a format such as 3-4 bullet points to share the update. To respond to blockers, use screen recordings where you walk the teammates through the matter.
Use the relevant tools for maximizing asynchronous communication. Some of these tools include
Communication tools: Slack for instant messaging and 3veta for video calling and scheduling meetings. Here's how this could work for you:
✔️Whenever you want to schedule a meeting, check the shared calendars of your teams with the Calendar integration on 3veta and then send them Slack messages or schedule video meetings.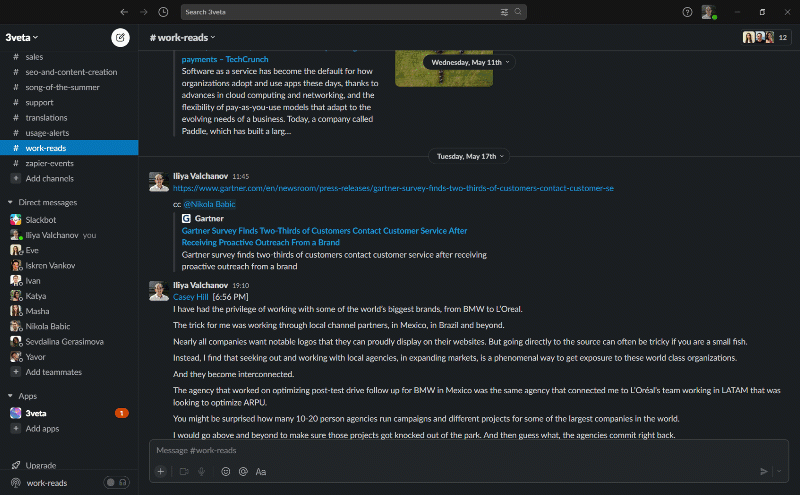 ✔️Need to talk for an unlimited amount of time? Simply create a permanent meeting room and join it with your team.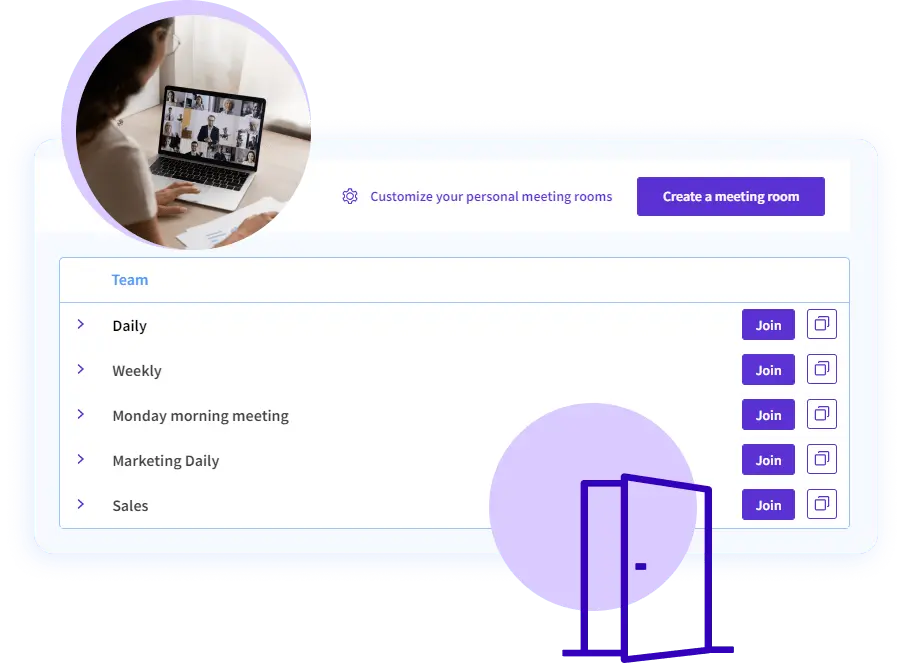 ✔️When downloading the video meeting recordings, there won't be a storage restraint as you can download for an unlimited number & of hours.
Project management tool: We mentioned Trello already but good alternatives are Asana, ClickUp, or Notion to get updates on the team's work
Time tracking tool: Toggl Track for analyzing the time a team takes to complete a specific task.
Go, get started with managing hybrid teams
To recap, teams want to work in a hybrid setup but with their teammates along. So, be strategic while coordinating the right schedule.
Next? Carry out clear-cut communication – set up frequent synchronous video meetings, use prerecorded videos and messaging apps like Slack.
That's all you need to get started. But remember, managing your virtual or hybrid teams works well only when you take continuous feedback from your teammates and improve your processes.
Nidhi Kala is a freelance writer for B2B SaaS brands in marketing, HR, and eCommerce. When she's not writing, her artistic mind is buried in creating a new journaling spread or exploring calligraphy scripts. Connect with her on LinkedIn.