See all product updates over here.
I know how busy work and life can get.
That's why our team is constantly working on improving performance and adding new features, so you can get your job done faster, smarter, and more efficiently.
Here's a quick overview of what we've been working on lately.
Hint: a feature many of you requested is now available.
10x faster calendar loading
We've improved the speed of the calendar and it now loads in less than a second (no matter the number of calendars). This is great news for all the teams that use the shared calendar feature as it makes team managing easier and faster.
Calendar picker
We've implemented a new calendar picker that allows you to choose which calendar you want to synchronize and use within the platform.
Breakout rooms
We've just released breakout rooms. You can now easily split your meetings or workshops into separate sessions and collaborate in smaller groups.
That's all for now
Thanks for being part of the 3veta family!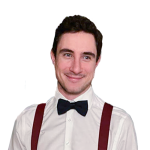 Iskren is the CTO of 3veta.com. He is an Oxford graduate, instructor on Udemy with more than 400,000 students, former head of R&D for multiple start-ups, and software developer for an international trading company. If this isn't enough, he is also a published researcher in the peer-reviewed Quantum Science and Technology journal.