No matter if you're working in a studio or at home, it's important to create a yoga schedule that suits both you and your clients.
Planning your workday well is crucial to online personal trainers, as well as nutrition coaches trying to help people lead a healthier life, and is something you should consider too.
There are two ways of doing so: planning everything manually on a piece of paper and challenging your arts & craft skills or using class scheduler software and putting all the information online.
We highly recommend the second option! It saves time and effort, and it's much more efficient.
Here are 6 pointers on where to start:
Or if you are here just for the yoga schedule templates, find them here.
1. Keep Your Target Clients in Mind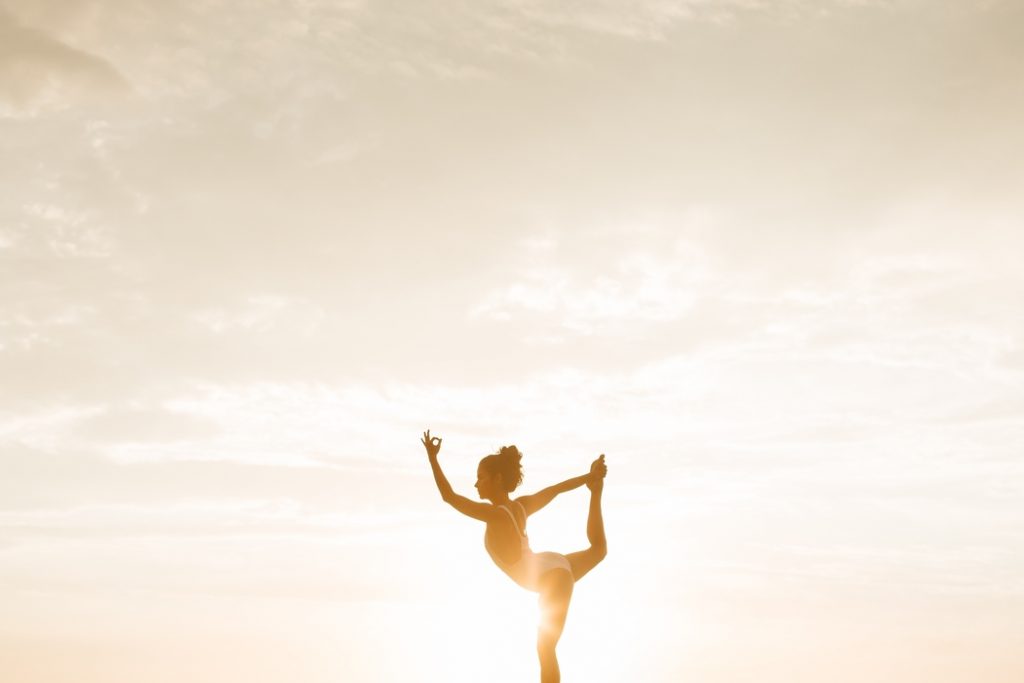 Rachelyoga argues that in order to make your class schedule, you will need to be aware of the type of clients that you're working with.
Are they predominantly students? 9-to-5 workers? Do they have more flexible schedules or are they willing to join you only if you provide services during the weekend?
Those questions will give you an idea about when your peak working hours will be and how to arrange your classes so that more people can sign up for them.
A DIY schedule requires you to be considerate and take into account what your community needs and at what time.
If you're not sure, make a survey, send out questionnaires and be proactive! This will make you look more professional and trustworthy.
2. Compare Formats
Depending on your clients' needs your yoga class schedules might differ.
As a service provider, you might be aware that some people prefer the intensive training format (full time) while others stick to the longer format (part-time).
The intensive format is sought after by retirees, students, workers with flexible schedules, or those who are looking for a change.
Most of the time, it provides students with a solid knowledge foundation in a matter of a few weeks.
The part-time program, on the other hand, is more suitable for people who have a job with fixed working hours and are free on the weekends or simply for those who prefer a slower pace of learning.
The part-time program consists of classes that are planned for months ahead.
If you manage to integrate both of these two options into your course schedule planner, your services will be available for a larger range of people.
3. Think Logistically
Ensure that the time slots for yoga booking are well-considered.
Usually, if your classes are in-person in a studio, people will need some time to gather, get changed, and put their training spot in order.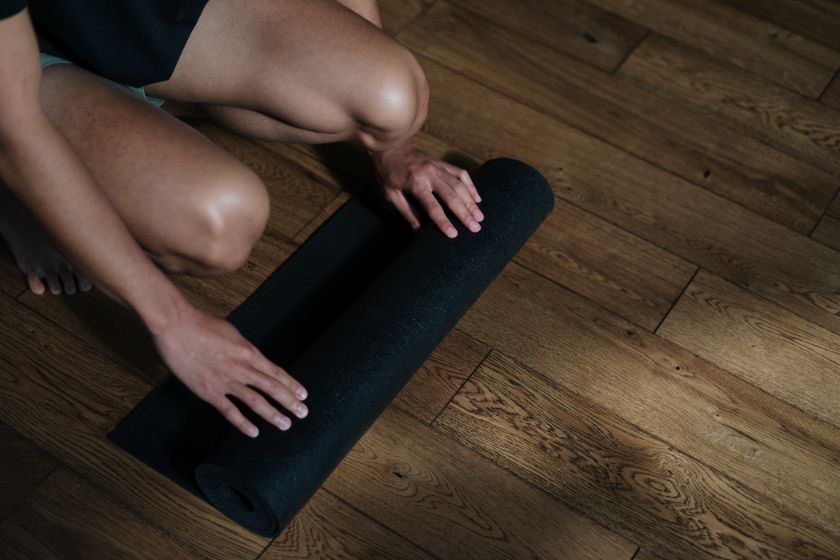 Therefore, leave a 15-minute gap between classes so that you don't lose classroom time while people are settling in.
However, if you're running a yoga coaching business from home, you should expect that your students are on time, already in their sportswear, and the logistics should be easier.
Even if there are late arrivals, they'll simply join you online without interrupting you or disturbing the others while trying to find their free spot.
4. Don't Forget the Holidays
Yoga is all about being at peace with your inner self and feeling good in your skin, right?
Thus, a balanced yoga schedule has taken into account all holidays and days in which potentially your clients won't be in the mood for training.
Even though some people might be quite devoted to sticking to the schedule and would never miss a class, you should teach them that discipline and rest are two things that can go together.
Holidays are for spending your free time with your family and putting aside the fitness mat! And, that includes you as well!
Especially if you're a work-from-home parent!
Don't forget to take a break occasionally and when you do, make sure to put it on your yoga class plan!
5. Create a Yoga Schedule
This is the culmination of our article. Now that we've covered every important aspect of creating yoga schedules, it's about time to cover the "how".
The most popular method is by using yoga class scheduling software. Why bother when technology can do the job for you?
For example, if you check 3veta's features, you'll see that we have everything that you need in one place:
It's the perfect example of a yoga class scheduling software for virtual service providers.
However, if you're looking for software for yoga studios, the market has other alternatives that you should look into.
Find the best yoga software for your business and use all the information gathered through the previous steps to put your classes in order and adjust them accordingly.
Once you've arranged your classes with the help of an online schedule maker, you can always create a personalized DIY schedule template of the timeslots and the activities and share it on your website or booking page.
It should look like this: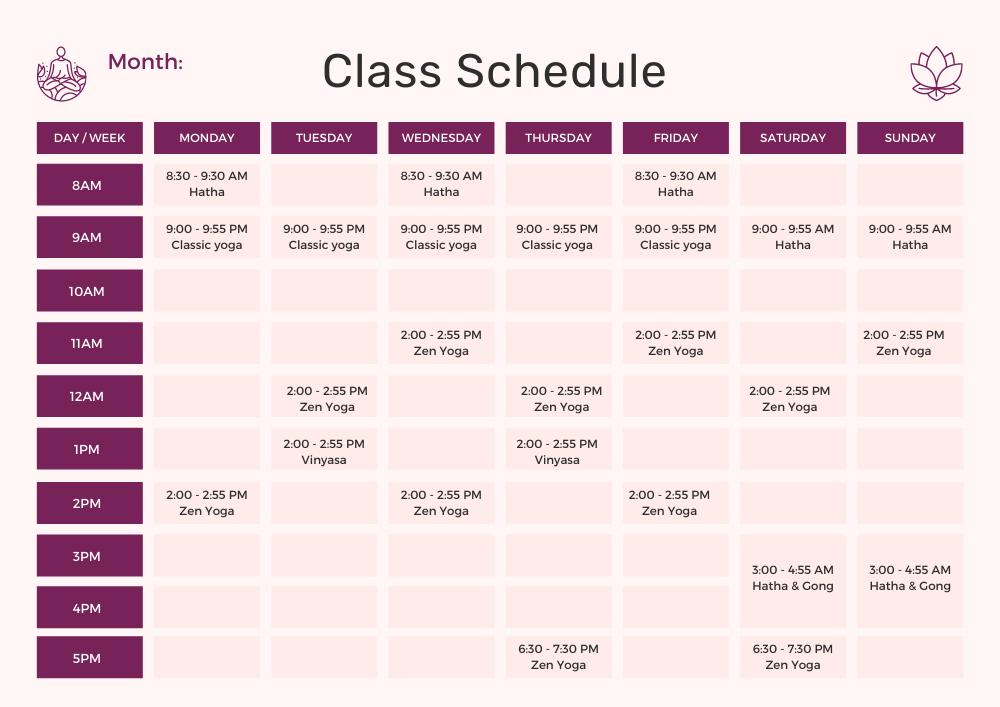 or this: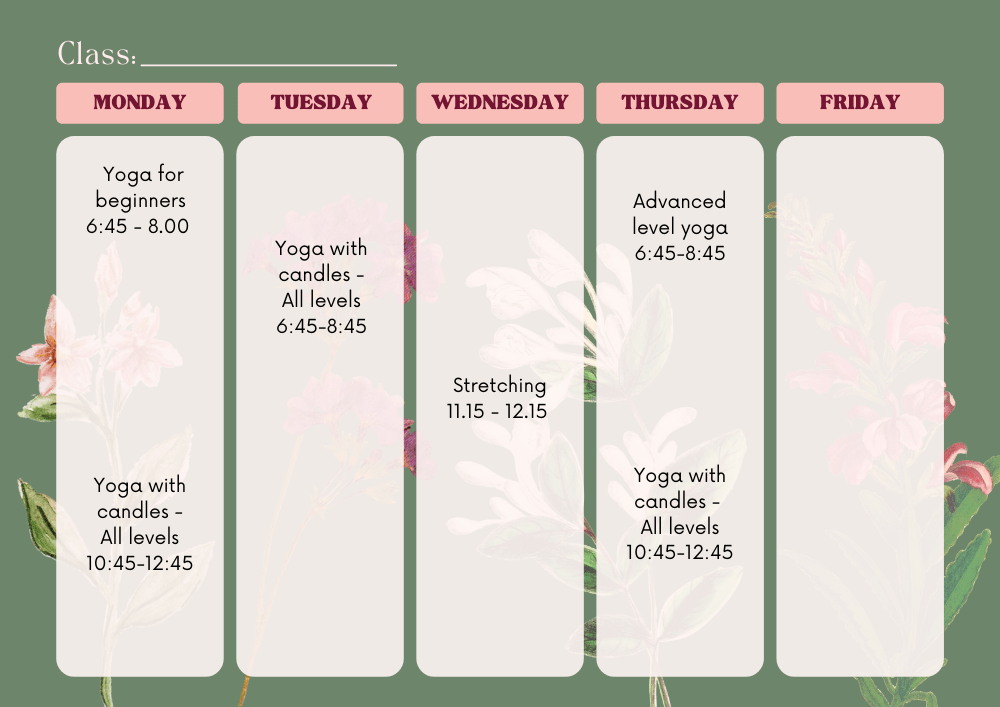 You can find several Canva templates we have prepared for you here.
6. Consider Class Levels Difficulty
Kriya highlights the importance of holding classes for people with different capabilities –for beginner, intermediate and advanced levels.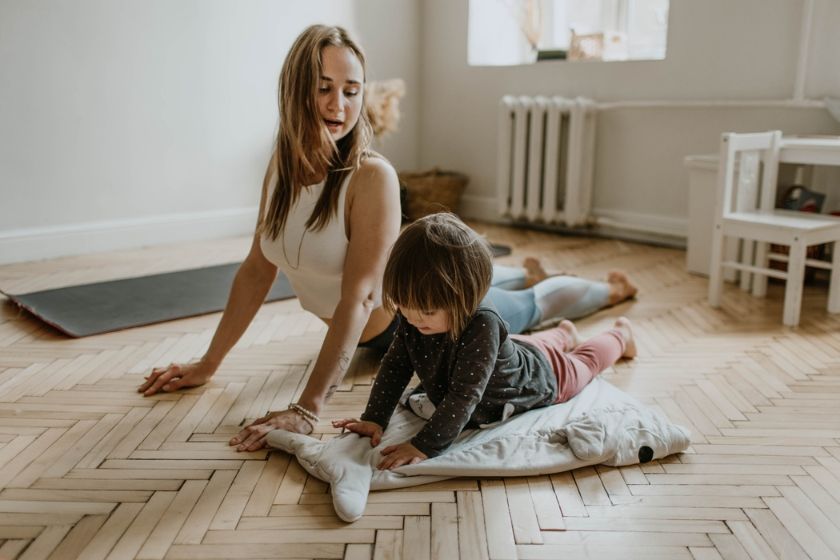 Plan beforehand what activities are most suitable for each group and share them with your clients. You might also want to give them some background information for each exercise.
Also, if you want, you can come up with some cool ideas for a mixed group of all levels.
This will be a bonding experience and the yoga newbies will be able to discuss their journey with the more experienced yoga students!
Furthermore, consider how you distribute your classes according to their difficulty and intensity.
It will be too challenging and exhausting for your clients if you put an advanced class in the evening and then another one in the morning.
Give them some time to rest, advise them to join your stretching class, or simply choose less demanding activities for the next session.
To Conclude
I believe that the most important part of creating a yoga schedule is the apps for yoga teachers.
They'll help you immensely in sorting your studio bookings online and will facilitate the whole yoga booking process a lot faster.
If you do the effort and create a balanced yoga schedule, you'll enjoy better working conditions, more satisfied customers, and a growing business.
So, don't underestimate how you plan your day. Use a class scheduler app and make your yoga schedules more efficient!