Let's be honest, most of us are dealing now with work-related activities, such as video conferencing calls, by simply rolling out of bed and changing our shirt with a cleaner one.
However, face-to-face communication is key and virtual appearances are equally important.
That's why I'd like to share with you the secrets of how to look professional on a video call.
In this article, I'll provide you with these conference call tips and will highlight the importance of each one:
1. Set up your own online platform
Imagine how much easier it would be for you and your remote co-workers if everything you need was in one place.
Actually, it's not all about the convenience, it also looks a lot more professional if you know how to handle your online meetings fast and without any problems.
When it comes to showing yourself as a professional, video calls are your best friend.
Showing your brand fosters relationships while showing your face builds trust.
Use the power of your brand and make sure all of your video calls and booking links include your business name.
Furthermore, create meeting rooms and use a custom background for a more cohesive and professional look.
3veta is a great solution that allows you to brand your meeting rooms and change their background.
Not only that.
Modern online scheduling platforms like 3veta.com help you manage your appointments, sync your calendar, create a booking page or a website, and meet directly in the browser –all in one place.
No need to use three different tools to arrange your online working environment anymore.
This way you'll save time, and effort, and make a great impression as a well-organized professional.
2. Be on time
Punctuality is an essential skill for any professional in today's competitive and fast-moving economy. And it's even more important when working remotely.
Working from home could be challenging because you might be washing the dishes, helping the kids with homework, or taking a nap between your meetings.
But, running late for an online meeting can be just as bad as entering a conference room full of people 10 minutes after the presentation has started.
As I mentioned, consultant scheduling platforms can be a solution for this as well.
No more miscommunication, no more "Oh, it completely slipped my mind" sort of excuses for no-showups.
Moreover, being on time is considered basic videoconference etiquette.
💡Pro tip
Having a personal booking page will help you better organize your calendar and easily set your availability. Also, it makes it much easier for anyone to pick a suitable time slot for your meeting.
3. Get properly dressed
Since this article is about how to look professional on a video call, you need to pay attention to your appearance.
As much as I would like to, I won't give you fashion advice. We're dealing with conference call tips here.
I know that you're very much tempted to answer that video call in your pajamas, but that's not how your employer, co-worker, or employee would like to see you in.
You are not THAT close.
Don't stress, no need to put on a suit. But make sure that your clothes are decent. For starters, they shouldn't be stained. But, also beware of your T-shirt's print. The internet is full of memes of ignorant people who sported their 'De p*** madre' T-shirt on Zoom without knowing what it means or forgetting that they'll be having a video conference call.
Also, avoid bright colors because they'll definitely distract your audience.
4. Get out of the shadows
…even if you're a bit shabby or without any makeup. Show your face.
Lighting is crucial when it comes to looking like a pro.
If your desk is not facing the window, change your spot or switch positions. Otherwise, people will only see your silhouette.
There are different ways to remedy your awful lighting.
For instance, you can consider getting a much better setup. A web camera with a bigger lens would be able to catch more light, thus producing a much lighter image.
If even that doesn't help, you can consider purchasing a ring light. These are relatively cheap and can do miracles for your online look.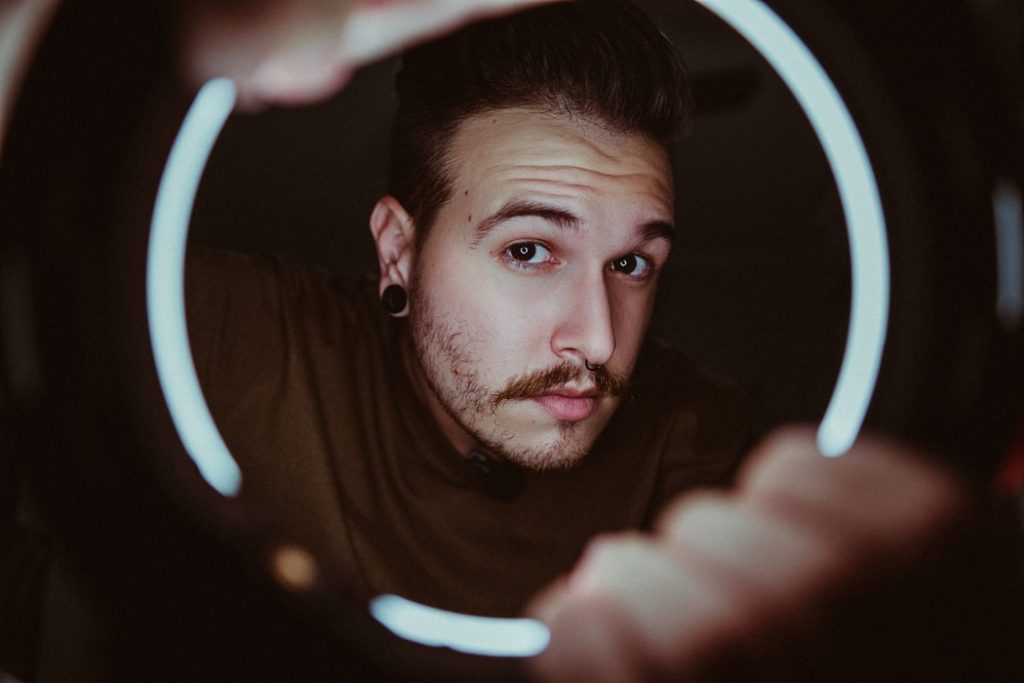 If you have no choice, or would need to go to extra lengths, at least consider using a steady lamp and position it closer to your face.
5. Mind your body language
Now that we're discussing your face, don't forget to include other parts of your body as well.
When we talk to people, most of the communication is nonverbal.
Yes, facial expressions constitute most of it, but posture and gestures also add up to it. Often times we use our hands to emphasize what we're saying.
And, if you have taken my advice and you changed your pajamas with casual clothes, it wouldn't be a problem to show more of yourself.
Just move back a little from your webcam and allow others to gaze upon your beauty at a good angle.
6. Perspective is key
If you'd like to know the first thing on how to look better on video calls, you should be mindful of how you position yourself, perspective really is key!
Many people fall victim to what the photographer Larry Backer calls 'wide-angle face'. The cameras on our devices are wide-angle, thus, when you get too close your image becomes distorted.
You might want to lean forward to see something better that's on your computer, but that's a huge no-no.
Instead, zoom on the page. I know it might not be as natural as moving your body, but it will prevent people from seeing your bad angles.
7. Maintain eye contact and pay attention
As Tony Montana once said, "The eyes, chico. They never lie."
During in-person conversations, eye contact is crucial. You wouldn't want the other person to be distracted by other unnecessary elements or to be looking in another direction.
This would give you the impression that the person is not listening to you.
During video conference calls, do your best to look at the camera as if it were the other person's face.
If you want to make the video call more professional don't be self-centered by constantly checking how you appear on the screen. This will change the focus of your attention.
8. Manage the chaos
It's important for you to be fully invested in what you're doing and show that your audience is a priority.
To achieve this, I would recommend eliminating all possible distractions. Leave the children in the other room, let the dogs play in the backyard, or find something else that will make them stay quiet and occupied.
Turn off your TV, turn down the volume of your music player, and turn off the washing machine for a while.
Make sure to create a pleasant environment.
Even so, if your neighbors have decided to do (noisy) repairs at this particular moment, apologize for the inconveniences and move on.
9. Stage your background
If you've been wondering how to look professional during your video calls, Intermedia suggests that alongside managing the chaos, you should pick a suitable background.
Make sure that there aren't any inappropriate posters on the wall or any unfolded clothes behind you.
People are curious creatures; they'll notice what stands behind you. So make sure to provide a clean atmosphere with no distractions.
If you can't manage it on time, video conferencing platforms offer a solution –find a suitable image, go to options, and choose it as your background.
This helps you hide everything behind you, but bear in mind that the choice of image is crucial. So, I wouldn't recommend using this method unless it is absolutely necessary.
10. Make sure that your camera and mic are properly working
If you're wondering how to look good and sound good on a video call, I will tell you. Check the condition of your camera and microphone prior to the call.
They might be dirty, they might be broken, and they might need some adjustments.
That's another reason for creating your own online platform –you're in charge of the meeting room and only admit others after you've entered and checked your tech vitals.
Usually, a standard headset and your laptop's built-in camera are enough but if you want to look more professional, you need to invest in quality video conferencing equipment.
11. Prepare beforehand
In addition to the technical preparations, make sure to set an agenda.
If you don't feel like a professional, you should at least learn how to look like a professional! Just take a piece of advice from the consultant playbook: Prepare, prepare, prepare! Having a plan for the meeting will always turn out better than having no plan.
You'll know where you left off and how to proceed if something unexpected occurs and interrupts the video conference call.
Also, this way you won't risk forgetting something important that you needed to discuss.
Final thoughts on how to look professional on a video call
Looking professional on a video call is essential, especially if you are a freelancer competing with a massive agency.
It's not that difficult to achieve a professional look on a webcam. All you need to do is to work smart, not work hard. Investing a bit in your equipment won't hurt either.
My final advice is to approach everything you do online as if you were doing it in real life.
Be ambitious. Take care of your good looks and focus on your preparation, even though you work from your home office. If at some point, you lose your motivation and you need some help to boost your productivity, we've got you covered with these 7 easy steps.