The pandemic drastically changed our way of life. A lot of professionals had to learn how to transfer their skills into the online world and start engaging in remote work. One of the most curious examples is virtual babysitting.
Babysitting is one of the traditional professions that no one expected could become digital. How could a person take care of a child via Zoom?
It's hard enough to hold a child's attention when you're in the same room, let alone manage them with no physical presence. So absurd!
Well, hear me out then because, nowadays, virtual babysitting is actually helping many parents keep their sanity intact.
What is virtual babysitting exactly?
The typical image we have of a babysitter is a person that spends a few hours looking after the kids of busy parents. There are different reasons why parents may need a babysitter. Some are working late while others have decided to steal a few hours only for themselves.
However, Covid-19 destroyed this image in a matter of weeks. Due to the pandemic, everyone was involuntarily sent home – to work, study and, basically, exist within four walls.
Parents were challenged even further, juggling between piling house works, children's needs, and working from home.
With this, a new profession was born.
Virtual babysitting.
The only thing a parent should have is a spare device with a stable internet connection and access to a platform for online video meetings.
The virtual nanny is the person on the screen that has to entertain the child for an hour or so. It's not recommended to be longer since the short attention span of a child doesn't allow it.
The activities they engage in are usually games such as 20 Questions, I Spy or Simon Says.
If the child is more active they could even practice some yoga, read together, learn some dance moves, or do homework together.
It all depends on the age of the child and their interests.
According to Forbes, the minimum age that's suitable for virtual babysitting is around 5, because the babysitter needs to be able to have a conversation with the child. Plus, it might be difficult for a 3-year-old to fully comprehend the mechanics of talking to someone on the screen.
Parents benefit from this hour of freedom and use the time to reply to some work-related emails, do the chores, take a shower, or simply relax on the sofa.
How to become a virtual nanny?
The demand for this kind of online babysitting service skyrocketed in the past few months.
So let's say that you have the necessary skill set. You are very good with kids and you have previous experience with in-person babysitting, but the pandemic has been depriving you of that activity.
As a virtual babysitter, you'll need certain tools and features to be able to get booked by parents, meet online with them and their children, and receive payments for your online babysitting services.
There are many platforms where you can find virtual babysitting jobs.
However, if you want to be an independent online nanny, you can build your own virtual babysitting platform with 3veta.
3veta.com is a great tool that combines everything you need in one place – schedule meetings, get booked, meet clients via video, and receive payments. No need to install various software, everything happens in your browser.
If you want to look more professional, you can even create a simple website right in the app. Here's such a website.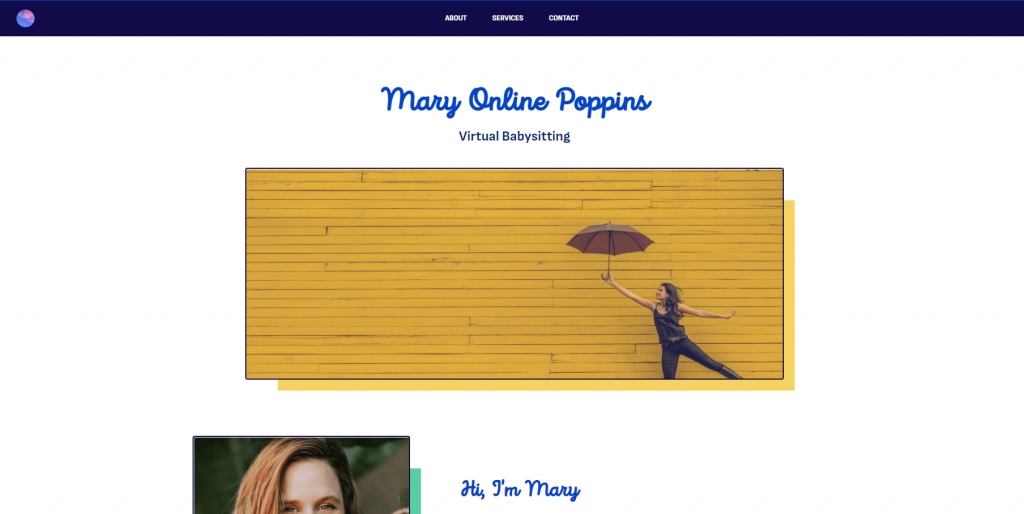 List your babysitting services on your own platform
So, you've taken the first step and decided to work as an independent virtual babysitter and you choose to use 3veta to build your own babysitting platform and offer your services online. What next?
Make sure to provide a list of activities you can engage in with their child. Moreover, different activities can have different prices.
Once you've decided, simply list your services and make sure to send your website to people who could be interested.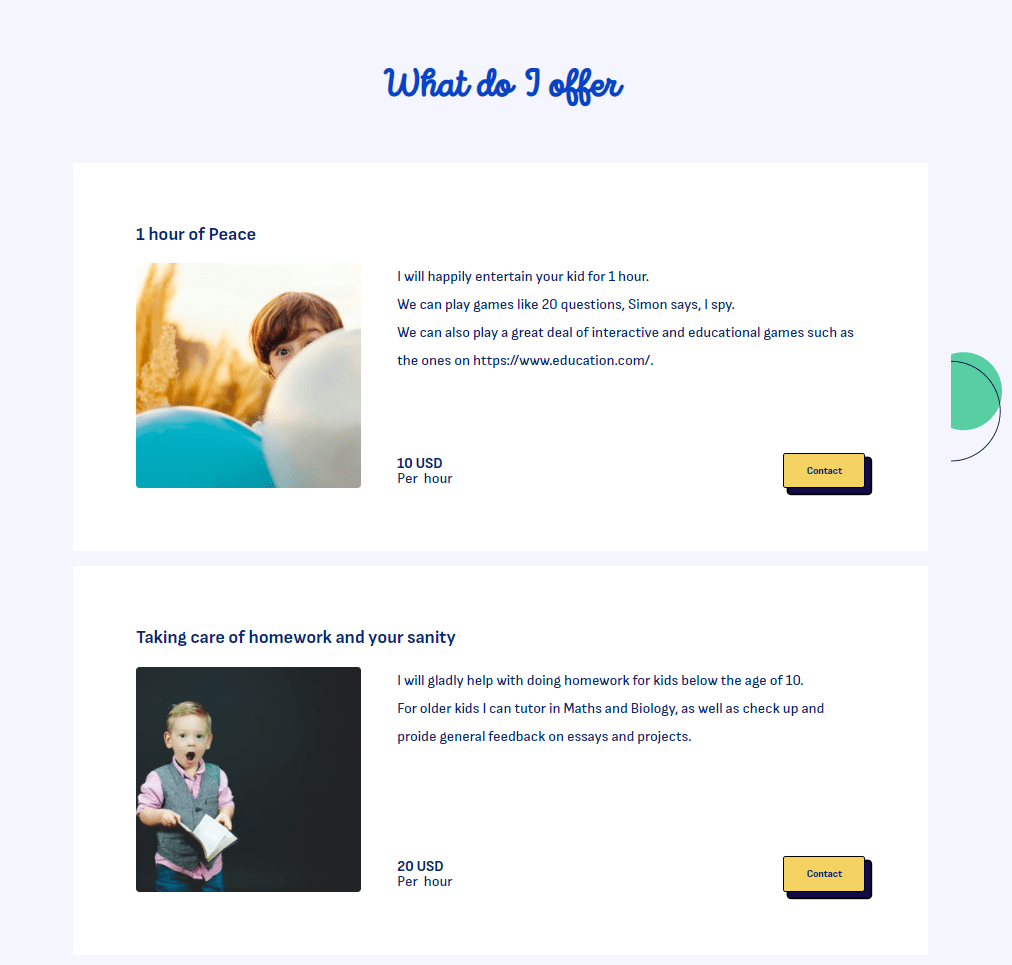 With 3veta you can set your availability in advance and allow people to book you as much (or as little) as you want.
Thanks to the intelligent booking page feature, parents can pick a time slot in their time zone. You'd never have to worry about a messy schedule and missed appointments.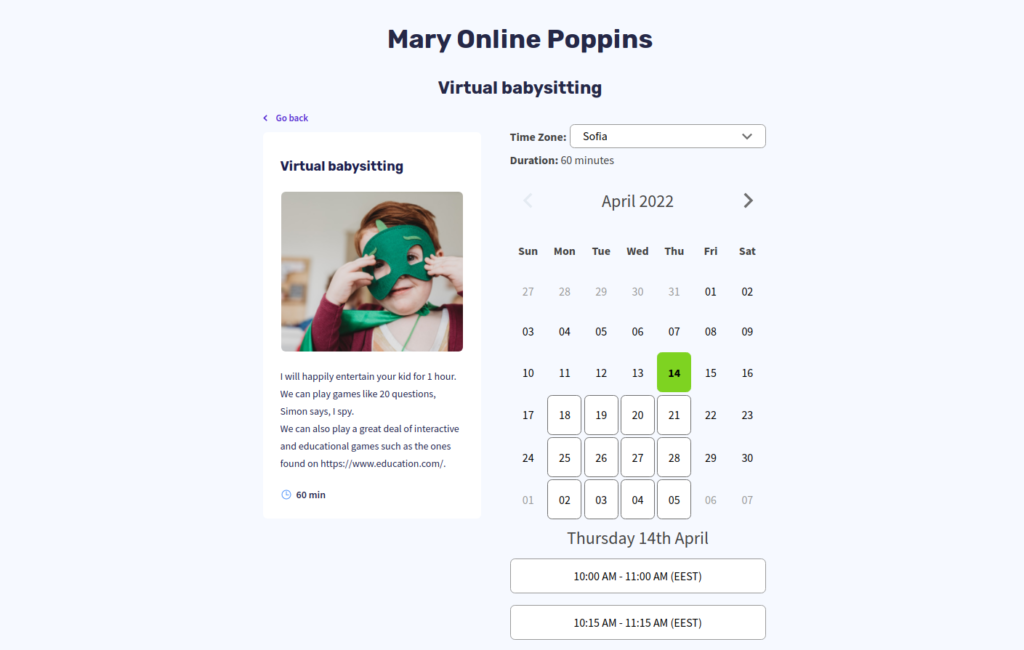 3veta allows you to host video meeting, share your screen, or even watch YouTube videos with your little clients.
💡Pro tip
Scheduling online meetings and hosting video calls with parents and kids will be the main part of your virtual babysitting business. Having your own babysitting platform where people can easily book and pay for your services will help you better organize your business. Furthermore, it will save you time and money and will help you scale your business with ease.
How much can you charge as a babysitter?
First, it depends on whether you work alone or with an agency.
In the first case, just set up everything yourself and you keep all the money.
Alternatively, if you prefer to join a team of virtual babysitters, you can always join an agency that specializes in babysitting online.
The Washington Post mentions a few platforms offering virtual babysitting jobs that even provide their child-care workers with training on how to keep children engaged over screens.
Usually, the average rate for virtual babysitting is around $16.50 per hour, but it may vary depending on the needs of the child, as well as the expertise, experience, and qualifications of the childcare provider.
Things that you should keep in mind as a virtual babysitter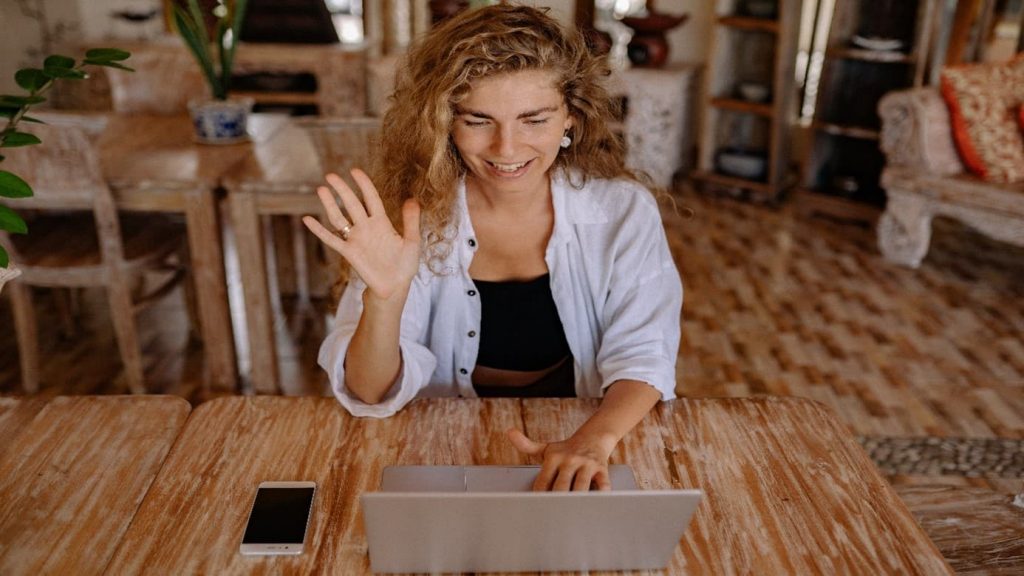 Parents usually want to make sure that their kids are in good hands, hence, they'll probably do a background check of their potential nanny to ensure that you're a good fit.
The effect of the time you'll be spending with the kid shouldn't be underestimated. At this age, every contact with a person outside of the family circle has a huge impact on the child's understanding of the world.
You should always plan ahead and make sure to have a few extra activities up your sleeve, in case the child gets bored or doesn't like what you've originally prepared for the session.
And if you're wondering what many virtual babysitters encounter as a real challenge – it's when the little one decides to move outside of the camera scope and they have to persuade them somehow to come back.
But don't worry!
If the kid is a troublemaker, there's a simple solution to that.
Before the video meeting, ask the parents to exchange mobile numbers with you and call them (via Whatsapp for instance) if needed.
They'll just be a few meters away, so don't think that physical adult supervision is completely absent.
The perks of virtual babysitting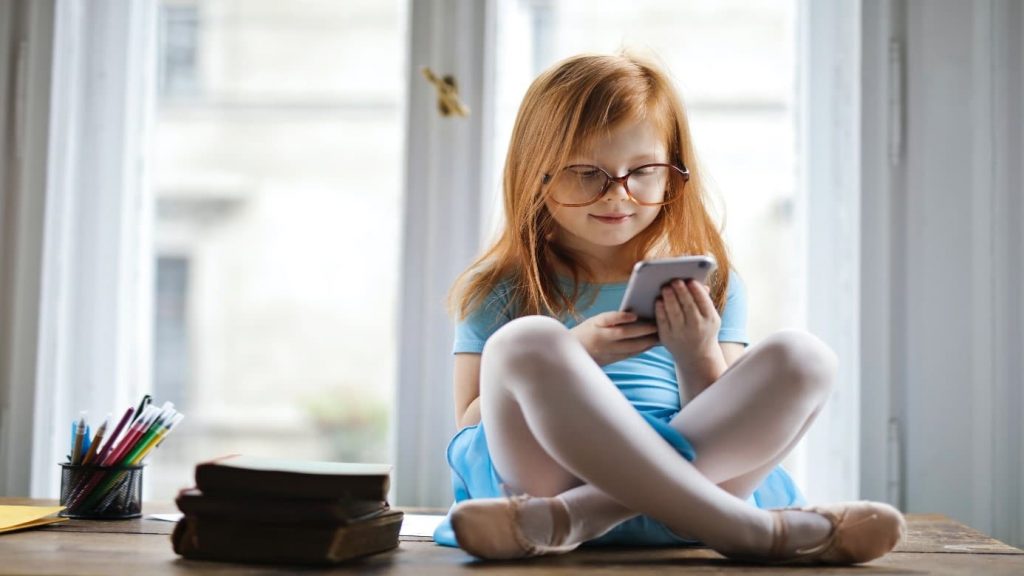 To begin with, the virtual sessions are short: you'll spend between 45 minutes and an hour with the child, so you can have a flexible schedule.
It's completely online, no need to switch from your pajamas to normal clothes. You can even be creative – dress up as a fictional character or as the kid's favorite cartoon character.
You get to work in a stress-free environment. Well, you ARE still responsible for the child's well-being, but you know… No need to discuss the deadly pandemic or the economic crisis.
I can guarantee that it will be fun. I mean, a kid once spent the entire 45 minutes trying to feed the babysitter through the screen. Make sure not to look hungry.
Finally, imagine how much these parents will love you. You'll be their real-life hero by saving them from a mental breakdown without even making that much of an effort.
Don't hesitate too long, go ahead, and enjoy one of the best virtual occupations that people discovered during the health crisis.
Final words
I'm fully aware that the magic of this profession might get lost through the screen. After all, physical interactions between people can never be substituted.
But magical or not – these are the demands of the modern world.
If you believe you're not tech-savvy enough to fit into it, we've got your back.
If, on the contrary, you're ready for it, we still got your back. Sign up today and set up your virtual babysitting career!