What is video conferencing, you may wonder?
Before it became 'the new normal', it used to simply mean: a way to conduct live virtual conversations with people across the globe in real-time with the gracious assistance of a strong Internet connection.
Thanks to that, many consultants offer their services online. But, they still might face some tiny bit of challenges.
One of them being: picking the best home video conferencing setup that they can purchase.
So I've made it easier for you.
In this article, you will see three starter packages, ranging on prices that will help you out in selecting the best home video conferencing setup that will serve you best.
Let's leave the super high-end for someone else to discuss in their article.
Low-cost package ($20-$100) – Essentials
Your budget is tight, you can't afford to spend a lot of money on fancy video equipment, but you still want to look and sound well. So you're here, wondering what's the best home video conferencing setup you can get that fits your budget.
In this scenario, I would recommend you to carefully choose where to spend your money and think about what you already have in place and what needs an upgrade.
The basic equipment that online service providers need are: camera, microphone and headgear, tripods or other stands, and some lamps for good lighting.
💡Pro tip
To pick the right home video conferencing setup, you should first consider what type of services you're offering. If you are a fitness instructor or health coach, you need to make sure you provide your clients with the best online experience – Full HD video, clear sound, and excellent lighting.
Camera
You think your budget won't cut it? I am here to prove you wrong.
Any camera that you buy which is below $50 would be a waste of money. However, there are a few budget-friendly webcams that you should take a look at.
HP webcam HD 4310, for instance, offers 1080p HD quality at 30fps and costs only $50 on Amazon. There are some minor inconveniences, of course:
The base doesn't grip the monitor firmly and lacks a tripod screw hole
The camera head doesn't re-position very well
Logitech HD Pro C920 also provides you with a Full HD experience.
Another downside is that its USB cable is attached to the device and can't be removed, so if you're clumsy and somehow damage it you'll have to buy a new cam.
Other than this slight lack of specs, it's a good pick that costs $68. There's a built-in mic that suppresses background noises, the color balance is also impressive, and it has quite a flexible positioning.
In case you don't need a Full HD streaming video conference camera and you want to focus on your audio quality instead, it would be best to stick to your built-in laptop camera or phone camera.
If you have a phone, not older than 2 years, the quality of its camera will be much, much better. Phone cameras are years ahead of the laptop ones (thank you, selfies, for making this possible).
Yes, you'll have to work from your phone, which is a bit inconvenient at times.
However, a tripod can always help (more on that below).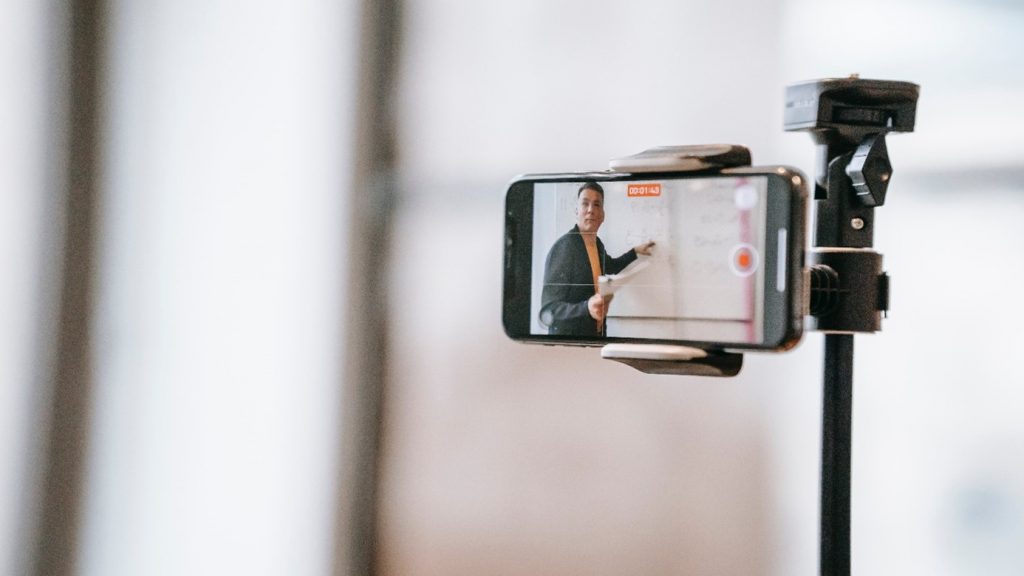 Keep in mind that if your field of work requires you to be more active and you plan on moving a lot during your sessions, the frame rate of your camera is the key.
So, if you strive for providing more real-life experience, you should break the piggy bank and buy a better camera that records with a higher frame rate. Otherwise, it could lead to delay and distortion of your movements.
Microphone
Now, some consultants prefer to focus on their audio quality over their video quality.
A microphone is an important asset to your home video conferencing setup. And, unlike professional external web cameras, it could fit the budget, depending on the type of microphone you're looking for.
So, what's the best microphone for a video conference?
The most important feature of a microphone for you would be whether it is unidirectional, bidirectional, or omnidirectional.
A unidirectional microphone would cut all noises around you, which is usually great if you work alone! You can find pretty decent unidirectional USB microphones for around $30 from Amazon.
You could also consider buying a headset.
Crappy laptop speakers, microphones, headphones, or earbuds… It all becomes way too complicated and messy.
You can deal with your work-related needs during the day with the help of only one device.
Probably the most budget-friendly option is Plantronics Blackwire 3225 for $58 and you won't worry about its battery life since it's wired.
If you're looking for great comfort (no pain in the ears after hours of intensive usage) and excellent sound performance – that's your winner.
A less expensive alternative with similar features is the Sound Blaster JAM V2 for $40. It's wireless, supports Bluetooth connection, and its battery life is 22 hours.
However, if you plan to have calls with someone else in the room participating, your mic should be at least bidirectional.
If there's going to be a conference with several people in the same room – an omnidirectional mic is the way to go.
Stands & Lamps
Stands are quite useful video conference equipment, although they might seem of little importance. You can adjust their height and position your camera, laptop, tablet, or mobile phone wherever you want.
If you have decided that your phone provides the best camera solutions for your needs, here's a tripod for about $20 that will give you stability and the freedom of recording at different locations.
As for the lighting, which is crucial for your professional appearance, on Amazon you can find a video conference lighting kit for $40 or if you prefer something cheaper, a LED ring light for $20.
Final words on the low-end package
Overall, considering it's such a low budget, it won't make you very happy.
In that case, your best shot at looking professional on video is to have a decent smartphone and buy a tripod.
Mid-cost package ($100-$500) – Absolutely sufficient by any standard
This package is suitable for professionals whose job requires more advanced video conferencing equipment.
Now if you're committed to video conferencing and have decided to open your wallet a bit more to get the best home video conferencing setup– here's how it can work.
You probably need a camera with better characteristics and a microphone with more features. They won't be as fancy as the ones in a recording studio but they'll be absolutely sufficient for anything you want to do.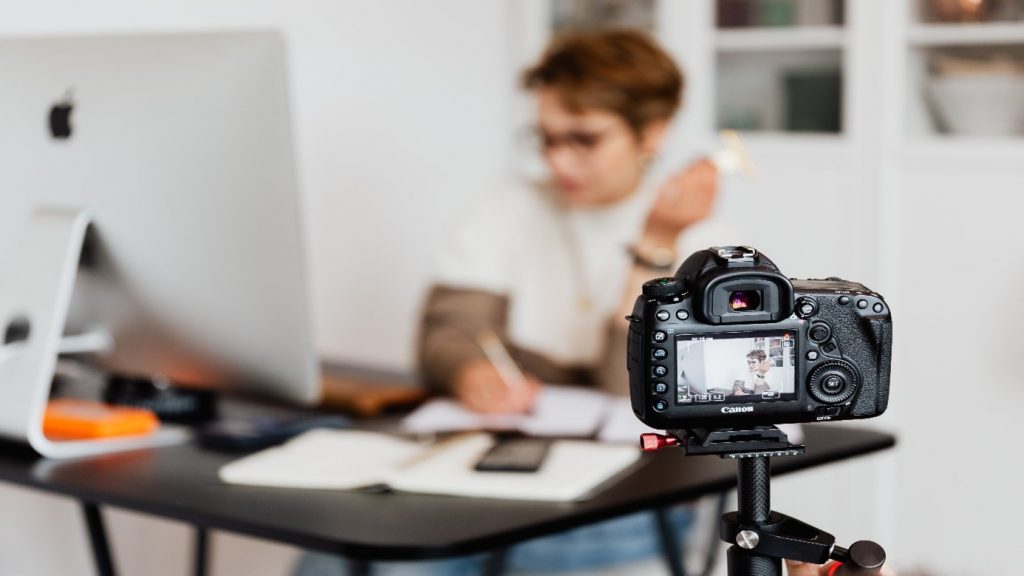 Camera
First things first, I know that you want a better quality of the image, but HOW much better do you want it exactly? Are we talking HD, Full HD, or 4K HD?
That's important to know because most web conferencing systems don't support 4K HD yet. Those that do will want you to be paying their highest plan to access the 4K features.
Don't make the mistake of buying very expensive home video conferencing equipment only to find out that your internet connection, or the platform that you're on, can't handle it.
I know I just said that, but we actually have a 4K winner – Logitech Brio Ultra HD Pro Business Webcam.
Logitech Brio is capable of supporting Ultra HD (4K) video at 30fps and Full HD (1080p) at 60fps, and actually HD (720p) video at 90fps.
When are you going to use any of those?
First, we said that you won't be able to use the 4K video or online video conferencing. But, you can also record on 4K. This will be extremely helpful if you have some video recording business activity on the side –YouTube channel, Webinars, etc.
If you're mainly interested in video conferencing, I'm happy to say that the Full HD (1080p) at 60fps is the best in class. You will look amazing on all video conferencing software while having the possibility to move around and use hand gestures that are crisp and clear.
Looking for something cheaper? Once again Logitech can provide. The C930e Business Webcam will definitely get the job done even in low-light or harshly backlit settings.
It has even two omnidirectional microphones as a part of it, making sure you not only look but also, sound great.
Speaking of microphones…
Microphone
As for your audio, I'll consider two possible scenarios (assuming you didn't get the Logitech mentioned above).
First, you're doing conferences where you'll have people in the room with you.
Anker's microphone for $184 combines 6 mics and allows everybody in the room to be heard. Inevitably, many other noises will also be caught, but it's ideal for online meetings which include various people at one place. After all, when we used to meet in person, we would hear all kinds of weird noises, too!
The second scenario, you're just by yourself. You're looking to sound great, look professional, and probably one day create a podcast. Well, your go-to mic shall be a Rode NT-USB ($190) or the one bit more expensive and less cool in my opinion Blue Yeti ($224). The main difference for me is that the Rode edits your voice as you are speaking!
Looking for something cheaper?
Apart from your built-in microphone and a headset (which Logitech has an abundance of), you can also consider the mini versions of Rode and Blue.
Stands & Lamps
I have already highlighted the importance of stands and lamps when it comes to the best home video conferencing equipment.
Although you can improvise with other tools within your budget and achieve similar results, it won't be a waste investing in this supplementary equipment.
A professional LED ring light will cost you between $50 and $100 on Amazon, but you'll never have to worry again about bad lighting showing the dark circles under your eyes.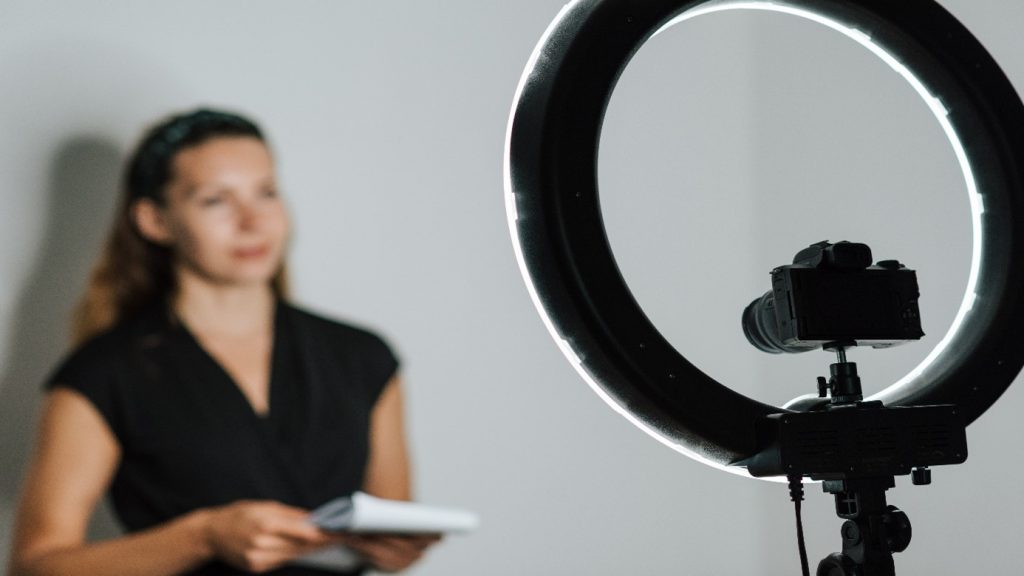 Additionally, a high-quality carbon or aluminum tripod will allow you to make panoramic shootings if needed and easily rotate your camera at 360 degrees. Their price range is between $150 and $250.
High-end video conferencing equipment ($500-$2000)
To spend that much on home video conferencing equipment and not be satisfied with the mid-class options, you must have a conference room.
So this package would go under the assumption that you do. Even if you're alone in it –no problem, it's still a big room and not a tiny computer setup.
Camera
If you own a conferencing venue, you might be interested in the best video conference camera on the market, combined with the most advanced conferencing microphone system.
Conference cameras are typically quite different from regular webcams because they allow a whole room to participate, thanks to their 360o feature.
Kandao Meeting Pro combines both video and audio, offers 1080p resolution, and consists of 8 mics + speaker. It also comes with a built-in Android system to host meeting apps and costs $899.
Logitech ConferenceCam is an elegant device that even comes with remote control. It has Bluetooth connectivity, 2 mics, and 1080p video quality. It's cheaper than Kandao –priced at$513 and its field of view is limited to 90o, but is the perfect choice for a smaller venue.
Microphone
Poor audio quality can cause miscommunication and if you want to be assured that this won't happen, here are your options.
In case your camera has great video quality but it doesn't meet your audio requirements, Gooseneck mics can offer a nice solution.
Gooseneck mics provide great audio quality, block background noises, and pick up only the sound that is in front of them. However, depending on the size of the conferencing venue, you might need to purchase more than one or two. Also, consider how much space they'll take up on the table, after all, nobody likes their workplace to be messy.
Boundary mics are another option because contrary to goosenecks you will need only one or two strategically positioned mics to cover the whole room. The main downside is that they're usually on the table and pick up unwanted noise like the shuffling of papers.
Ceiling mics are your final alternative. They could spare you the need to deal with clutter and wires on the table, but their installation requires planning ahead or opening up the walls.
The best microphone for video conferencing of this kind is Polycom HDX 8000, which has a 22kHZ, 360-degree voice pickup mic. It comes at the price of $775.
Stands & Lamps
As for the stands & lighting, usually, conferencing venues have their own general lighting with LED panels. Since the cameras have 360-degree features and are usually positioned in the center of the table, there's no need for a stand either.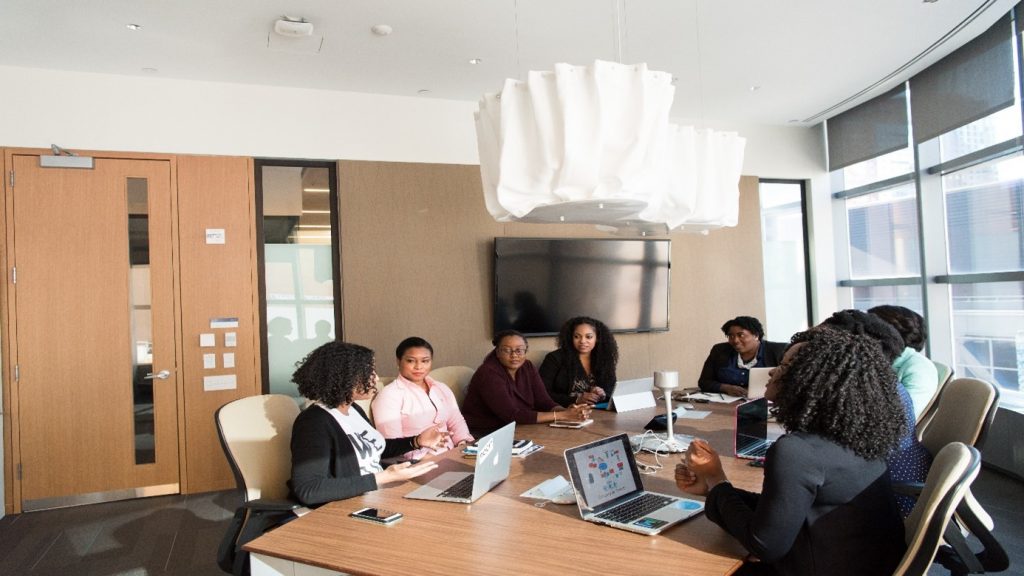 So, what's the best home video conferencing setup
What's the best home video conferencing equipment for you, depends on your business needs.
Video conferencing hardware comes in a variety of shapes and sizes.
Some professionals might simply need a phone camera and a microphone device, some might require a good-quality webcam and a stand, while others might be looking for a whole video conferencing set.
In any case, professional appearance is vital during video calls, especially for freelancers and solopreneurs.
Go through your options carefully, set a budget, and don't do unnecessary expensive purchases.
In conclusion, the best home video conferencing equipment is a must if you are serious about taking your business online. But if you want to look like a true professional, don't forget to act like one.