When it comes to Software as a Service (SaaS) solutions, the market is full of offerings. There are many players with similar, yet somehow different platforms and it's confusing to choose the right one for you.
Today I want to compare one of the big names in this segment – Setmore, with the 3veta platform that was launched in 2021. Both services have their advantages, and while they may appear very similar, that is actually not the case.
What do you get as a business with both platforms?
Setmore app is one of the biggest platforms for online appointment scheduling. It works for a very wide range of service providers. As Setmore says themselves "It's as much for hair stylists……. as it is for handymen….". It, therefore, offers a variety of settings and components to allow your business to integrate well into its platform.
3veta is a more niche platform that offers a much more targeted service. It caters for online service providers who need a video meeting to get paid. 3veta gives them a sleek, straightforward and robust solution to do their job. It is the fuss-free asset that will allow you to focus on what you are best at. In this article, we want to focus on the needs of an online freelancer/specialist, whose day-to-day business is conducted via video meetings. If you are such a provider, either 3veta or Setmore could be on your radar as your potential future platform. Have a look at the below table to find out what you will get with the free version of each solution.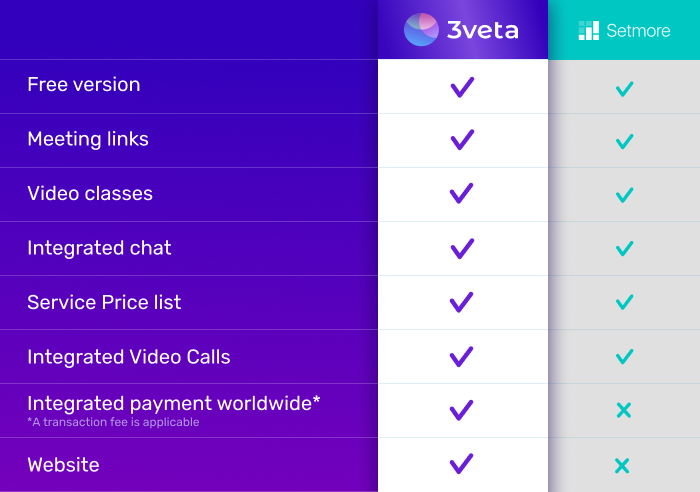 How it works for online service providers
Booking a meeting – 1-to-1 and group meetings
Both platforms have a straightforward and quick way of creating a meeting link that you can share with your customer. All you need to do is register with an email and password.
While both platforms accommodate 1-to-1 meetings and group ones, there is a difference in the way group classes are booked. Furthermore, with 3veta you can invite up to 35 people to a video meeting with every link (if you need a two-way video, you can accommodate up to 10). Setmore's free account limits the number of participants in a video class to 25.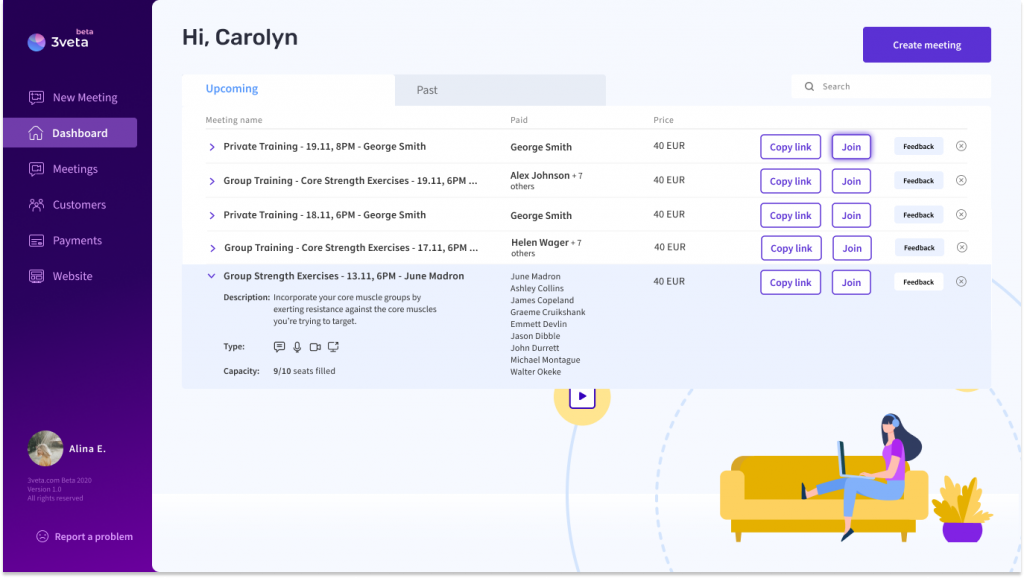 Video
Since Setmore app is meant to serve a wide range of businesses, video calls are not their central selling point. If you want to have a video call with your client, it's free, however, you have to activate an app called Teleport separately.
Your account at 3veta is specifically built for video meetings, as it's assumed that this is your primary way of working. Every meeting gives you a Full HD video connection with an integrated chat function with no need for extra plugins.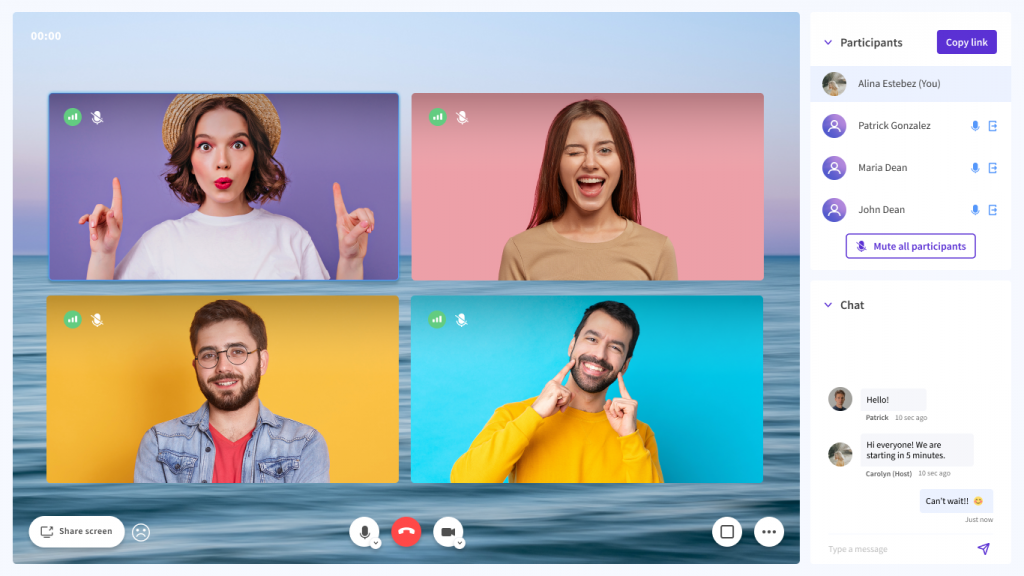 Receiving payments
Setmore's free version offers the option of payment integration with Square. This is however limited to the USA, UK, Canada and Australia, so if you are Europe- or Asia-based, you would have to sign up for one of the paid packages.
3veta integrates Stripe payments into every meeting, regardless of your subscription status. This allows professionals to focus on their core activities and saves them the fiddling with extra settings. Your customers are always required to make the payment prior to the meeting so you don't need to worry about that. It is dead easy for them to pay with the Stripe integrated function and Stripe will only release the payment to you after the meeting has taken place. This is an added security both for the service provider and client if they don't know each other very well.
So while Setmore app is a flexible solution for a business with several locations and various staff, 3veta's offering fits the bill of a freelancer much better. It takes away all the hassle and ensures that you get paid for your time, every time.
Your website
This is the point where Setmore app and 3veta are quite different.
Because Setmore is more of a CRM system, its booking widget works best when integrated into an existing website. And if your product or service is easily displayable on the Internet, it makes sense for you to maintain an impressive website. In case you don't have one though, you can use Setmore's "Booking page". It will allow your customers to see your business details and will make a booking.
However, if you are a provider of know-how, such as a doctor, fitness instructor, or a mom that provides professional video consultations your website will only serve you as a simple communication channel.
Do I hear you say "What if I don't have a website?"
3veta has your back here. With your 3veta account, you get access to a free website builder, which allows you to have your own webpage up and running in about 5 minutes. It will carry your business' name on the 3veta.com domain.
3veta's free webpage is a handy asset that showcases your services in a friendly and modern-looking way. You can choose between several pre-built color schemes and you need no technical skills whatsoever to complete the task. Your website will allow your clients to book appointments with you or send you a message.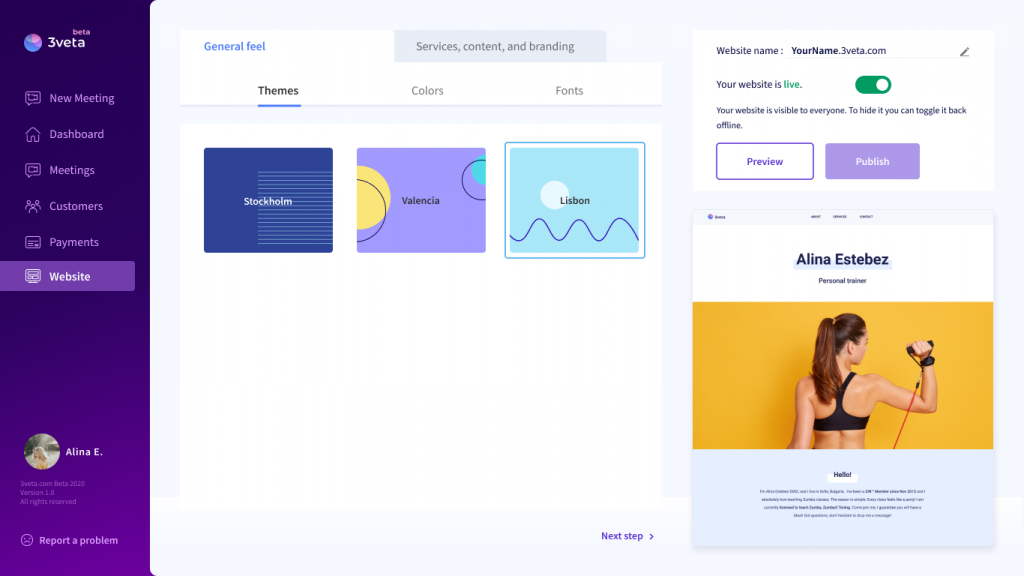 Ultimately, if you are an established online business with an existing great website, Setmore app can help you greatly to organize your appointments. But if you just want a free and quick solution that allows you to bring a personal touch to your business, 3veta will support you even if you know nothing about building websites. And it's all for free.
Mobile app
Both Setmore and 3veta offer a mobile app that allows you to see all your appointments. They are available for iOS and Android.
The main benefit of the Setmore's app is that you have access to your business appointments from your phone and receive notifications there. But the app doesn't give you an instant with your customers. You can have a video meeting on your phone, however, that will be through the Teleport app. The Setmore team actually recommends against it due to suboptimal experience.
3veta's app is completely tailored to a video meeting-based business. The Video calling function is just as easy to use on the phone, as on the desktop app. So if your laptop is unavailable or you simply prefer using your smartphone, you are more than welcome to do that.
Pricing
Both platforms offer you a free package and an upgraded version. That said, both platforms' payment solutions require a fee for each transaction.
Setmore offers most of its CRM functionalities as part of the free package. However, some of the key features of interest for an online business are in the premium packages. These are the automatic Stripe and Square payment integration, the two-way calendar sync, and SMS reminders. In fact, if you are in the EU and want to have paid online meetings via Setmore app, your only choice is to pay its subscription fee.
3veta's approach is that you don't need a subscription to access the functionalities of the platform. However, your transaction fee per meeting will be lower with a subscription. Even if you have only a few regular customers it still makes sense to opt for a Premium package, but you will already know exactly what you get for your money.
Overview: 3veta vs. Setmore comparison
So you might be wondering which platform is better for you.
The answer is simple – it depends on your business.
Setmore is a CRM tool that supports all sorts of business models – including brick-and-mortar establishments. If you have a lot of customers, mostly face-to-face appointments and multiple staff, it will help you to efficiently organize your business.
But if you are an online-based service provider, who needs a simple and reliable tool to have their online meetings and get paid for that – 3veta is your call. You get a "plug-and-play" package that has already been tried and tested. It includes full HD video, an elegant payment solution, and a friendly website. The 3veta platform takes care of the boring details for you, while you have time to talk to your customers. So if you are looking for a fuss-free, all-in-one solution for your practice, then you are in the right place. Sign up to try our free version now and get a head start on your online meetings. Or, if you want to learn more about the best apps for the providers of online services via video, check out our special article on this topic.
Update: We've come up with a list of 31 best scheduling software, so you can choose the right one for you and your business.