Our team has been busy these past few months making 3veta even better!
We've added a bunch of cool new features and have made some major improvements to the platform.
Here's what we've been working on.
The Team plan is here!
One of the most requested features is finally here!
​We've launched the Team plan and we've already started to onboard beta users.
3veta Chrome extension
You can now manage your schedule even more easily with our powerful Chrome extension.
Create meetings, check your upcoming calendar events, and enter meetings from anywhere within your browser.
Booking page improvements
​We've spiced up the booking page.
You can now add an avatar and fully customize the color of buttons and labels to fully match your brand.
Plus, you can use GIFs on your bookable services instead of static images. Just use your imagination.
Branded video calls and white label meeting rooms
You can now brand all your video calls. Easily change the header strip and add your logo and brand colors.
Furthermore, you can customize the background of the meeting room for a more professional look.
Join video meetings as a guest
Your clients and meeting participants can now join meetings as ​a guest!
No registration, nor installation is required.
New currencies and countries added
We are constantly adding new currencies and new countries to 3veta.
Now, our clients from 30+ countries can choose from 135+ available currencies!
Private bookable events
We've enabled private bookable events. You can now hide an event from your booking page. Only people with a special link you provide will be able to book you.
The 'Free' label for free meetings has been removed
Now, your clients won't be confused about whether a meeting is free or not if you don't process payments through 3veta.
Thanks for all your support and feedback along the way!
Feel free to join our private community and let us know if there's anything we can do to improve your experience with 3veta.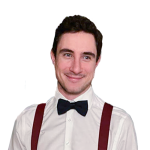 Iskren is the CTO of 3veta.com. He is an Oxford graduate, instructor on Udemy with more than 400,000 students, former head of R&D for multiple start-ups, and software developer for an international trading company. If this isn't enough, he is also a published researcher in the peer-reviewed Quantum Science and Technology journal.