People of all ages are always looking for online music lessons. It's never too late to learn how to sing or play an instrument. Moreover, music can greatly contribute to a kid's character development or an adult's mental health.
At the same time, the reduced number of offline events has caused musicians to turn to online tutoring for extra income.
Video conferencing in education allows every music teacher or musician to connect with students no matter where they are located.
And indeed, online music lessons could be just as effective as in-person classes if you are using adequate music lesson scheduling software. This will save you and your clients time and effort since you don't have to commute and you can be anywhere.
So, if you are a music teacher who wants to start offering their services in the virtual world as well, read along.
What features should you look for in music lesson scheduling software?
We keep in mind all the possible features you might need and we dare say that we have them.
As a music teacher, you'll need a high-quality video and audio streaming platform.
With 3veta you can have that without downloading anything. It all happens in your browser.
Also, we suspect that you might have quite the equipment at home – headsets, microphones, even cameras. You'll be able to adjust the settings before each meeting and easily switch between devices.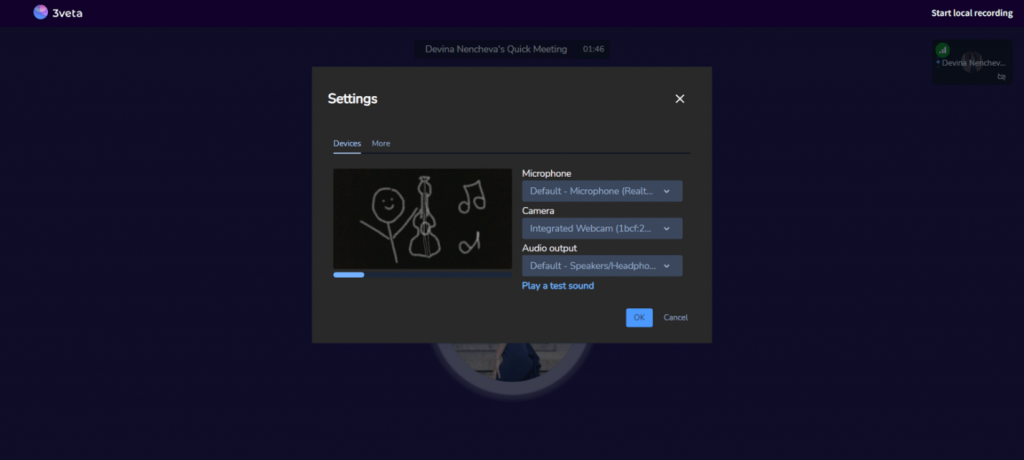 You can even add your own preferred background if you want! Or put your own logo at the top of the page!
Screen sharing is also a crucial one for any type of lesson but, apart from that, we also allow you to share YouTube videos during the call.
For example, you and your students will be able to see some tutorials simultaneously without having to open another tab.
Alternatively, you can play some background music which is especially useful for singing lessons.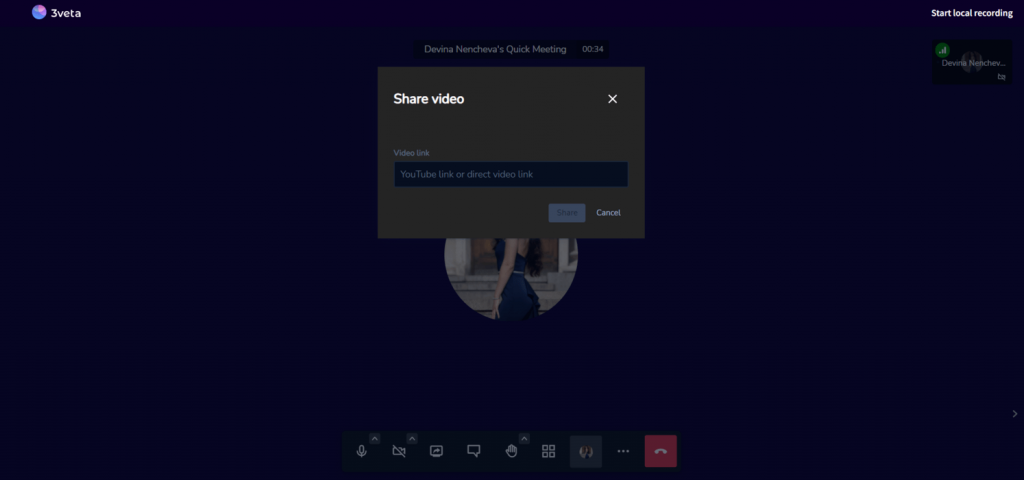 You can also record your lesson and allow your student to rewatch it and practice what you discussed in class!
How does 3veta help you get booked?
Now let's focus on the music lesson scheduling software that we have to offer. You'll need a reliable and easily accessible booking page and virtual calendar in order to become a successful online service provider.

Our booking features are quite easy to navigate because the goal is to facilitate and automate the process as much as possible.
Creating a music lesson booking page
You can create a booking page and add all the services that you are offering so that potential clients are able to reach you in seconds.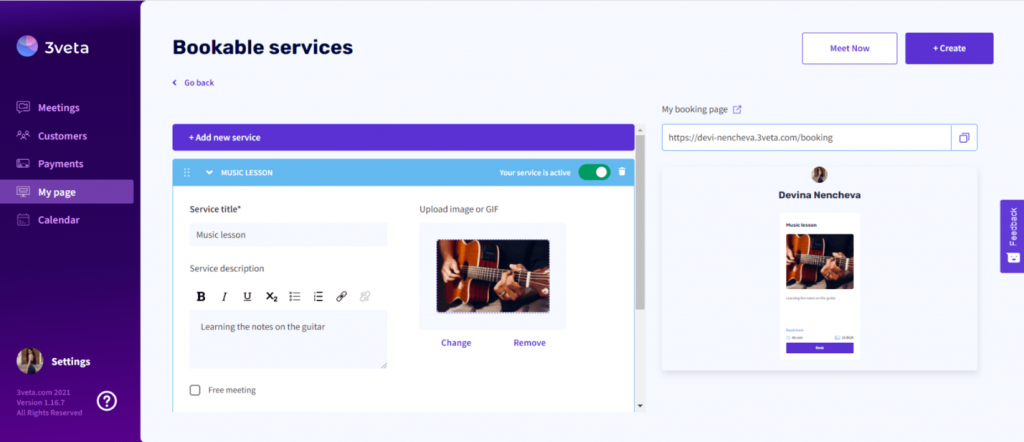 After making registration with us as a service provider, you can go to My page and design your service by adding pictures, writing a description, and setting the time and price. On the right, you can see what it'll look like for the customer.
The next logical step is to build your own website. Sounds scary but don't worry, you won't have to break a sweat because we've made it as easy as it could be.
Creating a music lesson website
Now, you can go a step further.
Via My page, you can access our website builder and start designing according to your own taste and preferences.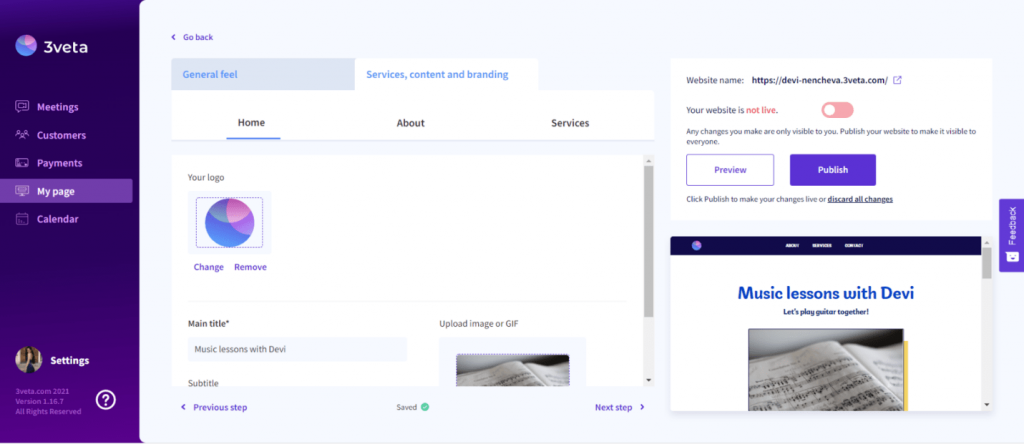 You can select the color palette, change the logo, add pictures and 'about me' information. After that, you can connect your website to your upcoming sessions and make everything even more accessible to clients.
How does our calendar work?
So far we've published one service on our booking page – the guitar music lesson, we've made a website and shared our service there as well for more people to see, and now we're ready to organize our schedule.
How do we do that?
3veta's calendar connects perfectly well with any other online calendar (Google, Outlook, Apple, etc.) that you might be using and will display all of your meetings and activities.
Note: information from different calendars will be shown in different colors to be easily distinguished.
If you go to the Calendar section, you'll see that you can set your availability hours.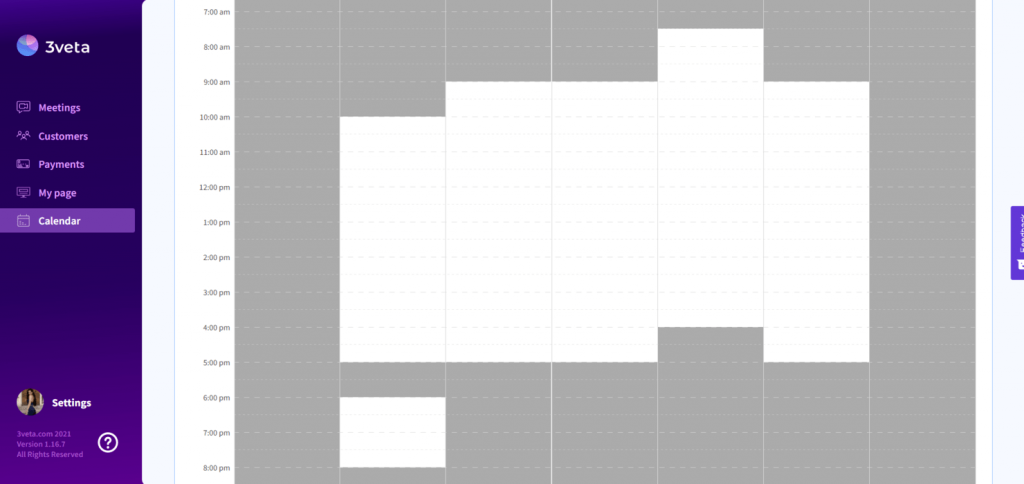 This is crucial for any music lesson scheduling software because this will determine the time slots offered to customers who are trying to book you.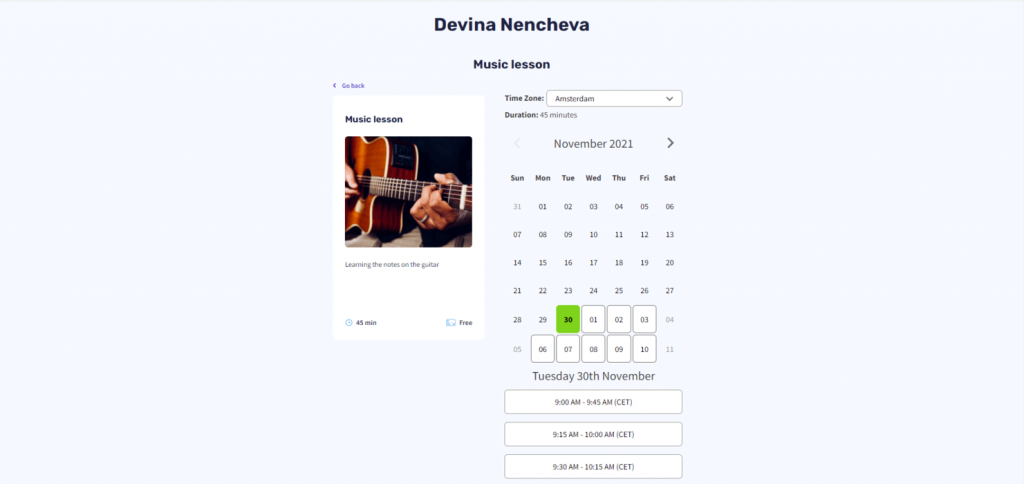 Let's say that someone decides to book you on Wednesday morning, the 1st of December. This is what will appear on your calendar: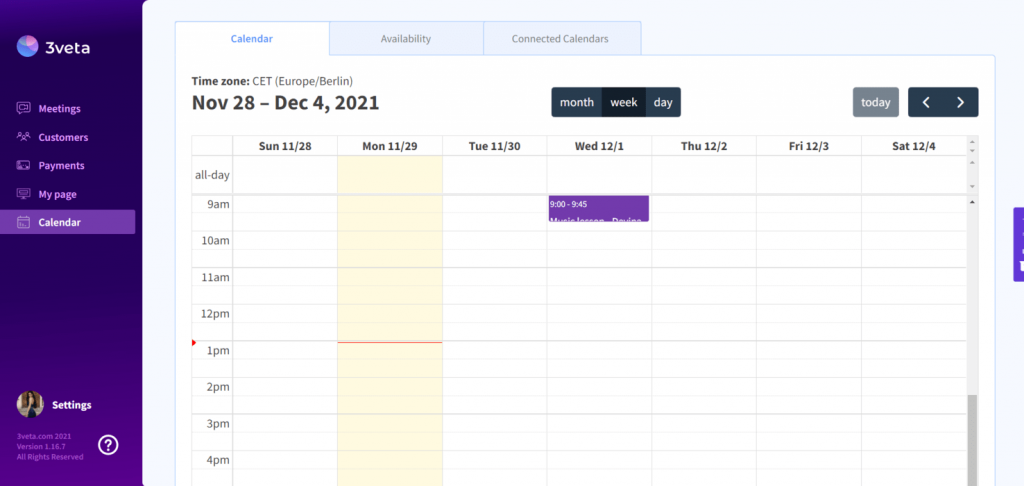 No way that you miss any appointments because we'll send you reminders and you'll be always up to date!
Want a reliable music lesson scheduling software? Get onboard 3veta.
Our number one priority is your experience on the platform and we strive to provide you with everything your home-based business needs. With 3veta you can easily schedule music lessons and other appointments right away.
Check out all the features on our website or try out our 14-day trial to make sure that our music lesson scheduling software is the right fit.
You won't be disappointed. Maybe better organized, but definitely not disappointed.