Every professional knows how important it is to grab the attention of the viewer during an in-person presentation and make them interact with the information that is given.
This is already hard enough for non-virtual activities due to people's short attention span, so imagine how challenging webinars and online classrooms could be for the host.
Although technology gives us the feeling of being isolated and far away from the person that is speaking, it could also keep our interest up. All we have to do is use a few tricks.
In this article, we will be using the 3veta platform to show you how to make virtual meetings more interactive and keep your audience engaged.
What's a virtual meeting?
By definition, a virtual meeting is a type of communication that enables people in different physical locations to meet online and see, hear, and interact with each other.
Virtual meetings are an excellent way for people to connect with family members who are not nearby or with colleagues and clients in different parts of the world.
3 easy ways to make virtual meetings more interactive
Elevate the visual experience
Turning off your camera when you wake up late and don't have the time to brush your hair is a great temptation but it de-personalizes the whole meeting.
That's why you should always regard online meetings as in-person gatherings; you don't have the option to hide your appearance.
Here's an interesting poll that we've run on this in our Community for Remote-First Work.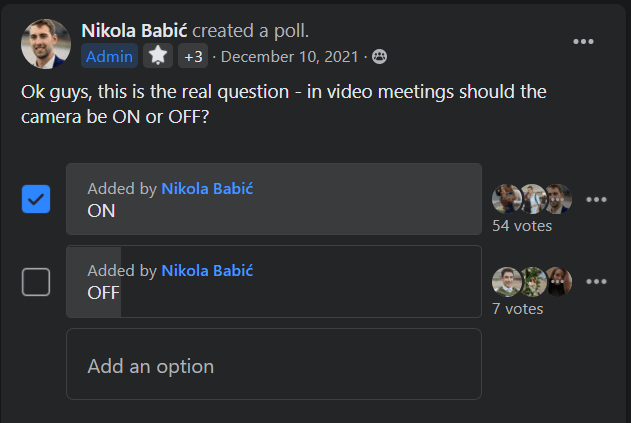 It does depend on the context though. It seems that the majority of respondents agreed that 'Always on with external people. It could be off with your internal team'.
One thing you could do is change the virtual background so that it's more flattering.
Choose a picture that corresponds to the topic of discussion or a picture that contributes to the formality of the meeting, in case you are on the go.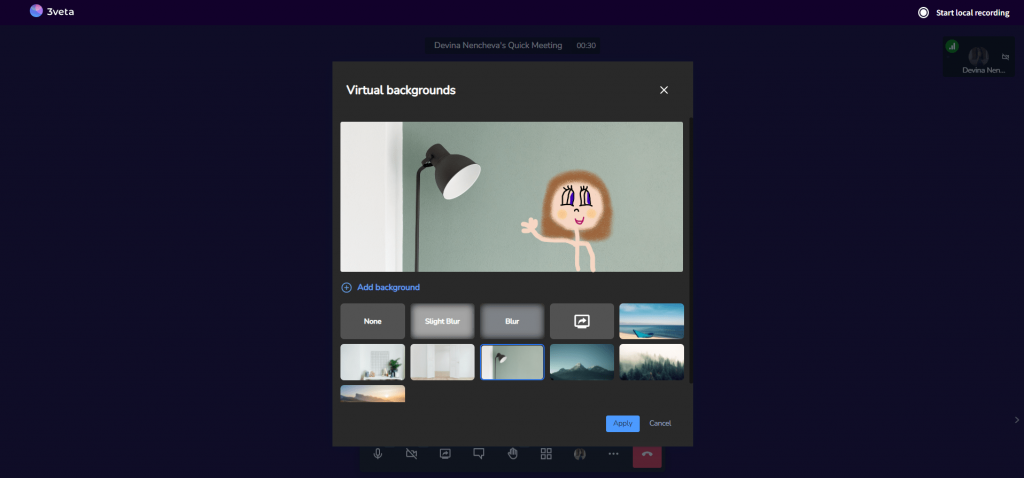 Another useful technique on how to make virtual meetings more interactive is to create a catchy PowerPoint presentation and share your screen.
This way attendees will be given a written /visual/ representation of the information and you'll be able to highlight the most important part.
You could further engage your audience by asking some questions in the chat or by creating a poll at the end of the presentation related to the main topic.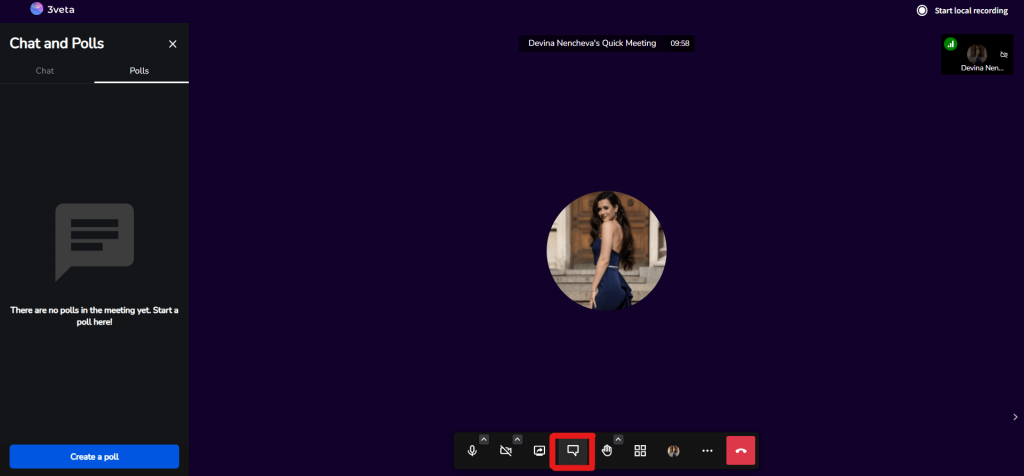 Additionally, you could ask questions during your presentation instead of waiting till the end.
If it is appropriate pick out random people from the audience and ask them questions directly. This will create a feeling of suspense and will encourage participants to pay close attention to what you are saying.
When someone wants to answer the question or add something to the discussion, they could use the 'raise your hand button' so that nobody is interrupted and there's a clearer order of speaking.

As you can see, attendees can also use emojis to express their feelings on the matter.
This contributes hugely to the interactivity of the meeting because you, as a host, might not be able to see everyone's facial expressions while presenting.
Boost productivity and avoid distractions
Often times you want to share a video with the whole group and you copy-paste the link in the chat or you type the title and hope that everyone will be interested enough to look it up.
The thing is, most people either don't bother clicking on it at all or once they open a separate google tab, they forget that there is a recurring meeting.
With 3veta you can easily avoid that because we've made it super easy for you to share YouTube videos during the meeting and play them for everyone to see in real-time.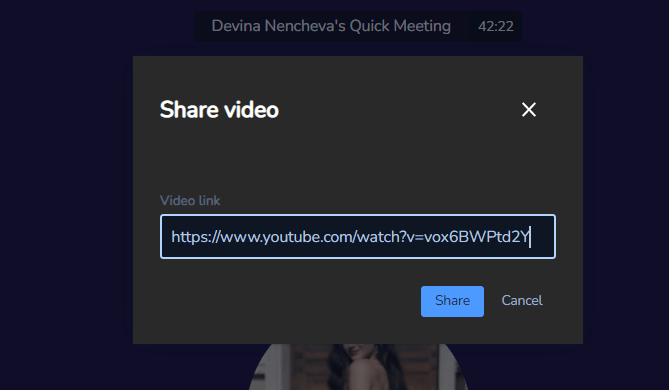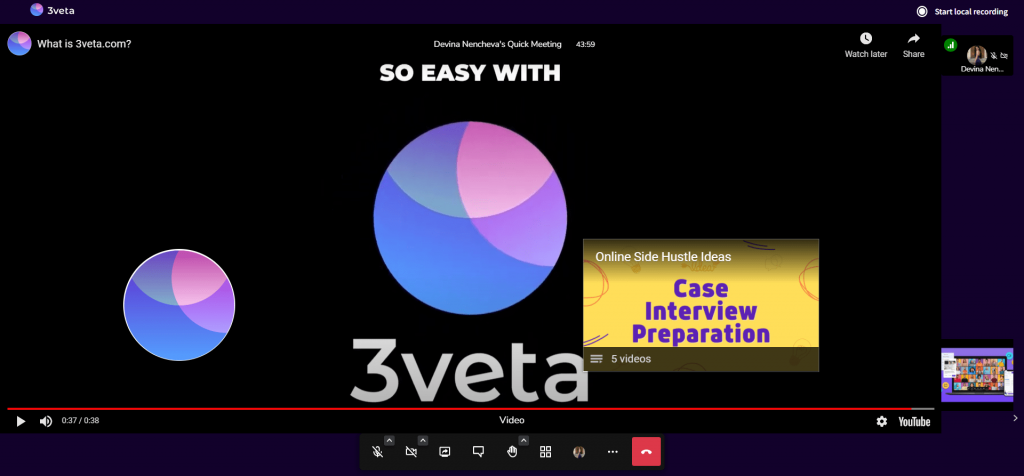 Also, manage people's microphones and camera settings.
Sometimes people forget to turn off their camera or mic and this could divert the attention away from the main character – the host.
With working from home, the main distractors are the children of the other participants.
It is understandable but we all know it could be annoying.
So, every host should be allowed to easily mute and hide others if it is needed.
Otherwise, you risk voice echoing and audio malfunctions which makes the audience even more hesitant about joining the conversation.
Be active and take notes
In case you are the passive listener and the other person is the one expressing ideas, sharing their thoughts, informing you about something, or giving an update on a project, make sure to take notes.
Don't just sit there and rely on your elephant memory to remember all the important stuff.
Be active even if you are not required to do so because this would make the meeting a lot more meaningful.
With 3veta you can access the profile of each of your customers and take notes. This will help you keep everything organized and will prevent you from forgetting something they mentioned during your session.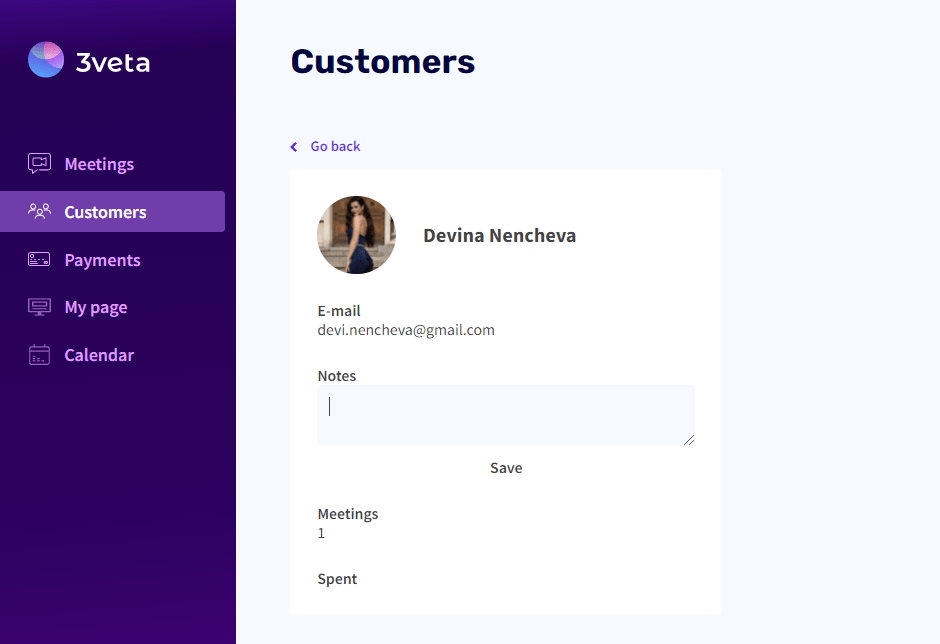 Final tips on how to make virtual meetings more interactive
So, how to make virtual meetings more interactive?
Be concise, ask people what they think, be creative with the visuals, and use the right meeting management platform to do everything that we mentioned!
No matter what type of business you are running, it's always useful to offer your services online as well. And if you don't know how to start yet, check out what 3veta has to offer.