See all product updates over here.
Summer is in its full swing and before we leave for a well-deserved break, I wanted to share with you what we've been working on lately.
Hint: One of the most requested features has just arrived.
Let's dive in.
Booking a meeting without creating an account
We've made it possible for your clients and external collaborators to book you without signing up for 3veta.
They'll be able to choose a service, select a date and time and complete a booking with their name and email only. No passwords. No registrations.
Invite guests
After a booking is successfully completed you can also invite guests.
Simply type their email and they will receive all the necessary details, as well as a calendar invitation.
3veta Slack integration is live
Our Slack integration is live and public and you can find it in the official Slack App Directory.
Once you connect your 3veta account with Slack you'll be able to get meeting reminders, create instant meetings, see your upcoming meetings, and much more without leaving Slack.
Learn about all the capabilities of our Slack integration.
That's all for now.
Thanks for being part of the 3veta family!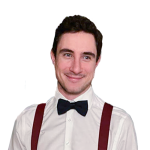 Iskren is the CTO of 3veta.com. He is an Oxford graduate, instructor on Udemy with more than 400,000 students, former head of R&D for multiple start-ups, and software developer for an international trading company. If this isn't enough, he is also a published researcher in the peer-reviewed Quantum Science and Technology journal.