When organizing online video meetings with customers, employees or co-workers consultant scheduling software is there to ease your burden.
No need to send an unbearably annoying amount of emails to arrange a business meeting anymore, because the platform simplifies the whole process and does the job for you.
Some of the key functions that you should be looking for are video meetings, group appointment bookings, workflow calendar, online payments, and the ability to display your logo – all facilitating remote work.
In this article, we'll get you acquainted with the top 31 software consulting platforms that could make your business thrive on the Web:
3veta is an excellent consultant scheduling software if you're an online service provider who relies on video meetings. It is also the go-to choice for consultants who collaborate with others (on their team or outside of it).
3veta has a unique calendar pooling feature that works with all calendars (Google, Microsoft, and Apple) and allows seamless booking for everyone involved.
The platform is specifically designed for consultants looking to schedule meetings, get booked, meet clients via video, and even receive payments. Furthermore, you can add your own name and logo to the meeting rooms to provide an even more professional and personalized experience.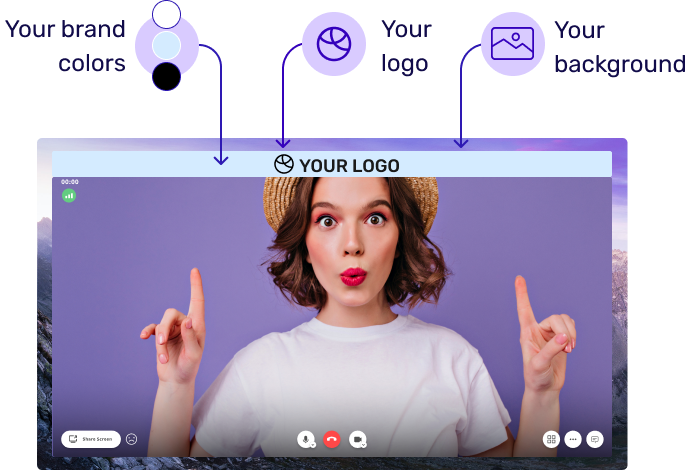 3veta does not require any installation and everything happens in the browser –both for the consultant and their client.
Pricing plans are fully customizable based on your needs.
What exactly am I getting, you might ask?
Unlimited meetings and scheduled appointments with up to 100 at the same time
Booking page (so you can share your availability and get booked by clients)
No installation –video meetings happen directly in the browser
Online payments (secured via Stripe)
4000+ integrations with other software
Mobile App for both iOS and Android
And a ton of team-oriented features to make your collaboration easier!
2. Appointlet
Appointlet, a scheduling consultant software, allows syncing with external calendars like Google, Office 365, and Outlook even in its free version. The Premium package is worth $8 per month.
Appointlet doubles down on scheduling while relying on integrations with video chat programs for video meetings. You can integrate Appointlet with Join.Me, Go2Meeting, and Zoom.
Other important features that you might find useful are: customizable branding, collecting of payments, reminders and confirmations, time zone support, and availability in various languages.
Unfortunately, its interface is entirely web-based with no mobile application, neither for iOS nor Android.
3. AppointmentPlus
AppointmentPlus has an offering for businesses ranging from small and medium to multi-national enterprises.
It offers more than 500 settings that you can easily customize according to your needs.
If you're a solo entrepreneur or a start-up, say hello to their Bronze plan ($49/month) or their Silver one ($69/month). It will place email appointment notifications, website and Facebook calendar integration, as well as event scheduling at your disposal.
However, if you're a big fish in the business ocean, consider their advanced software consulting by joining the Gold ($99/month) or Platinum plan ($199/month).
4. Arrangr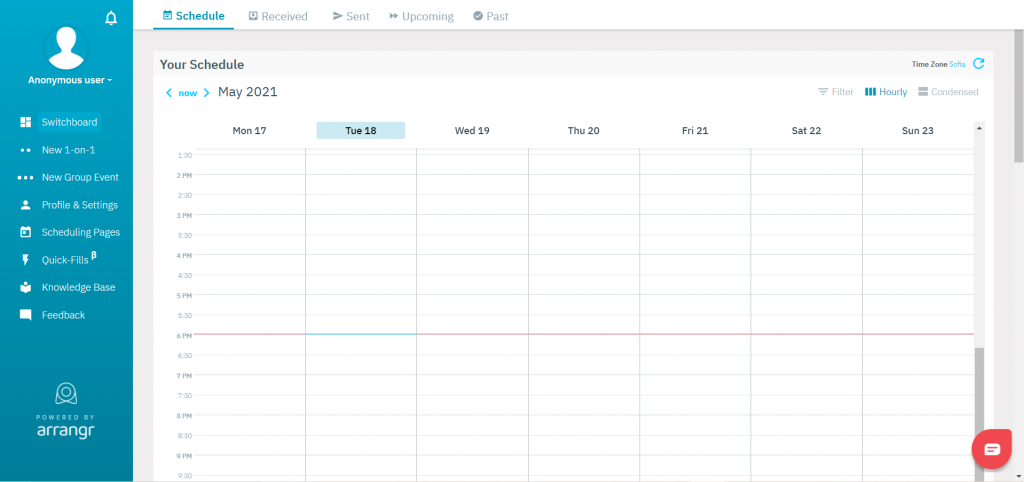 Let me spill the beans, Arrangr and HubSpot are buddies! They're app partners and they work together in the same ecosystem.
This means that you can launch and send invitations from HubSpot as well.
Now, let's get back to Arrangr.
It's a consultant scheduling software that allows you to sync with one or more calendars, send video conference links, do one-on-one meetings, integrate your custom branding, and do group polling.
Due to the COVID-19 crisis, they're offering a discount: Basic plan & Arrangr Pro are both for free, while the second version of Arrangr Pro –which has upgraded features is for $4.99/month.
However, keep in mind that you'll still have to pay separately for HubSpot services.
5. Bookeo
This booking tool is adequate for businesses of all sizes –from small start-ups to multinational corporations.
The platform's goal is to help you organize your time properly, save you some aggravations, and allow you to focus on growing revenue.
Bookeo Appointments manages your client database, grants you security, syncs with your calendar, processes online payments, and integrates with your website.
You're given a 30-days free trial after which you can choose between 4 plans: Solo ($14.95 per user/month), Small ($29.95 per user/month), Standard ($39.95 per user/month), and Large ($79.95 per user/month).
6. Bookwhen
"Bookwhen meets the scheduling requirements of businesses of all shapes and types."
You can subscribe for $15/month (Lite), $29/month (Standard), or $59/month (Plus) to enjoy: custom booking forms, online and offline payments, confirmation and reminder emails, fast checkout, waiting lists, access from mobile devices, and discount codes.
And, if that's not enough…
This consultation software also offers Zoom, YouTube, and Vimeo integration so that you could enjoy the ultimate online event support.
💡Pro tip
As an online consultant, you need a solution that is specially designed for consultants. Having your own consulting platform that features everything from scheduling meetings to hosting video calls and accepting payments will help you scale your business to new heights. Furthermore, it will save you tons of time and money and will make it much easier to organize your work.
7. Calendar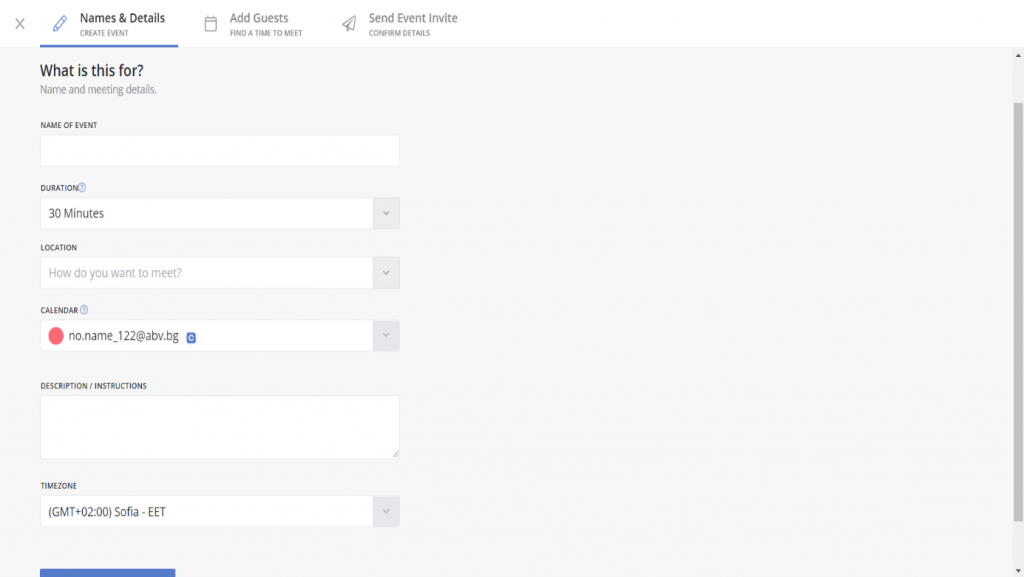 Like any other consultant scheduling software, Calendar provides you with time management via a digital calendar. It combines all the information from your Google Calendar, iCal, and Outlook in one place.
You can customize your dashboard and share it with anyone.
In addition, the platform supports a virtual assistant for your timetable that can start arranging meetings, invitations, and scheduling changes.
Subscription plans: Basic( free), Standard ($6/month), and Pro ($8/month).
To be honest, 'Calendar' is everything you'd expect from a calendar solution…PLUS, the price is just right!
8. CalendarHero
CalendarHero offers their Basic plan for free, but you will be prompted to upgrade to Pro for $8 per month or join Team for $12 per month.
CalendarHero is a modern sales consulting platform for fast and hassle-free scheduling.
Among their features you will find: automated scheduling of 1:1 and group meetings, customizing, detecting time zones, sending reminders, and syncing with an unlimited number of calendars are the main features of the platform.
Everything you need for your calendar needs, but also more!
You can add your logo, make payment collections, and embed it into your website.
9. Calendly
Like many others, Calendly offers plans for small-, medium- and large-scale professionals.
The Basic plan is for free, Premium is for $8 a month, Pro – $12/month, and Enterprise requires further negotiation.
With this platform, you can easily arrange in-person meetings as well as virtual ones. It automates, integrates, and optimizes.
You won't have to worry about miscommunication, no-showups, or overdue payments.
Calendly solves most of the calendar problems you might have and has integrations with Zoom for the video.
10. Checkfront
Checkfront is yet another software that can help you perform your business better. Checkfront is mainly oriented around booking and CRM, so it's better suited for hotels, events, and experiences rather than consulting. However, some professionals do use it for that so it deserves a spot on the list. Some of the highlighted features of Checkfront are self-service bookings, secure access, instant payment processing, automated invoicing and billing, a real-time dashboard, website integrations, certificates, vouchers, and a mobile app.
There's no free option among the subscription plans. You can choose between Soho ($42/month), Pro($85/month), Plus ($170/month), and Custom pricing if you're an enterprise.
Checkfront mainly deals with reservations and payments, so the platform could increase your sales by completing these processes within minutes.
11. Chili Piper
Chili Piper grabs the attention of the user with its unusual strategy.
The platform schedules multi-person meetings by sending possible time slots via email. Surely, on top of your mind is the infamous back-and-forth emailing. Don't be so skeptical.
Chili Piper solves the tussle over what time suits you best by implementing a few convenient buttons at the end of an email.
Abra Kadabra! …and the meeting is booked in one click.
You can enjoy the free version, the Spicy version ($15 per user/ month), and the Hot one ($25 per user/month).
12. Doodle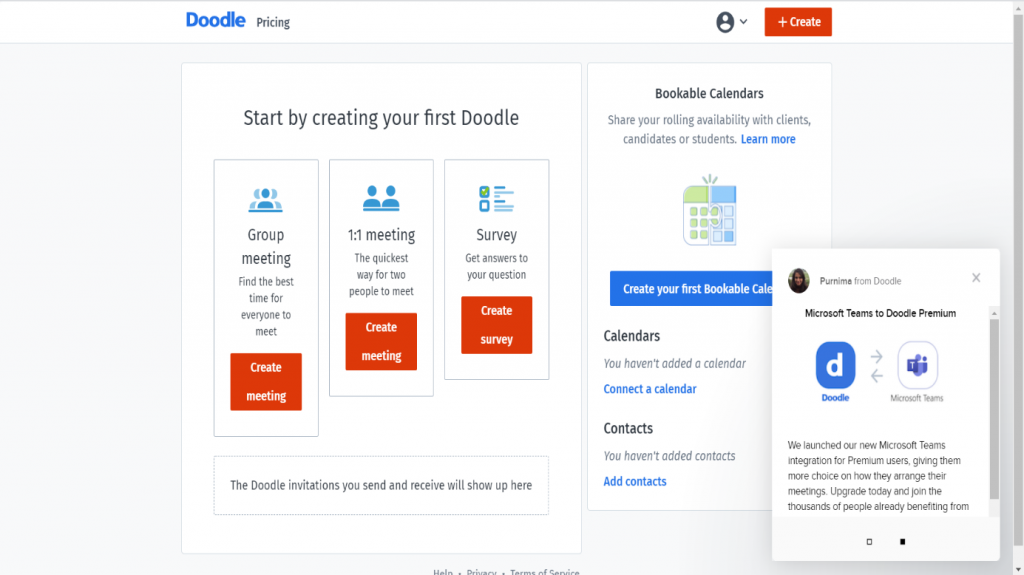 Doodle has been solving the whole multi-person synchronization for quite some time. Recently, they've announced video meeting integrations via Zoom and Microsoft Teams –making calendar integration with video meetings much easier.
You can choose to join the Pro plan for €6.95/month, the Team plan for €44.75/month, or the Enterprise plan by further contacting them to negotiate the price.
13. Expertbox
Expertbox.io can help you keep everything under control – from the seamless booking and scheduling process, through the secure billing, to the high-quality video meetings.
The platform provides solutions to experts offering online consultations, agencies looking for a better online experience for their clients, and medical practitioners in need of reliable telemedicine software.
You can work individually or in a team and subscribe to their Starter plan for $29.95 per month or go Professional by paying $49.95 per month.
14. Fons
Just like any other consultant scheduling software, Fons enables customers to book the most convenient time for their appointment.
It especially facilitates professionals who travel a lot because the platform adjusts to different time zones.
Fons syncs with the calendar app of your choice, sends reminders, and displays to your client only the available time slots that you have set.
Furthermore, you can work on your own or add more staff. Each member is given their own login, schedule, and administrative role.
The pricing consists of:
$29.95/month/up to 5 staff;
$79.95/month/ up to 20 staff;
$149.95/month/ unlimited staff members.
15. GoReminders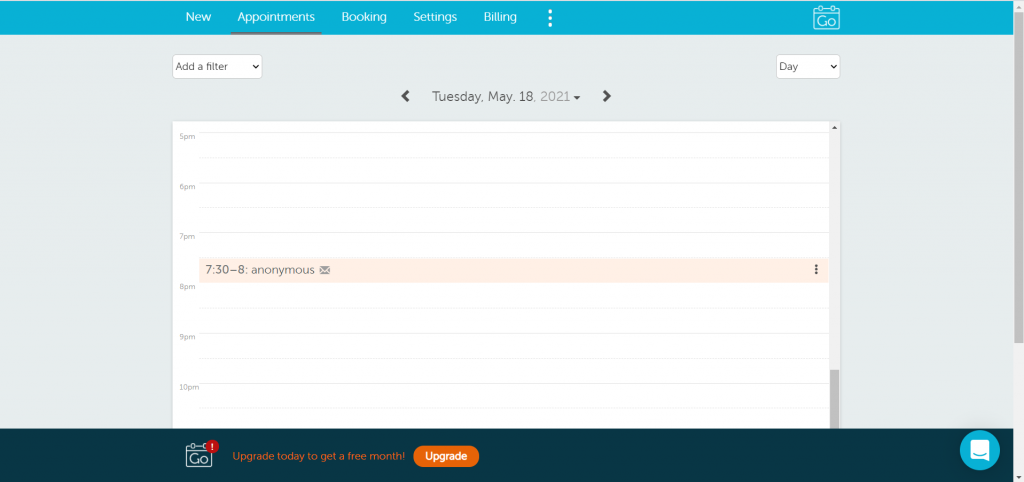 GoReminders is a scheduling & reminders app.
Their main focus is on scheduling appointments without worrying that your client might forget to show up.
The basic features include appointment booking, group messaging, text blasts, and customizable reminder messages. You're allowed to enjoy all of these with a free 14-day trial. After that, you can upgrade by subscribing to one of their plans: Starter ($12/month), Business ($25/month), or Premium ($100/month).
16. Honeybook
This one's entirely dedicated to facilitating your sales.
As a consultant scheduling software, it has numerous things on the menu:
Online contracts, online invoices, proposals, online payments, scheduling, and integrations with Google & Zoom.
You can easily arrange meetings and communicate with prospects, send proposals, and sign legitimate contracts. Honeybook makes a lot of sense if you have various projects and different clients, so its pricing is a bit on the high-end.
As for the pricing: their Starter plan costs €46/month, the Professional one is €823/month, and if you're an Enterprise -a whole bag of money – €2,944 per month.
17. HubSpot Meeting
HubSpot is a titan in CRM and sales software.
It also has a meetings spin-off, making it easy to schedule meetings. The main advantage of HubSpot is that it integrates extremely well with the whole HubSpot ecosystem: ad management, live chat, forms for contact information, conversation inbox, reporting dashboard, follow-up emails, SEO recommendations & optimizations (for enterprises), video hosting, and management.
The platform is also available on mobile devices and offers different languages.
Due to the large capabilities of HubSpot, even the starter pack is a bit pricy. The Starter offer is worth €46 a month, the Professional €823 a month, and for big organizations, the price is €2,944 a month.
18. Rallly
Are you running on Linux? Do you often contribute to GitHub? Maybe Rallly is the right tool for you. What's exceptional about Rallly is that the platform is open source and anyone can contribute to it. In exchange, Rallly provides its service to the community completely free of charge.
Its main features are simple but useful. You can: create and share an event page, further discuss details about the event, and vote together for a time slot that works best for all of you.
19. ScheduleOnce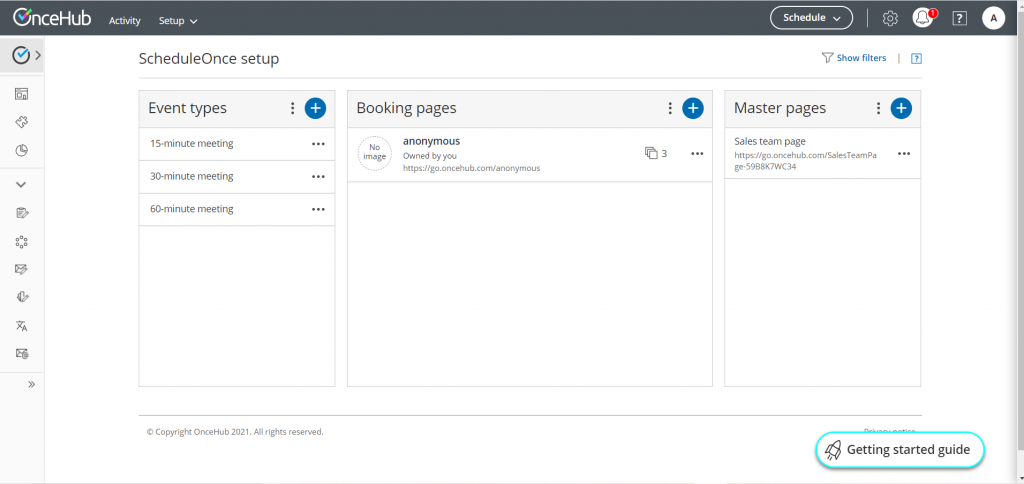 This consultant scheduling software can be easily connected to your website, email, or payment system.
ScheduleOnce is designed to deal with group sessions, one-on-one calls, and in-person meetings as well.
You can also create a MeetMe page, which shows the available windows for booking time slots in real-time. Say goodbye to the inconveniences caused by double booking.
You can benefit from the free plan if your team is small or you can choose to upgrade by paying $9 per user/month.
20. Setmore
This software for consultants encourages users to create their own booking page and share it with the virtual world in order to convert online visitors into new customers.
Setmore handles the when-and-when, while you're focusing on your work with the clients.
You can access it anywhere from any device and integrate it with Instagram, Facebook, Gmail, and many others.
On the main page, it says that it's completely free, however, you can still upgrade and start using the Premium ($12/month) or Pro ($9/month) version.
There are better places for online video meetings, but Setmore is still helping many consulting businesses.
21. SimplyBook.me
With SimplyBook.me, your customers will be able to make reservations with Google, as well as Facebook & Instagram bookings, receive coupons and gift cards, or fill in intake forms.
The platform syncs with Outlook and Google Calendar, secures online payments and accepts deposits.
With the free plan you'll be quite restricted, however, there are paid options:
Basic for $9.9/month
Standard for $29.9/month
Premium for $59.9/month
And, if you're interested in the Enterprise offer, you already know the drill – contact them for more information.
SimplyBook.me is extremely powerful, but it's exactly because of this that it may seem a bit too complicated, especially if you simply want to schedule meetings and get paid.
22. Square Appointments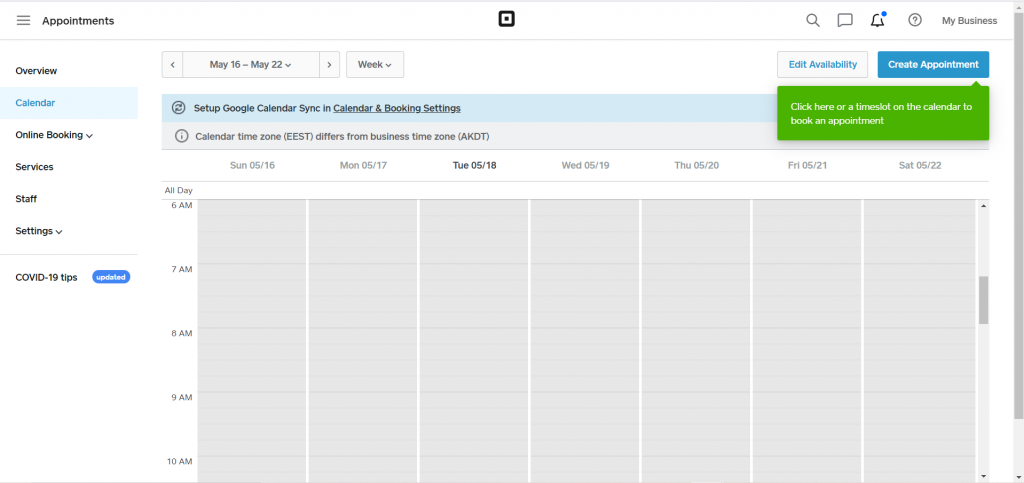 Want to get paid by card? Square has certainly been on your radar. They do offer appointments, too! You should definitely consider Square Appointments if you're in need of not only good scheduling but also a more sophisticated payment platform.
With their services, you'll manage your money, sell online and in-person in a matter of minutes, further develop your website and social media accounts, and connect with your customers.
The platform supports various business types: Retail, Food and Beverage, Professional services from the beauty, health, or repair industry, and Enterprises.
23. Squarespace (Acuity Scheduling)
Squarespace is a leader in website building. One of their related, but distinct, products is Acuity Scheduling –a great place that gathers prospects, customers, and clients.
It's not consultant scheduling software, per se. It's a one-stop shop for integrations. It allows you to connect and integrate many different tools. The common thing between them is the native capability to set your availability and get booked.
You can easily display your logo and send customized confirmations, appointment reminders, and follow-up messages.
Acuity Scheduling doesn't have a free plan, though. You can pay for the Emerging plan ($14/month), the Growing plan ($23/month) or, if you want to be all-inclusive, subscribe to their Powerhouse plan ($45/month).
24. TimeTap
If you find it difficult to manage many bookings quickly, TimeTap is scheduling software that will help you out.
TimeTap is call themselves 'enterprise ready' as they are particularly good for managing your scheduling for businesses with one or more locations. They have worked with more than 1000 different businesses, helping them secure more than 4,000,000 bookings!
The platform maintains client information, sets up waiting lists if necessary, creates recurring appointments, sends out text reminders, handles class scheduling, and takes into consideration different locations. In addition, it offers customizable forms or disclaimer forms and waivers.
TimeTap has a completely free plan included! After that, there are flexible price options depending on your needs, including multiple staff members and multiple locations, no matter the size of your business.
25. Timify
If you want to have all these good stuff rolled in one:
Unlimited bookings, a mini-website, appointment calendar, booking reschedule, email notifications, and bookings via Facebook for FREE… then Timify should be your online consultant.
Timify is available in a variety of languages, making it a preferred choice for multilingual teams!
Timify Classic is their free plan which should be sufficient for an individual.
If your business is more high-maintenance, you can always upgrade to the paid versions: Timify Premium ($25/month) and Timify Enterprise ($42/month/per license).
26. Trafft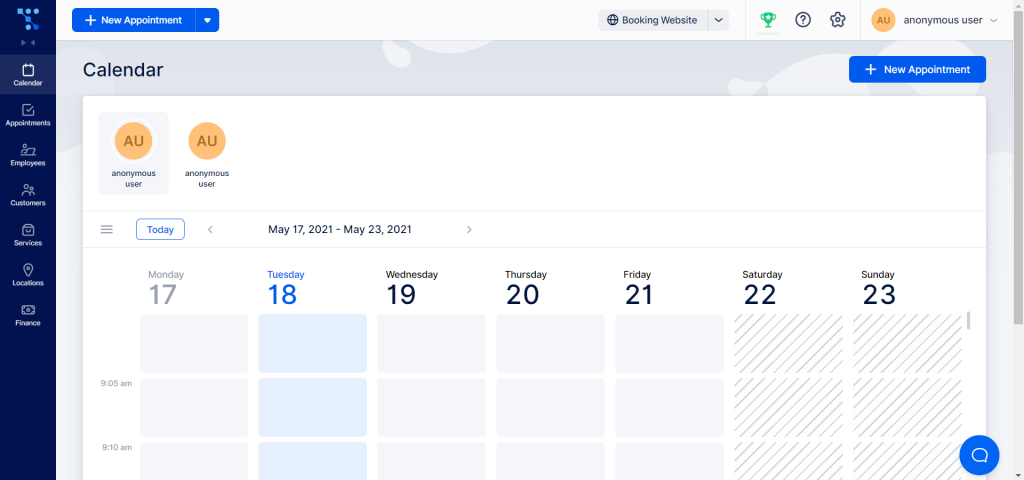 Timezy is relatively new on the market, thus they're offering a Free plan and an Early Bird plan with extended features for 4 euro/month. Basic, Pro, and Premium plans are still to be decided.
Law and business consulting companies are among its most frequent users, but it's a consulting software that's able to arrange any online event.
The platform handles your payments, individual bookings, calendar, and locations.
27. vCita
vCita might be the right choice for you if your business is still in its early stages.
It has a simple interface and is easy to navigate. It offers all the necessary features for a small service-based business.
The platform's scheduling features include client self-scheduling, document sharing, 24/7 payments, and integration with PayPal, Square, Stripe, and Zoom. Once more, it's a one-stop shop with a good integration for WordPress websites.
Pricing: Essentials (€29/month), Business (€59/month), and Platinum (€99/month). If you choose annual billing, you'll be given a discount.
vCita is indeed a great tool that made it to one of our other articles – Top 5 Apps for the Providers of Online Services via Video.
28. Vectera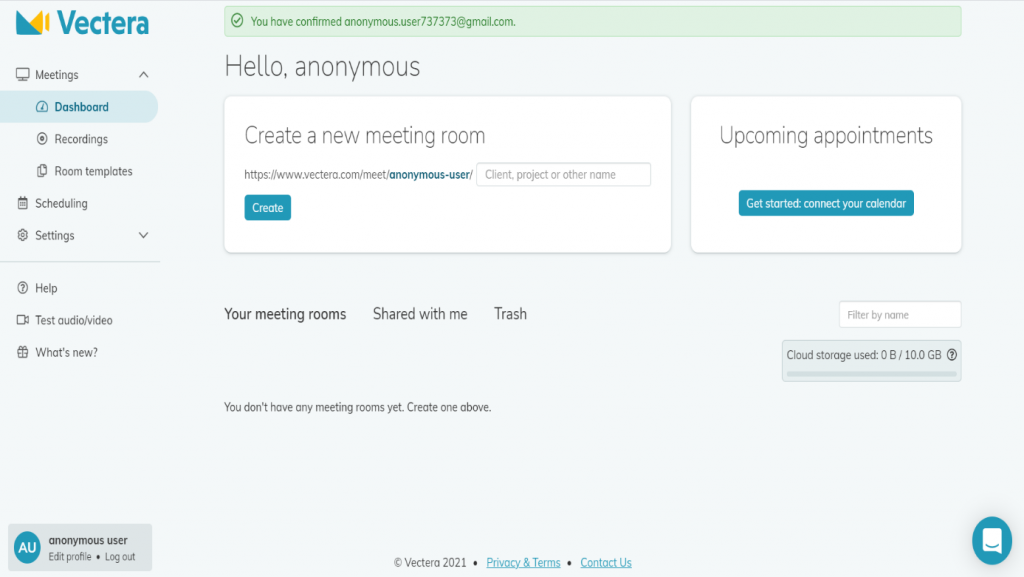 Vectera is software for consultants which offers a free plan if you need an occasional one-on-one meeting with a client.
You can upgrade to Pro for $9.99/host/month or you can contact them for a Custom plan if you are a larger organization.
The consultant app grants you access to cloud storage and unlimited meeting rooms!
If you are looking for something more, they can probably provide it. Among the paid luxuries are: group meetings, custom logo, waiting rooms, workflow integration, full API access, billing, analytics dashboard, and even team training.
29. Woven
Woven offered an easy way to find the best time to meet via integrated scheduling links and many other features.
Notice, that I'm using past tense because as of the 28th of May, 2021 Woven Software discontinued their service.
It was one of the best – so it still deserves its place. And, no wonder, none other than Slack Technologies had bought Woven with the purpose of boosting their calendar offering.
30. Yocale
Yocale is the perfect consultant scheduling software if your goal is to double down on attracting more clients and managing your relationship with them efficiently.
Customers can easily book appointments– while clients of the platform are able to see appointment details, information about the customer, history, receipts, and notes.
What is great about Yocale is that you can also list your business on their marketplace. In this way, your business can be discovered based on its location (facilitated by Google Maps).
There are flexible subscriptions options: Essential (free), Grow ($25/month), Pro ($40/month), and Ultimate ($80/month).
31. YouCanBook.me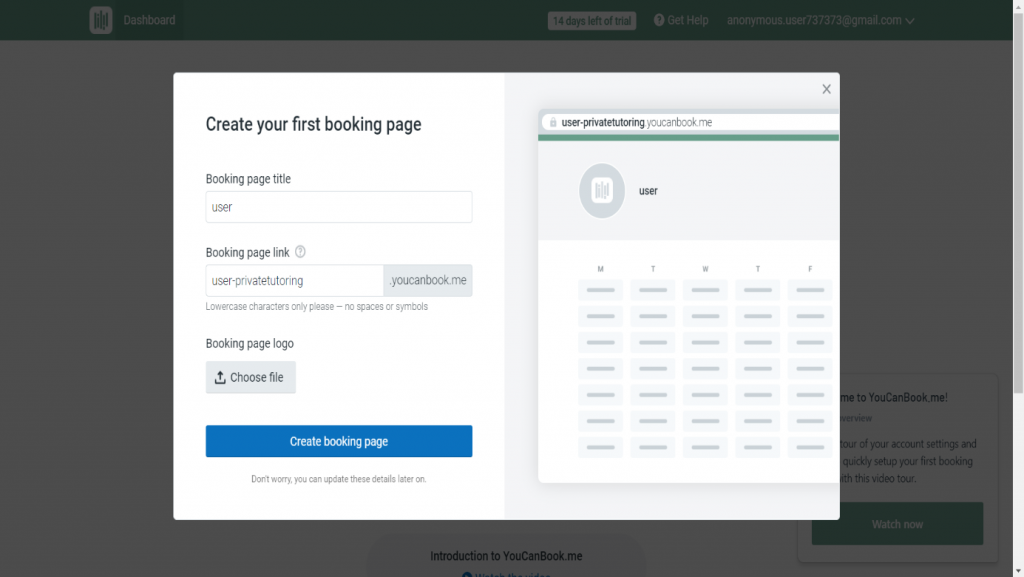 YouCanBook.me is a consultation software that automatically detects time zones, allows you to set up a regular weekly schedule, and determine the duration of your appointments.
It sends follow-up emails and reminders to your customers, works perfectly on mobile devices, and optimizes your branding.
YouCanBook.me has recently reached 70,000,000 bookings! 70 million bookings can't be wrong!
They have some of the simplest prices out there. It is based on the number of calendars you use: $10 per calendar, per month.
Choose your consultant scheduling software carefully
You should take your time choosing which one works best for you. Most of them have similar features but, note my words, the details are of KEY importance.
So, what factors should be considered when choosing a small business scheduling system?
Like I said in the beginning, your prime concern should be whether the business consulting software ticks all the boxes for you with regard to your unique needs.
However, if you don't have the time to experiment with different online consultation platforms, I highly suggest simply going with the latest go-to solution for meeting clients online – 3veta.com.