Computers, software, and AI are changing the workplace landscape continuously. Slowly but surely, all the repetitive and boring tasks are becoming automated and performed by some kind of software.
This is exceptionally important when it comes to remote work and hiring since literally everything is performed by computers that way.
But how does the recruiting software help remote work exactly?
How COVID-19 changed the workplace forever
Everyone already knows that COVID-19 has accelerated the adoption of technology and digitalization worldwide, which promoted remote work and hybrid work culture.
People started working remotely to avoid the unnecessary spreading of the virus, but the reasons why remote work remained for companies are quite different.
Flexible work hours, healthier work-life balance, lower costs, and enhanced productivity are just a few of them.
The recruiting industry has not been an exception to this. Many recruiters and hiring managers have worked remotely, especially when snooping for talent in the digital world.
How can technology help us adjust to remote recruiting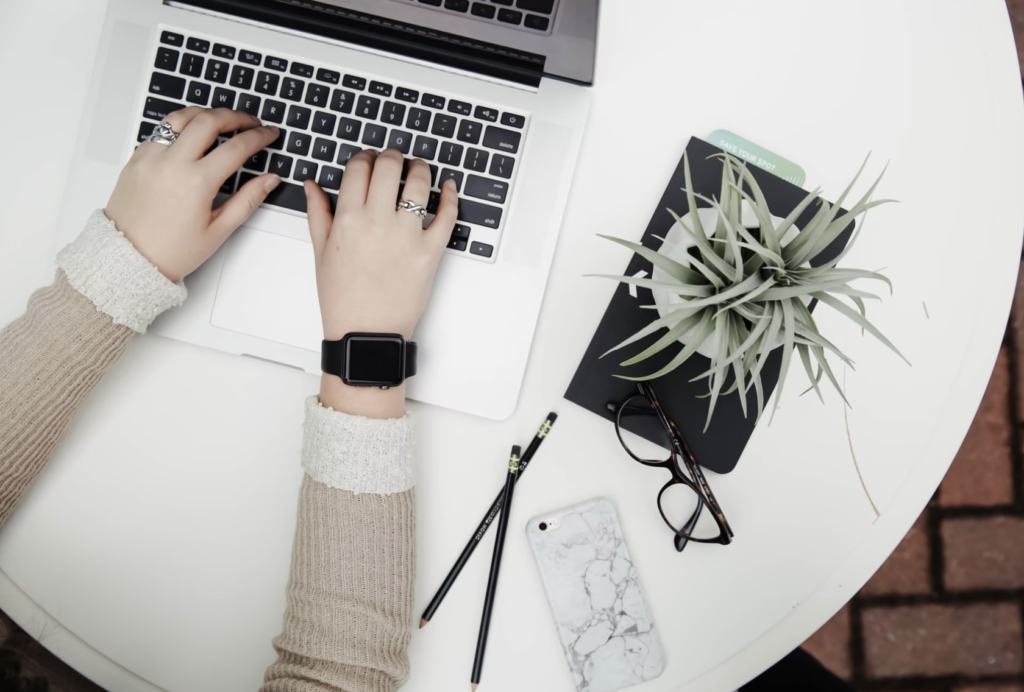 Technology transforms every industry we know, and the same happens with recruiting.
Recruitment technology allows us to be more productive by automating recruiting tasks and workflows. It also allows recruiters to have streamlined communication with coworkers, clients, and candidates.
For instance, Slack is great for async communication and collaboration. And numerous companies around the world are embracing it. But is it good for recruiting?
Of course not.
Remote recruiting needs specialized recruitment software.
What is important for remote recruitment software?
With remote recruiting, recruiters rely heavily on digital channels for finding candidates.
High-level tracking
In order to determine how efficient their recruiting effort is, they need to know:
Which channels are bringing the best candidates?
What campaigns were the most effective?
How many applicants do they get on average for various job openings?
How can they store and easily format all the data about past and current applicants?
And what happens if the same candidate applies twice? How do we handle duplicate data?
But this is only the beginning.
Candidate relationship management (CRM for recruitment agencies)
The actual need for software starts when the communication with candidates begins:
How do we know who is declined and with whom we have decided to schedule the interview?
Did we reply to every candidate?
Did we contact the client?
Who has sent the resumes to the client?
Who interviewed Joe from San Francisco?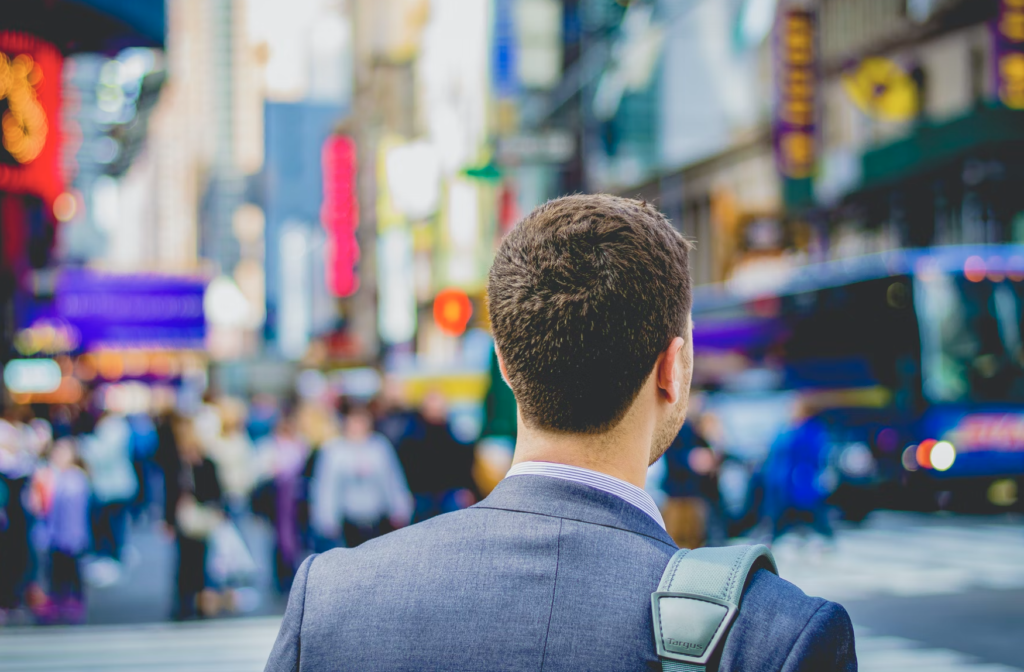 Sync and async communication with candidates
It is easy to understand how communication can get messy when there are many job openings, many candidates, and many clients to handle.
That's why well-crafted recruiting software provides recruiters with advanced communication features, automated bulk email options, the ability to automatically redact a CV to hide potentially biasing information, and last but not least, a way to store all the candidate information in an organized and easily accessible way.
Besides that better recruitment software also helps:
Reduce costs per hire
Reduce time to fill
Improve talent profile
Improve the quality of hire
Improve relationships with clients and candidates
Scale businesses more easily
And much more
But let's not talk the talk and actually recommend some excellent recruiting software that can help you out.
Best recruiting software for remote work in 2022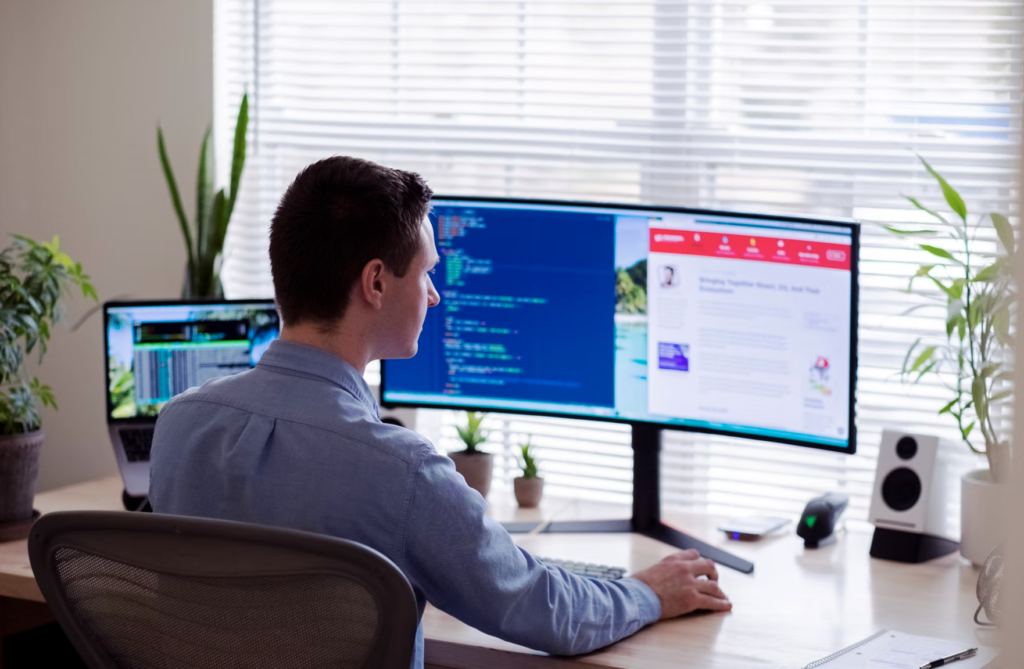 There is numerous recruiting software on the market, and choosing the right one for your company can be challenging.
Here are some of the things you should keep in mind when determining which software to go with:
User experience – Is it easy to use? Is the user interface straightforward and intuitive?
Standout features – What are they, and do they solve your most prominent problems and needs?
Email integration – Does the software integrate with your email for easy, streamlined communication?
Resume formatting – Does the applicant tracking software come with the resume formatting feature, or does it easily integrate with one?
Blind hiring – Inclusivity, and diversity are more important than ever, and you will probably want to use software that supports blind hiring.
Customer support – Is the customer/technical support quick to respond and helpful?
Pricing – Does the software justify the price?
With these in mind, we have selected the best software to help you with remote recruiting in 2022.
Recruiteze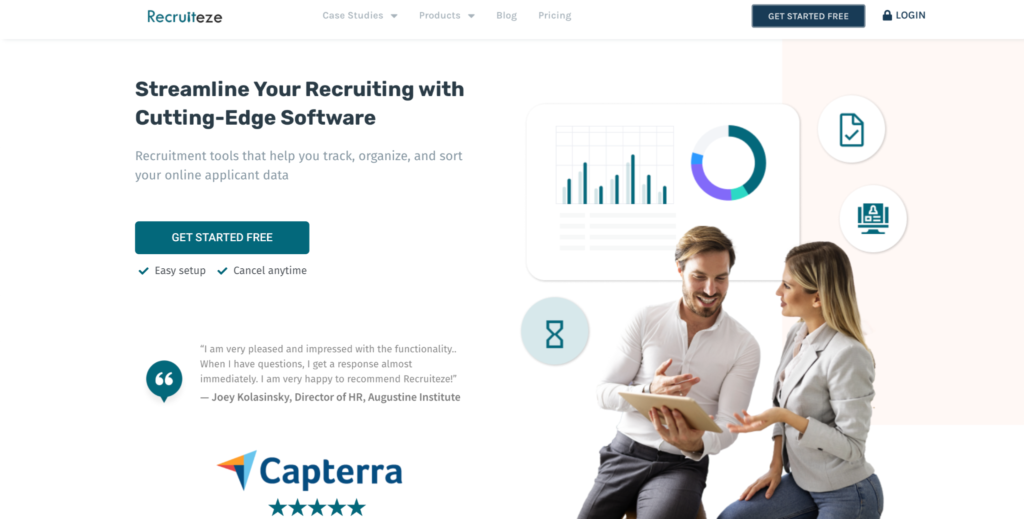 Recruiteze is specialized for medium-sized businesses and recruiting agencies – hence it is densely packed with all the necessary and premium features such as blind hiring and resume reformatting.
Here are more benefits of using Recruiteze:
Allows you to manage recruitment, internally and externally.
Improves internal and external communication.
Increases retention and productivity.
Reduces recruitment costs and time to hire.
Streamlines best practices and processes for recruitment and hiring.
Enables you to easily manage travel expenses, background checks, job fairs, and more.
Eliminates duplicate submissions automatically.
Database creation for future needs.
Direct access to social media outlets.
However, one of the most significant benefits Recruiteze provides is the ecosystem.
Recruiteze offers not only the applicant tracking system, but also the resume database and formatting system (iReformat), and employee onboarding and time management (HReze).
You can rest assured that all your recruiting and HR needs are covered by those three.
You will never need to worry about integrating your existing recruiting software with HR software or resume database since they will be perfectly compatible with each other.
You can learn more about Recruiteze here.
3veta
3veta is perfect for handling both partner bookings and candidate bookings. It is a great solution for teams of recruiters who are looking to streamline their work.
The top recruiting features are certainly the branded booking page, custom domain name, and white-label video calls.
Apart from this, 3veta is specifically designed for teams. Through it, you can check not only your schedule but that of your colleagues. Thanks to the shared team calendar, even if one of your colleagues is out of the office, you can cover for them.
Scheduling meetings and events with 3veta are easy since it sends automated email reminders, syncs the calendar to manage your availability, and schedules meetings. All while you are focusing on work and other important matters.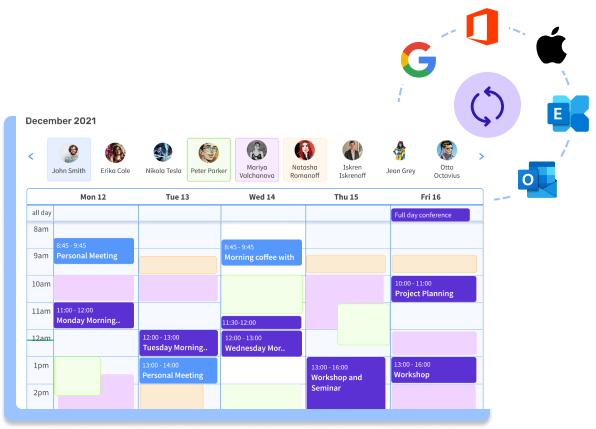 Conclusion
Every business is different in this post-COVID world.
To make it easier, you must embrace technology. When it comes to remote recruitment, good software is a must.
Don't delay streamlining your work.