From Facebook to LinkedIn, social media marketing can bring tremendous results for all kinds of businesses, no matter the industry you are in.
This includes the consulting business that sees over 734,000 management consultants in the United States alone. And to stand out from all that noise in the marketplace, you need to build your brand as a consultant.
Here are five ways to promote your consulting business on social media platforms to get the best results.
1. Position yourself as the go-to expert
The key to promoting your consulting business is to grow your reputation as the go-to expert in your industry. That means building a profile that showcases your authority in the niche.
One quick way is to use LinkedIn to demonstrate your achievements, professional experience, and certifications to attract more clients.
When doing this, make sure you market yourself with confidence and build a bio that lets you stand out from your peers. Tell people why they should work with you and how you can add value to your clients or help them solve their problems.
This can be anything from helping brands maximize the value of their marketing budgets or providing advice to businesses to reduce tax ethically.
Each day, people search the internet to find a solution to their problems. As an expert, you can reach out to them by commenting on Facebook social groups or answering relevant questions on Quora.
You can even take it a step further by opening a consultant Facebook fan page.
Note that this is different from your personal Facebook profile and is instead a page that lets you build a community of advocates that will help promote your service.
2. Connect and expand your networks
It's not what you know but rather who you know. Making connections in the consulting industry is very important.
Social media platforms like Facebook and LinkedIn are effective ways to build a strong network of contacts. There are no geographical boundaries, and you can reach out to like-minded people by simply commenting or starting a conversation,
The best part is, you can meet new people through your connections. By obtaining referrals, the number of professional network contacts you have on social media will boost your reputation and give you access to lots of opportunities.
Because who knows? Someone in your network group may just know someone looking for consulting services and can recommend your business.
Surprisingly, Twitter is also pretty good for building professional connections. You can connect with industry leaders and other professionals worldwide by using hashtags, just like what Gary Vee did in this tweet as an example.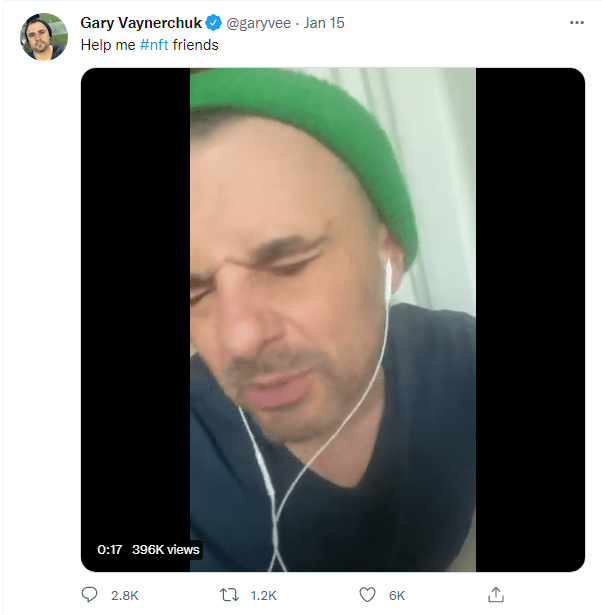 Then again, remember that growing your consulting network is not just a number game. It also means building relationships and while you expect your network to be helpful, be prepared to do the same and reciprocate.
3. Get testimonials from existing clients
Are you collecting testimonials from your clients? Nothing beats the power of a testimonial in building trust and credibility.
It is one of the most potent forms of proof and is often what potential leads are looking for to verify your service.
However, not every testimonial works. Good testimonials are specific and show that you are the real deal and can add value to their business.
So contact some of your previous clients and ask them to provide a testimonial and include the achievements and results you have helped your customer attain.
You can even transform their story into a case study and use it as your marketing material to show your potential clients what they can expect from your service. 
4. Create content that offers value
Besides word-of-mouth marketing, another effective way of promoting your online consulting business on social media is to post content regularly.
For example, you can share informational content relevant to your audiences on Facebook and LinkedIn or use Twitter to share breaking news in your industry.
This will not only position you as a thought leader in the industry, but it can boost your social media presence and discoverability to attract potential clients.
When creating social media content, a good practice is to make sure you understand your target persona and plan out what you are posting with a calendar.
You can keep your content interesting and engaging to attract potential clients. But at the very core, ask yourself if the content adds value for your prospective clients before posting.
5. Make it easy for prospective clients to book a discovery call with you
You've taken all the proper steps — setting up your social media account and populating it with valuable content. Now that your clients are ready to try your service, what's next?
For consulting businesses, setting up a virtual meeting to introduce yourself and offering a free first session is a good practice to see if you and your client click before moving on.
This can also be helpful if you don't want to list any prices upfront. Directing your potential leads to book a discovery call with you will also make you more accessible and can help in improving conversion rates.
With that being said, you need to create a booking page where you can share your calendar availability, and 3veta is a great platform to do so.
It lets you unify your client bookings and video calls all in a single platform and even allows you to offer both free and paid consultations there.
The video call is also the first chance you have to wow your prospects, so make sure you look professional and listen as much as you talk.
The most successful call is often a two-way conversation where you first understand your client's goals before moving forward to tell them what you can do for them. Try to keep the meeting interactive – prepare a presentation, ask questions and use visuals, etc.
6. Practice what you preach
Consulting is more than just giving advice. You should always show that you practice what you preach on your social media.
For example, let's say you are a health coach. Then you may want to share your lifestyle habits like your morning practices to stay motivated.
Remember, you are the best model for your brand. Emphasize both the journey and desirable outcomes to show that you are good at what you do.
Conclusion
So there you have it – 5 ways to promote your consulting business on social media. Regardless of what channels you use, apply these strategies consistently, and soon you will see results!
And if you are looking for tools for your online consulting practice, check out this article.