A sales consultant helps companies to increase their revenue by applying their knowledge in the sales domain. Mostly, a sales consultant focuses on creating compelling sales pitches, maintaining client relationships, generating leads for business, and converting them.
But, let's be honest. Starting something on your own is always daunting. And a sales consulting business is no different.
This is why we'll break down each step for you in this article on how to package your services, find clients and build a profitable sales consulting business.
Why should you start a sales consulting business?
One question you might find yourself doubting is why you must start a sales consulting business. While one of the reasons to start your business is flexibility, there are a few more reasons you can focus on:
Companies mostly trust people who have the expertise, so a sales consultant is their go-to choice.
A sales consulting business involves skill and selling "that" skill. This means you can start a consulting business at the cost of your skill and with no overhead expense besides.
Choose your Consulting Business Model
Identify the type of business you want to start. Do you want to start as a solo consultant or would you like to grow a sales consulting firm?
A consulting model is based on mainly 3 consulting formats:
Solo Consultant Model
When you work closely with clients and complete the projects and deliverables on your own while managing the business aspects like lead generation and accounting, it is a solo consulting model.
Firm Consultant Model
When you work with a sales consulting team that works on all the client projects and deliverables while you manage people, it is a firm consulting model.
Productized consulting Model
When you create products based on your knowledge like e-books and courses and sell them at a fixed monthly cost, it is a productized consulting model.
Define your niche
As a beginner sales business owner, you can start by exploring different areas of sales consulting. Once you understand the industry, it is better to niche down and create your authority in one to three areas you want to consult in.
Ask yourself:
What industries do I know well?
What niche aligns with my passions and business goals
What does the market need?
What are my current areas of expertise?
What is the price people are ready to pay for my expertise?
Answer these questions and find your niche based on your knowledge, interest, demand and the pay people are ready to pay you.
Identify your target audience
Once you have identified the industry you want to work in, narrow it down further by identifying your target audience.
To find out the target audience you want to work with, conduct research and find the kind of people you resonate with and enjoy working with.
Are you a sales consultant who works with:
coaches and podcasters
female-owned small businesses
Service-based businesses
Product-based business
Something else which is so niche I can't come up with it. But you can!
While finding your target audience, make sure that this audience qualifies your client persona.
Package your services
Packaging your services is the first step to monetizing your skill-based business the right way. To package your services, you need to identify two things:
The main services that you offer to your clients.
The add-on service that resonates with your clients.
To find out the add-on services that your client might need, identify what your clients demand from you. Here's one example.
Let's say, you are a digital marketing sales consultant who focuses on generating leads for your clients through social media. Now, your client also needs content creation services to leverage their social presence along with generating leads. Content creation could be additional services that you could package and offer to your clients.
Build up your network
Building up your network is crucial for running and scaling your sales consulting business.
Having a strong network of contacts (online or offline) will help you get quality leads to turn them into clients.
Moreover, staying in touch with your professional network will keep you up with industry trends and news. And this on the other hand will help you identify new opportunities.
Attend trade shows, take part in online or offline workshops, and join communities with like-minded people. All that will help you to meet and connect with other professionals and industry leaders.
Pricing Structure: How will you charge your clients?
There are three pricing models you can implement in your pricing structure: hourly, per project, and retainer.
Hourly Rate
When you choose the hourly rates to charge your clients for your services, you get billed for the hours you spent time working on the project.
Such a pricing structure is tricky because you can both underestimate and overestimate the time you spend on the project. It often turns out that you put in more hours than your report, while your client thinks you are putting in fewer hours than you've reported, making both sides annoyed.
Project Rate
When you choose the project rate, you get paid a fixed amount for the scope of work and the deliverables that you submit for the project. This means you get paid for the efforts, and the time you spend on the project.
A project then requires an extremely well-defined scope and your new struggle as a business owner would be to prevent any scope creep (or charge additionally for it).
Retainer
When you choose retainer, you get paid a fixed rate for a fixed duration until the contract ends or terminates. You can think of it as a type of SaaS, in this case: Sales-as-a-Service.
In my opinion, this is the best pricing structure right now. Here's what you get:
Increased scope – a retainer usually spans over more than one project, meaning that you are practically upselling your existing clientele from day one with as many add-on services as they need
Predictable cashflows – you know exactly how much money you will be paid in the next couple of months. The same applies to your client, who is very much interested in how much they are paying (as opposed to per-hour pay)
Fewer agency problems – with a retainer, the feeling of your client is that you are a part-time employee, however, a highly motivated one. In a way, this makes your availability much clearer and contributes to your relationship
Things to consider before setting your price
One of the trickiest questions you might struggle with is how should I price my services.
The simple answer is there is: it depends. Each project and each client is different.
What you can do is consider 3 things while setting up your price:
Listing your expenses
List down all your monthly expenses. This gives you clarity on your fixed monthly expenses and how much you spend in a month. A good rule of thumb is that your charge must be 3X the expenses so you can cover the expenses and also pay yourself a good amount each month.
Checking competition and industry rates
Find out what other sales consultants are charging in your industry. You can do this by asking about it fellow sales consultants. Some other good ways to do this is by checking the salaries of sales consultants on Glassdoor. You can also check the state-based salary on LinkedIn.
Deciding your monthly financial goal for the month
Start your month with a fixed financial monthly goal. Your income goal is a fixed figure that you want to earn. Let's say you have decided to make $5000 every month. Now, to achieve this income goal, divide it by the number of clients you would need. If you divide this amount by 4, i.e. $1250, you need 4 clients billed at $1250 per month who will help you achieve your income goal.
How will you get clients?
The big elephant in the room is how to get clients for your online sales consulting business. There are several popular ways you can try to find clients:
Cold emails
To send out cold emails that get accepted, you need to follow a 3-step framework:
Cold emailing is one of the best ways you can find the ideal client you want to work with. While this might seem easy, sending a cold email that gets responded to is something people struggle with.
Your introductory statement should be about the prospect and not you. It could be an appreciation or a problem statement.
Next, introduce yourself.
Give a call-to-action
Pro Tip: The appreciation could be an interview, a podcast, a blog, not a social media post you read about them on their business and something you linked about it. Make sure it's genuine and not flattering.
Here's an example to clarify what a super personalized cold email looks like:
Template:
Hi Nidhi,
I read your post on LinkedIn on how LinkedIn groups can be beneficial in reaching out to your prospects. I really loved the insights you provided.
While you have great expertise on LinkedIn, I found you are not very much consistent on Twitter. Maybe, I could help you in this area.
I'm Maria, a Twitter Sales Consultant and I help entrepreneurs like you to leverage the power of Twitter to find clients and increase your revenue.
Would you like to get on a quick call to discuss it?
Social Media
The key to leveraging social media is to be present in the same social channel where your ideal target audience is.
Here's how you can leverage each social channel:
LinkedIn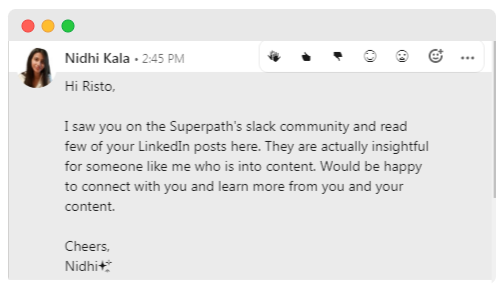 Find your target audience using the LinkedIn search bar. Then, send them a personalized note along with the connection request telling why you would like to connect them. When they accept your connection request, introduce yourself and engage with their posts. Interact with them in DMs, ask them about their business, and ask them to get on a short networking call.
Instagram
Follow people who you want to work with. Use Instagram stories to give mini-training where you give them a free tip or a short lesson that will help them improve in their business. Leverage the power of Instagram DMs and talk to them about their business. If you find they need your services, pitch them.
Twitter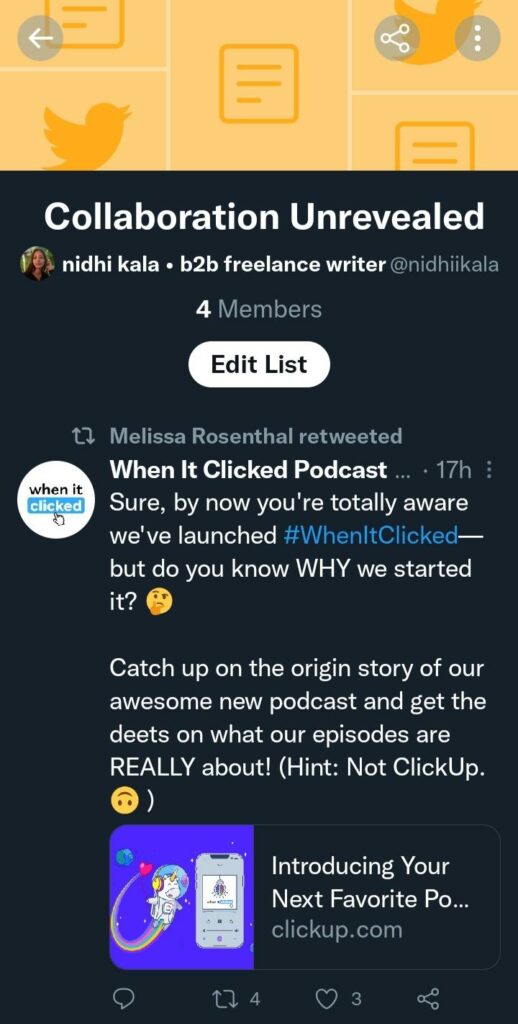 Follow your target audience on Twitter using the Twitter search bar. Create a specific Twitter list with your target audience inside it so you can see their posts. Engage with posts regularly so they can recognize you. Then, DM them and ask them if they would need your services.
Slack Communities
Slack communities are a great way to network and find your ideal clients. You'll find slack communities that are free and paid for both. To find slack communities, simply search "slack communities" on Google. It works.
You'll find a bunch of them. Explore the communities and identify which communities have your target audience.
Don't enter just one. Enter many. Quite a lot of the Slack communities are not really active, so you might have to wait before you find the right fit.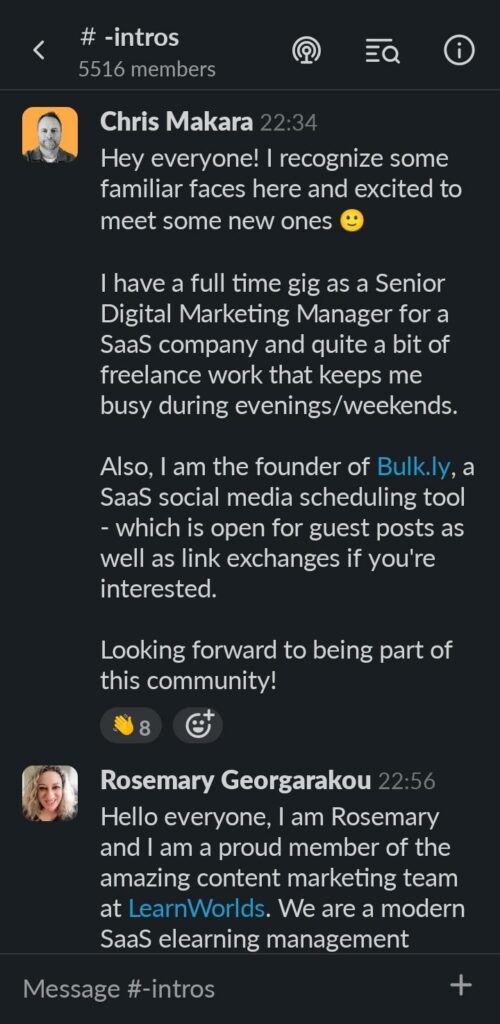 When you become part of these communities, the first thing you must do is introduce yourself. Your introduction should include who you are, the kind of work you do, and how people connect with you.
Some of the great communities are Superpath, Online Geniuses, and Marketers Chat.
Tools you can use to leverage your consulting business
While working as a sales consultant, you might need multiple consulting tools to stay organized, and here are a few web apps and tools that you can get started with:
Streak
Streak is a useful sales consulting tool integrated into your Gmail account. Every time you send a cold email to your ideal prospect, you can label them. Doing this helps you keep track of the people who you have sent the emails to. Further, you can set follow-up reminders to send them after your first email.
3veta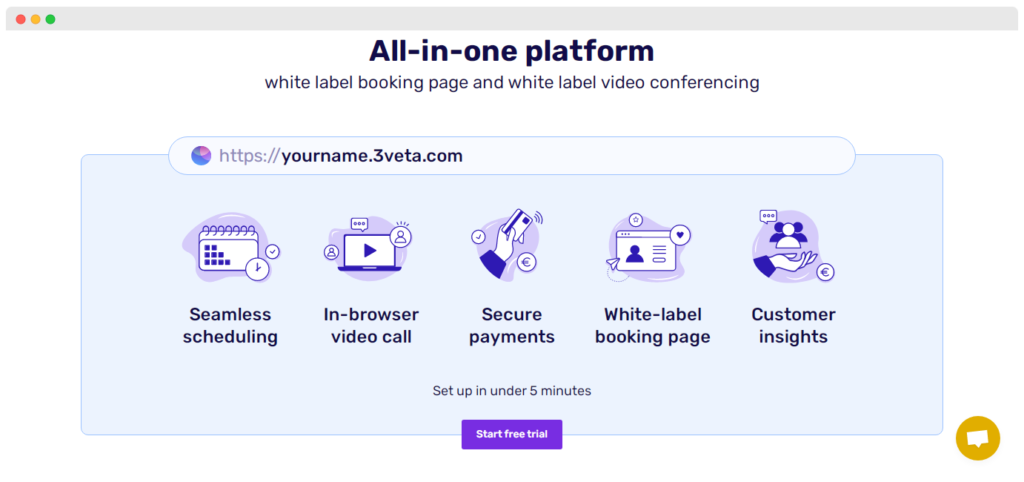 When you ask someone for their time, it's likely they would agree to a fixed date and time and might forget it later.
Use 3veta to schedule a call so your prospects can find the right time to book a call with you.
Further, you can send automated email reminders to them for the call, conduct video calls, and get paid through integrated payment methods.
Snov.io
When cold emailing your prospects, you need their email address to reach out to them. But how can you find their email addresses without asking them?
That's where LinkedIn and Snov.io come in handy. Search for people who you want to reach out to on LinkedIn and, snov.io pulls all their data and provides you with their email addresses.
Adobe Sign and Fill
When working with clients, you need to sign the contract sent by your clients. For this, use Adobe sign and fill for signing the document with digital signatures.
FAQs
Can you start a sales consulting business with no prior experience?
You can start a sales consulting business with no prior experience.
Generally, the main requirement is that you are good at sales already.
If you don't have experience, upskill yourself by learning more about your industry. Participate in workshops, and webinars, learn from books and interact with people. The more you do this, the more you'll understand your industry. Learn and execute.
How much money do you need to start a consulting business?
You need $0 to start your sales consulting business. You can do this by opting for a solo sales consulting model. In this model, you only need to invest in your skills and sell those skills to reach out to your ideal clients.
Do I need an LLC to be a consultant?
You do not need to set up an LLC to be a sales consultant. You can file taxes and start your sales consulting business as a sole proprietor. You can either run your consultancy under your name or a business name. When running the business under your name, start as a sole proprietor. Under this business structure, all the income and losses must be filed under your personal tax return.
An alternative to this is setting up a Limited Liability Company (LLC) in which your company is taxed separately.
Nidhi Kala is a freelance writer for B2B SaaS brands in marketing, HR, and eCommerce. When she's not writing, her artistic mind is buried in creating a new journaling spread or exploring calligraphy scripts. Connect with her on LinkedIn.