Since we, at 3veta, are passionate about online services via video, we wanted to give you another comparison of our platform with one of the big names in the market. If you are thinking about setting up your business with online meetings, you may be considering the event booking system SimplyBook.me.
In this article, you can get acquainted with their offering and see how it stacks up against 3veta's solution.
Overview: 3veta vs. SimplyBook.me comparison
This article, similarly to our comparison between Setmore and 3veta, will focus on solutions to provide services via online meetings. We will compare the two platforms based on this. If you want to read more about the best apps available to providers of online services via video, check out our comparison on the topic.
So, here are a few 3veta vs. SimplyBook.me comparison shots.
With 3veta, you get an all-in-one solution that is tailored to your needs and easy to use. You will get the full experience every time, and it's up to you whether you want the transaction fee discounts that a subscription plan offers you.
With SimplyBook.me, you get a pick-and-mix type of event booking system with a massive range of options meant to serve a wide range of providers. You will have a 14-day trial period to find out what it is that you need. If you enjoy that, you will most likely have to sign up for a subscription.
Why? Let's see below.
This is what the 3veta vs. SimplyBook.me comparison looks like if you don't have a subscription with either.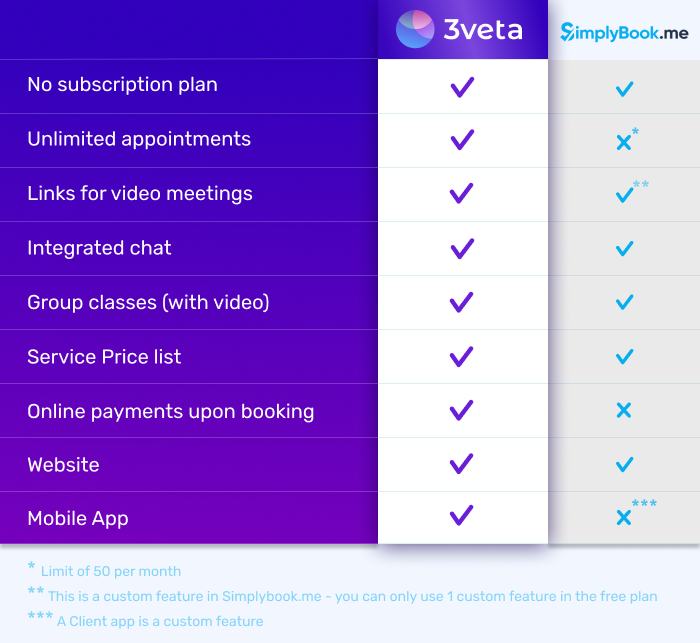 How to get started for a video meeting
With both platforms, registration is quite easy and requires only an email and some basic information about your business.
With 3veta, once that's done, you get access to the fully functional platform and you can quickly set up your customer meeting – just add the meeting description and the price and generate a meeting link. There are no limitations in the number of meetings you can organize and they automatically have a video option and integrated chat.
The SimplyBook.me event booking system will take you to a slightly longer way. The platform has a number of basic scheduling features available for free. Anything extra is called a "custom feature" and you get a certain number of free custom features with each subscription plan (for the free plan, it's just one). At the start you have a 14-day free trial of all custom features, so you have to decide which ones you will need in the future.
Video meetings, for example, are a custom feature. It uses the Microsoft Teams' video conferencing solution, meaning you must have a separate Teams account. Hopefully, you are familiar with how it works. Before you can speak to your clients though, you also have to set up your working times, add customer and provider data, and set up the details of your services.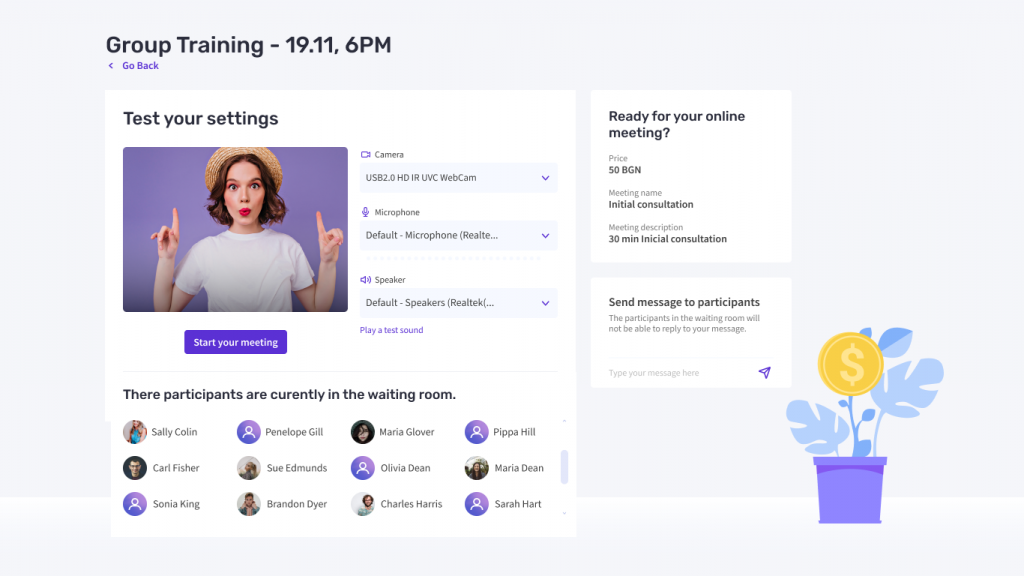 With SimplyBook.me's free package, you are limited to only 50 meetings a month.
One-to-one and group video meetings
While one-to-one meetings are available on both platforms, only 3veta offers group appointments by default. Each time you book a meeting, it is with a two-way video for up to 10 people (specifically made for consultants, small classes tutors, coaches, lawyers, doctors, etc.). If you are hosting group meetings/classes or even webinars, you can invite up to 35 people and have a one-way video connection (meaning they can see you, but you can't see them).
With SimplyBook.me, you can also run classes, but it is not as straightforward. You have to adjust your provider settings to allow you to accept more than one customer at a time.
Receiving payments
As an online service provider, it's your number one priority to get paid easily and on time.
You can fully rely on 3veta for this.
Every meeting link you generate will require your customer to make an online payment in advance. That's done via the integrated Stripe payment solution. Depending on your subscription plan, a different fee is applicable (10% if on the free plan, while 3.9% if on the paid one). Once the meeting is over, you will get your money to your secure Stripe account, and from there – it goes directly into the bank account you have selected.
If you are a relatively new business provider and don't have a very regular revenue stream, you will certainly enjoy the "no obligations" package that 3veta offers you.
With an event booking system like SimplyBook.me though, you can't have this flexibility. It allows you to choose which payment integration to use and there is a number of options available. But, yes, you guessed it, online payments are a custom feature. Therefore, to have video meetings and get paid for them, you have to pay a subscription.
Your website
Both 3veta and SimplyBook.me offer you a customized website to showcase your business to the world.
With 3veta, it will take you about 5 minutes to have a simple and attractive website with your business logo on it. It will display your services and will allow your customers to send you a message. If you are still new to the business, this allows you to set up a closer relationship with your client by getting in touch with them and finding out more about their needs.
With SimplyBook.me, you can also have your own website and it will allow your customers to make a booking with you. While this can be very convenient for a provider with numerous clients, it does bear an administrative burden. You will have to maintain your calendar up to date and ensure you have the right settings in place and that your customer's data is right.
Mobile app for video meetings
3veta has developed a mobile app so you can be available to your customers from any place even if you laptop isn't. Your customers can download it and dial into the call from their mobiles too.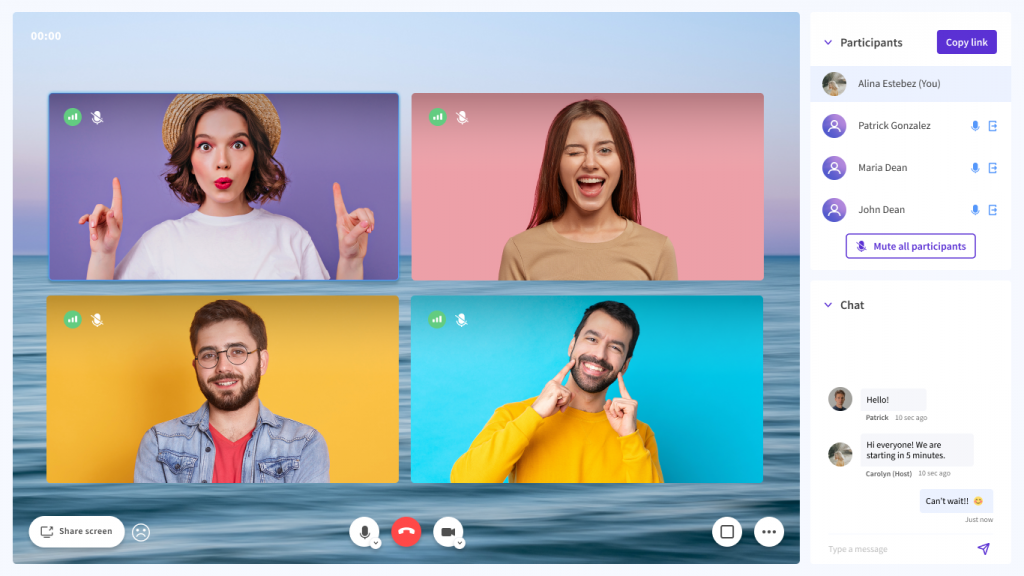 SimplyBook.me's admin app serves as a booking organizer, while the customer app is only available with a subscription plan.
3veta or the event booking system SimplyBook.me
Overall, the difference in the offering between the two platforms is obvious if your goals are clear.
Being an event booking system, SimplyBook.me is a solution, which is likely going to be helpful for service providers with huge customer bases and complex CRM requirements. It will allow you to stay on top of the communication with your customers without losing track of your calendar. This will certainly come at a cost though. If you feel that this platform suits you better, pay attention to the list of custom features and count how many you will need during your free trial. Make sure you understand the cost that you will bear under different scenarios.
That said, my personal experience with SimplyBook.me wasn't particularly smooth. The platform is full of settings and menus, which are not particularly intuitive. I had to Google a few things and resort to the live help chat twice to find out how to have a simple video class. A million options take a while to adapt to which isn't a preference for me.
On the other hand, 3veta is a much simpler way to organize and carry out your meetings. All you need is to create an account and you can already host free meetings. Once you create or connect your Stripe account, you will also be ready to also make paid meetings. The solution is perfect for new starters as well as for established professionals who prefer no-fuss applications. Everything is straightforward and quick.
Moreover, we've put together a list of 31 consultant scheduling software to help you choose the right one for your business.