You can't simply meet remote team members in the same room.
You can't just call them up and address the issues. Thank you, pandemic!
Being a project manager was tricky even before. Now project managers have to wear the hats of "virtual" project management.
You have to manage virtual teams, track how the targets are being accomplished, and communicate with teams for better outcomes.
Everything they used to do in the same room with teammates has shifted to a virtual environment. And it has converted the responsibilities from tricky to complicated.
"How do I organize my teams and their tasks virtually?"
"How do I know if the team members are working?"
"How do I communicate this blocker with my team members?"
The questions are endless.
This article talks about the necessary solutions you need to get started with virtual project management and transition into becoming a virtual project manager.
What is virtual project management and how does it work?
Virtual project management is when virtual teams collaborate—work together, complete tasks and accomplish business goals.
With virtual project management, (project) managers don't meet their colleagues in real life and therefore all their projects are led remotely…
Managers can work with distributed employees to accomplish tasks. Even when teams are distributed across different time zones, they are assigned their daily tasks to work on.
Because of these peculiarities, virtual project management tools are essential to track everything. From what's the current status of each team member to what they are working on and what's delayed.
When working remotely there is a much bigger need for more visibility. Therefore, the best virtual project management software make all tasks visible to everyone on the team.
Examples include Asana, Trello, and ClickUp.
There is no one-size-fits-all or specific way virtual project management works. Yet, the three common components of remote work management include:
Virtual project management software
Asynchronous messaging tool
Video meeting platform
In essence, these 3 components work together in this way.
You allocate the daily tasks to your team on the project management software. The team members update as the progress of the tasks.
If they get stuck in between the tasks, need clarification, or report on an outcome, they send instant messages.
Every day, week, or month they get together to resolve blockers, catch up on their progress, or close milestones of a project.
What are the advantages of virtual project management?
Whether you manage a sales team, recruitment team, or any other team, the benefits of virtual project management boil down to having a well-functioning virtual project team. When managing virtual teams, you are likely to encounter the following advantages:
Improved Productivity
What happens when your teammate gets stuck on a task? They call their fellow teammates. Phone calls. Zoom meetings. Slack messages — a lot of back and forth goes behind.
With a virtual project management system in place, team members can tag the project manager on assigned tasks, comment about their challenges and resolve them on time.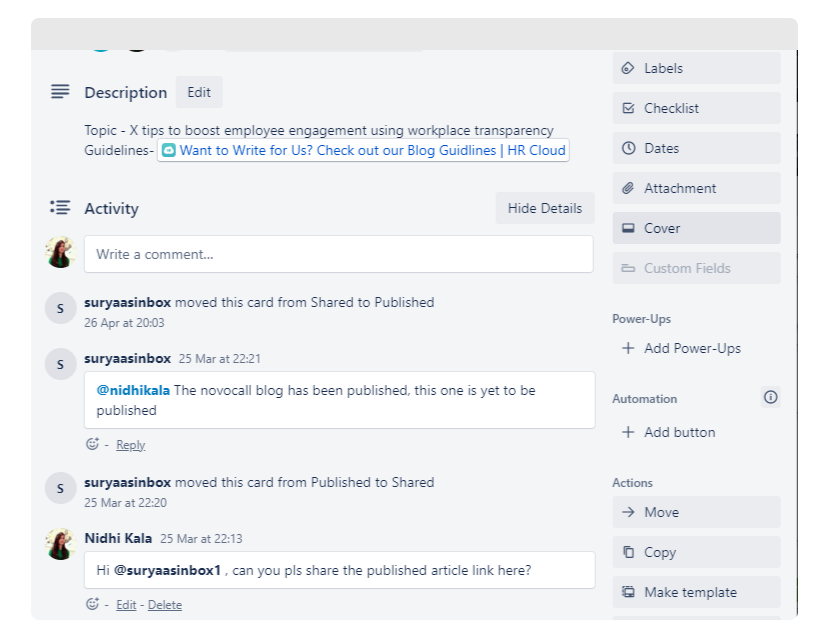 Reduced Business Expenses
In a physical office setup, you pay for office rent and hefty software that require installation. But with remote teams, you can work from any corner of the world — conduct virtual meetings, cut-off paying monthly office rents, and replace bigger installations with SaaS tools.
Increased Employee Retention
When you provide team members with a virtual work environment, they can balance their work and life — focus on their hobbies, spend more time with their family, work on assignments, and upskill themselves.
Challenges of Virtual Project Management
With the pros come the cons.
If you work with virtual project teams, you have likely faced your fair share of virtual project management challenges. Let's decode them:
Poor Communication
Picture these scenarios:
You (project manager) allocate tasks to your team and communicate what needs to be accomplished without explaining the work process.
Team members must find the answers themselves instead of coming up to you.
You expect instant results from your teammates even when they start working on a newer task.
These are all byproducts of a lack of communication. To improve this, make more frequent sync meetings. Then learn effective written and verbal communication so you can recap your sync meetings using asynchronous tools.
Lower Productivity
How to hold your teammates accountable for their daily efforts? When in the office, it's easy to keep a check on employees and their work. But, in a virtual environment, it's difficult.
Managers don't meet their virtual project teams which complicates their level of engagement, productivity, and output. That's where software like Toggl Track helps to understand the time your team members invest working on each task.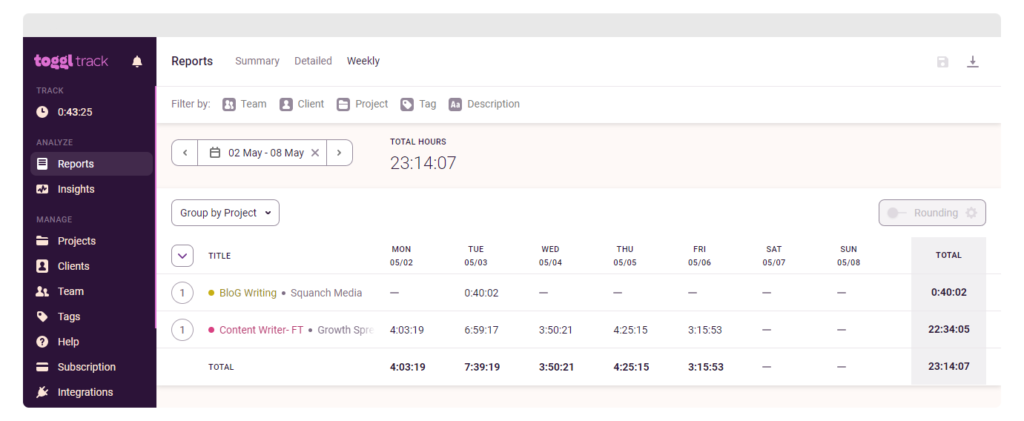 Inefficient Collaboration
In the office environment, team members can talk to their fellow teammates about their challenges & solutions right in the office. With virtual teams, you have to wait for remote workers to respond and get stuck in the unending cycle of Zoom calls.
Virtual project management tools like Trello enable real-time progress of a project and get a bird's view of the daily tasks.
How to Become a Virtual Project Manager?
The hard truth: not every manager can become an efficient virtual project manager. And to become one, you require skills: virtual leadership and communication, and systems.
Have a system in place
Set up the right systems and make workforce management simpler. For this, use project management softwares like ClickUp. Some great alternatives include Trello, Asana, and Notion.
For example, to track each project on the system, create different lists: to do, in progress, working, approved, done.
When team members move tasks to the other lists as the project progresses, you get updates about their work.

Install Toggl Track to analyze the productivity of your team members. Inside the tool, track the time team members spend on each task and optimize the work process.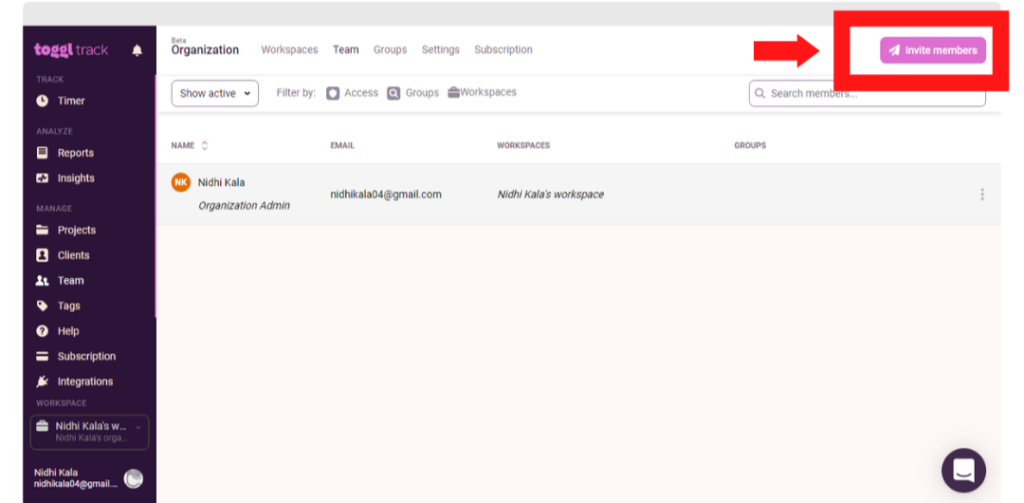 For streamlined processes, automate your systems.
For example, when a new comment is added to your Trello card, a Slack message will be sent to the tagged person. In case, an instant video meeting is needed, 3veta integration with Slack lets you send instant video meeting invites and reminders to team members.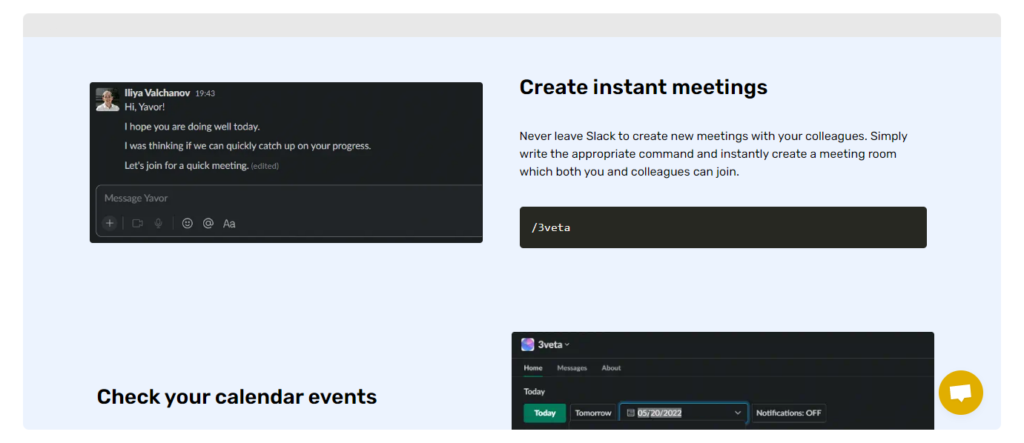 Run effective virtual meetings
Hopping on calls without clarity on what to discuss and what to address could hit the skids. And as a virtual project manager, you don't want that. So here's what you should do instead:
Prepare meeting agenda: Write the topics that will be discussed in the meeting prior to the meeting. Send this to your teammates so they know what to expect.
Analyze your topics: Few questions you need to consider when analyzing the topics include:
What information can I provide to my team members beforehand to make for an educated discussion and decision?
What feedback do I need to make a decision?
Who should attend the meeting?
Set the right expectations.
Understand this: a decision made without pre-planning leads to weak decision-making. So, give people enough time to read and an idea of what they could expect in the meeting.
Send team invites: Send invites to team members relevant to the discussion. In case it's a daily stand-up meeting, send the invites to all the team members.
3veta's shared team calendar is an exceptionally easy way to schedule team meetings.
Set a time box: Decide the time you need to assign for these meetings. Make a time check 5 minutes before the meeting ends. Consider if you can make a decision or if you need extra time.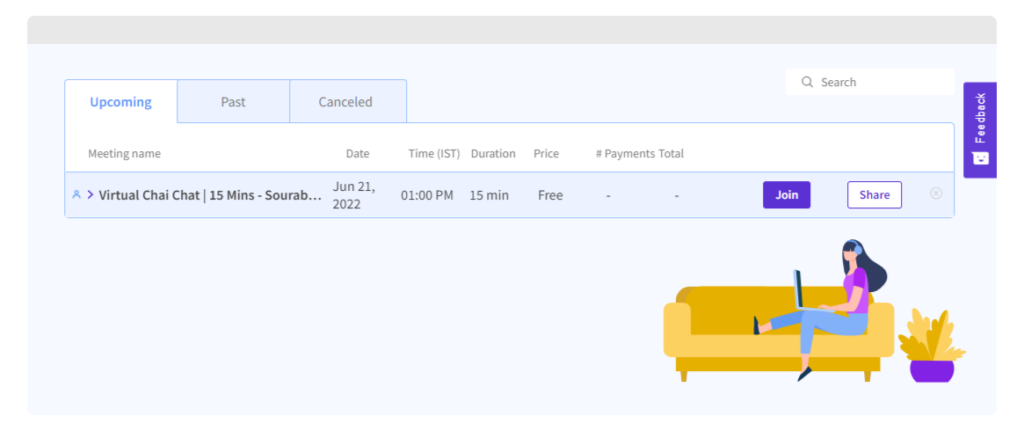 Show the problem: Don't talk about the problem. Show it to your team instead. Share the screen. Show meetings notes and topics you are discussing. Keep people engaged by asking them questions.
For example, ask one of your team members what they think about the solution or if they could write down the three key points discussed in the meeting.
Send meeting notes at once: End your meetings five minutes earlier to send meeting notes. This way team members will have time to prioritize the work you assigned to them.
If the subject matter is very important or someone is missing from the meeting, make sure to record the meeting.
Inside 3veta, you can record your meetings and send them after the meeting ends.
Also read: How to Make Virtual Meetings More Interactive?
Learn about relationship building
One of the least taught things to project managers? Building authentic relationships with team members. Here's how to do it:
Make some time for a personal chat before starting your day via phone calls or slack messages
Connect with them on special occasions like birthdays through video platforms such as zoom, GMeet, or 3veta
Conduct fun, casual meetings & monthly challenges with your virtual team-building activities. For example, a virtual dinner, fun icebreaker session, and, banter challenge.
Create a Slack channel where team members can drop memes, recipes, and other fun stuff.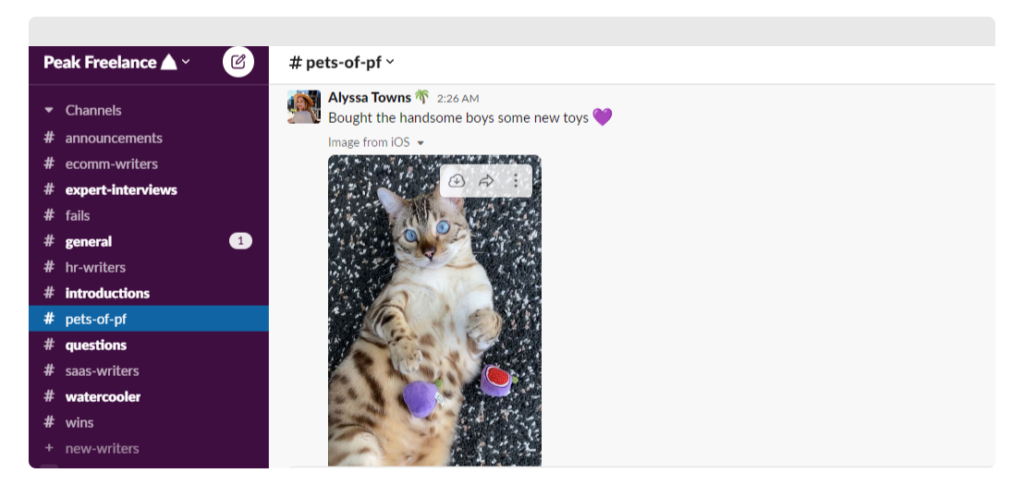 In reality, you are the person who dictates what's going to happen. So, it is vital to cultivate a culture with your team members where they find themselves easy-going to share their challenges with you.
Tools – The heart of virtual project management
If your team is not aware of the functioning, you are likely to face a lot of back and forth in communicating. Result? Delay in tasks and project completion.
Understand how virtual project teams function smoothly with a mix of synchronous and asynchronous tools and train them.
So, understand their functioning and give a demo on the usage of software to your remote teams.
Some of the must-have tools in your asynchronous communication include:
3veta for instant meetings — Schedule instant meetings both private and team meetings and get your teams to attend directly without having to wait in the waiting room.
Slack for messaging — Communicate through asynchronous messages. Send audio and video messages to reduce the number of calls.
Trello for project management — Track project plans, tasks, and progress and get a bird's view on the existing status of the team's tasks
Google Drive for document storage — Organize all your documents in one place so team members can find the relevant documents in one place
Frequently Asked Questions
Is virtual project management the new norm for remote work?
Yes, virtual project management is the new norm for remote work since people now like doing things virtually. This includes buying medicine, groceries, teaching, and learning remotely.
Like this, teams are managing projects virtually. Project managers create a schedule, use virtual project management software to get updates, and use video meeting platforms to meet team members. And this norm is going to continue even when organizations work in a hybrid environment.
Are virtual project managers telework/remote-friendly?
Not all virtual project managers are telework/ remote-friendly.
However, they must improve their communication skills and educate themselves about tools for better virtual project management. Few things a virtual project manager must consider:
Sending pre-recorded Loom videos to provide a solution to the team members instead of getting on calls
Formatting your messages in bullet points and limit them to three questions or three answers at once
Providing necessary resources to team members before they start working on the project
Making sure to keep the communication on point during virtual meetings and messaging
Using Slack huddles to record a voice message and respond to the team's queries
Nidhi Kala is a freelance writer for B2B SaaS brands in marketing, HR, and eCommerce. When she's not writing, her artistic mind is buried in creating a new journaling spread or exploring calligraphy scripts. Connect with her on LinkedIn.