77% of companies have adopted a hybrid working model, with an 'at-will' hybrid policy being the most popular.
With the onset of the pandemic, the future of work has changed. Many companies reshaped themselves with the remote model and some of them wanted to experience the physical office environment hence, the hybrid workplace got its name.
But why should these companies move to build a hybrid work environment might be a pinching question!
Let's understand the benefits of hybrid workplace and the steps they need to take while transitioning into a hybrid workplace.
What is Hybrid Workplace?
A hybrid team is the amalgamation of both remote and in-person employees. They work from home, office, or both as per their preferred schedule.
👉 Example
Say your company has employees working solely on-premises. They come to the office, attend meetings, and perform their daily responsibilities.
Then there is a set of team members who work remotely. Just like the on-site team members, they sit at their desks at the office timings, attend meetings, and perform their daily tasks.
Finally, you've got those who are remote employees but visit the office on specific days and work on-premises.
When the employees work in three different scenarios as portrayed above, you've got a hybrid workplace.
Types of Hybrid Workplace
A hybrid workplace is majorly broken down into different work options:
Split team: Team members consist of full-time remote and full-time in-office employees
Shifts: Team members work from the office for a few days and remotely the remaining days
Flexible: Your team can choose where they would like to work from—home or office.
Of the three different work options we read above, only the flexible teams have the freedom to choose how they would like to work.
Benefits of Hybrid Workplace
If you are still wondering why certain companies have opted for a hybrid workplace and why you should do it too, well here are a few reasons to focus on:
1. Say no to business overheads
With a physical office, you require several desks, computers, printers, and other office supplies to continue your business operations. But, a virtual workspace cuts your expenses significantly.
This means you no longer have to rely on renting out an office space for longer time periods.
2. Build an efficient workplace
If you are going hybrid or remote for the long run, it's best to have less space than the total number of team members. Make an effective strategy that not only saves you money but also doesn't affect hybrid working productivity. Opting for a coworking space or revamping your physical office space are only some of the available options. Your main task then becomes to know who is going to be on-premises and when. Once you've figured that out, you'll have fewer team members in the office, which means a less crowded workspace that enables more focused working.
3. Hire across the globe
Think about this:
Instead of working with an employee from your country, you get to work with a remote worker or hybrid worker from a different country, assess their skills, and know about their knowledge and their cultural background.
When a candidate passes these filters, how can they not add value to your organization?
Working with hybrid teams enables boundless hiring.
When you hire a diverse workforce, you'll see increased cultural literacy in your organization. Furthermore, you'll be able to improve the quality of your hires and work culture by talking and engaging with people from different backgrounds.
4. Redefine collaboration
According to Microsoft, time spent on weekly Teams chat is up 45 percent per person since February 2020, and the weekly meeting time on Teams has increased by over 148 percent—more than double what it was in 2020.
In a hybrid work environment, in-person and remote teams can collaborate by communicating virtually. Since not every team member is present on the premises, team members can set up virtual meetings to pace up the work.
You make also like: Why Hybrid Working Requires Hybrid Learning
5. Increase accessibility for disabled workers
One of the major challenges for disabled employees while working from their office desks is comfort. At times, even commuting becomes stressful. When working from the office, they are likely to witness immense distractions that translate to more stress.
With a hybrid work environment, they can work remotely or work from the office for a few days which reduces the stress level and hence increases accessibility.
6 Tips for Transitioning to a Hybrid Workplace
By now, you have understood the benefits of a hybrid workplace and probably want to understand how you can create an action plan for a successful hybrid workplace. Here are a few tips to do so:
1. Draft a transition plan
Fact: You cannot throw in the transition in a day and expect your employees to work with you in a hybrid workplace.
As a company that has decided to transition into a hybrid workplace, you need to have an action plan ready where you have laid down the exact steps you will take to make the move. Few questions to ask yourself:
Are your employees working from the office, or home, or opting for a mixed option?
How to track the employees working in the office and from home?
Is there any additional training you need to provide to your team to prepare them for the transition?
Are there any changes you'd be making to your office space or shifting your office to a coworking space?
What do the new office policies or guidelines look like?
Once you are done with this exercise, sit down with your team and take their input on the transition. Know this: talking to your people before making a decision is a crucial step in the transition. If you don't, building a hybrid workforce is likely to backfire.
2. Offer more than one option
If we can learn something from the transition of other companies to hybrid, it is surely: people want options. When you introduce the hybrid work model to your employees, don't impose a specific hybrid work model onto them.
When Apple decided to return to the office, instead of asking their employees about the move, the company decided to work from the office for a few days and remotely for only a few weeks.
Result? Employees began leaving the company because of a lack of flexibility.
You see? Even the best employers can commit rookie mistakes. Remember that everyone is a rookie in this extremely new movement to hybrid.
So, learn from the mistakes of others and make sure you offer flexibility to your employees. Have all the relevant work options available to them: fully remote, split, shifts, flexible.
3. Discuss options with your employees before offering them
Every employee has a different lifestyle.
Some might be working parents who want to spend more time with their kids so they would preferably choose remote work.
Some could be single folks who want to interact with physical teams and would like to work from the office.
And some enjoy flexibility—working from home a few days and from the office the rest of the days.
You see? For each employee, priorities are different which affects the work options they would prefer.
This calls for action: talking to your employees and understanding what their work preferences look like.
👉 Example
Let's say, one of your employees wants to work remotely but you think they need to be present for important meetings in the office. Since they opted for remote work, you cannot have them on the premises for the urgent meetings leading to friction in work and productivity both.
4. Optimize your office
If you already have a physical office, you are likely to see more chairs and desks empty.
How to avoid this? Optimize your office space.
Redesign your office space entirely for the new hybrid setup. Have different dedicated spaces—desks for each employee, conference rooms for specific meetings, lounges for brainstorming sessions, and so on.
Keep in mind that in a hybrid setting many of their colleagues will not be present. Therefore, you'll need much more conference rooms than before.
Another great option is to use a coworking space where you can book a dedicated space for your teams. However, the key here is to know the number of employees who would be working from the office.
5. Give clarity in job descriptions
Picture this: your company is hiring and you have created a job listing on LinkedIn. Everything seems perfect—details about the role, the responsibilities, the company culture, and the salary.
But…
You missed out on one key element—work preference.
When hiring a new team member, it is important to tell them how your team operates—remotely or in a hybrid setup. This helps them make an intelligent decision and understand whether they are the right fit for your organization or not.
In the example below, the recruiter has posted a job and mentioned their preferred work mode i.e., hybrid. By doing so, they have helped the candidates filter down the job and made their interview process seamless.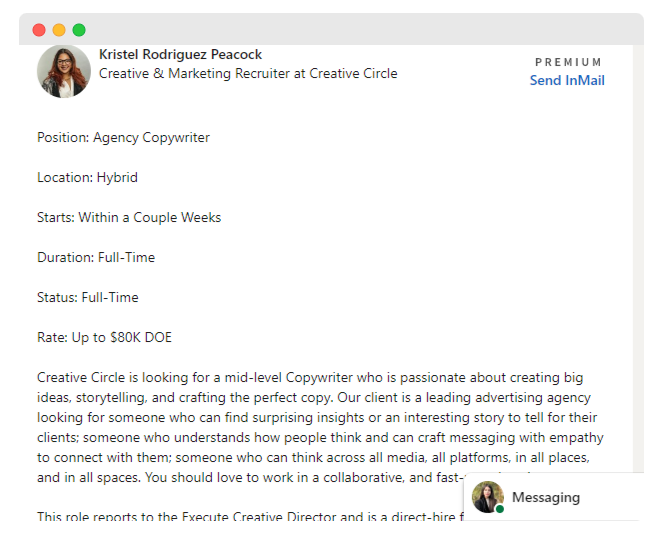 Moreover, during the interview, you can explain to the candidate the different work options available at your company and ask them which option suits them the best.
6. Use technology
When transitioning, you need to consider a plethora of different factors for your employees, hence technology becomes crucial for your organization.
From managing the teams to being present in every team meeting, you need technology.
Project Management Tool: Use project management tools. Track what's the task of the day your team members are working on. Or get updates from the remote worker and hybrid worker on their daily tasks.
Example: Trello, Asana & ClickUp.
Here's a detailed guide on how to do that: Virtual Project Management: How to Organize Your Remote Team
Messaging Tool: Instead of jumping on Zoom calls every now and then, have a messaging tool in place to communicate with your team.
Make sure it's not Whatsapp. Why? When you use Whatsapp, team members are likely to be distracted from their work because of the notification bumping frequently. And if they turn the notifications off, they are likely to miss out on important messages.
Use an asynchronous messaging tool that is only for work.
Example: Slack
File-Sharing: Use a cloud storage tool for document storage so team members can access these files whenever they are working on the project without asking their fellow team members to send them the links.
Example: Google Drive, OneDrive, NextCloud
Video Conferencing Tool: Zoom & Microsoft Teams are great for conducting meetings. But a meeting also requires proper scheduling.
What if you could check your team member's availability and schedule the meetings accordingly? How about sending your booking page to a client or a partner so they can choose the most appropriate time to meet?
3veta is a great alternative that lets you conduct your video meetings seamlessly:
✔️Whenever you want to schedule a meeting, check the shared calendars of your teams with the Calendar integration on 3veta and schedule team meetings.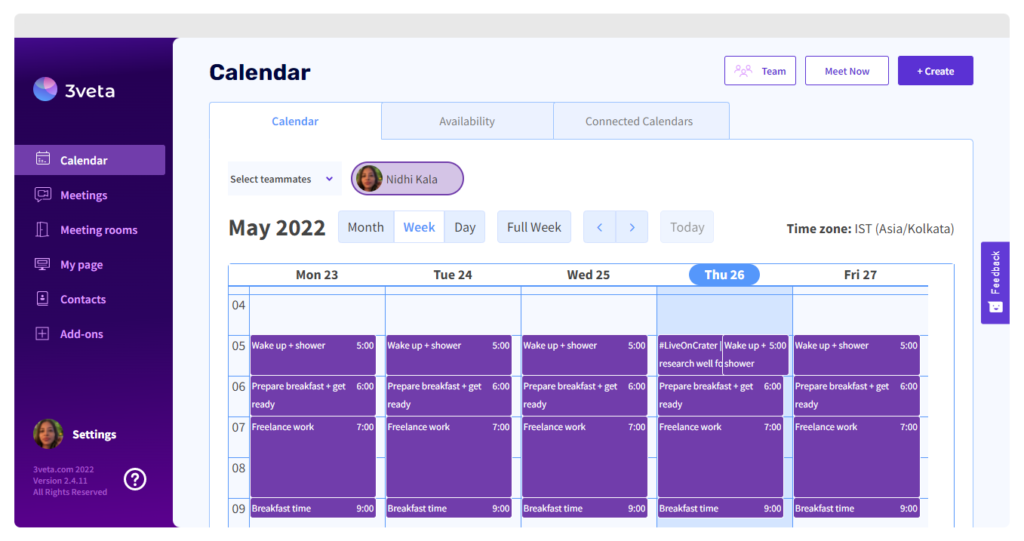 ✔️Need to talk for an unlimited amount of time? Simply create a permanent meeting room and join it with your team.
✔️Want to access meetings later? Record the meetings and download them on your device (without the fear of the recordings getting expired!) to see the meeting notes.
Ready to transform your hybrid team?
Book a demo with Nikola from 3veta and learn the best practices.
Bottomline
Building a hybrid workplace can be a dreading battle if not done right. Since now you know the benefits of a hybrid workplace and how to go about the transition, take one step at a time.
Start with visualizing how you want your hybrid workplace to look like and draft it down. Take rapid feedback from your team about the different work options they prefer and how they prefer to work.
Get out there and get started!
Nidhi Kala is a freelance writer for B2B SaaS brands in marketing, HR, and eCommerce. When she's not writing, her artistic mind is buried in creating a new journaling spread or exploring calligraphy scripts. Connect with her on LinkedIn.