Remote team communication is crucial for any startup team.
It doesn't matter if you manage a small tech startup with a handful of people in their early 20s or if you're a marketing agency with a large team spread across the globe — you need to make sure your team is able to work together efficiently.
One of the biggest challenges of remote work is getting all your team members on the same page. And that's especially difficult when they are spread across different time zones.
The lack of constant and consistent communication often results in productivity loss and poor output.
However, if you have a good strategy in place you can ensure stable and reliable remote communication between your team.
Create a remote office culture
Hitting the ground running, you've started up your new company in a tiny office with a few remote employees. But you see that your virtual team isn't as productive as it could be, and you're not sure why.
To help ensure success on both sides, here are some tips to build virtual communication between your remote team and the people in your new office.
Establish official and non-official communication channels
For example, official channels may include email communication, Slack chats, and video conference calls.
On the other side, non-official channels may include a Google Docs document everyone can turn to for information at any time, screenshotting messages to share on Slack or other chat platforms, or using hashtag chats like Twitter's #companychat hashtag.
Mind your tone
Be mindful of your tone when communicating with your team in these channels.
Be clear about what information needs to be passed where and make sure that everyone involved understands that certain forms of virtual communication are for work purposes only.
Bond the team
Schedule bonding time with your team remotely once every couple of weeks or longer—ideally right around holidays when everyone is home with their families.
Come up with a fun virtual team-building activity and let your team members get to know each other even better.
Choose the right remote communication tool for your startup team
Remote communication tools are important to consider as you put together your remote first team.
Here's a quick rundown of some popular tools:
3veta
3veta is an all-in-one remote collaboration and communication tool for teams of all sizes. It features video conferencing, meeting scheduling and calendar synchronization, booking page, and integrates with 4000+ other web apps to ensure seamless collaboration inside and outside your team.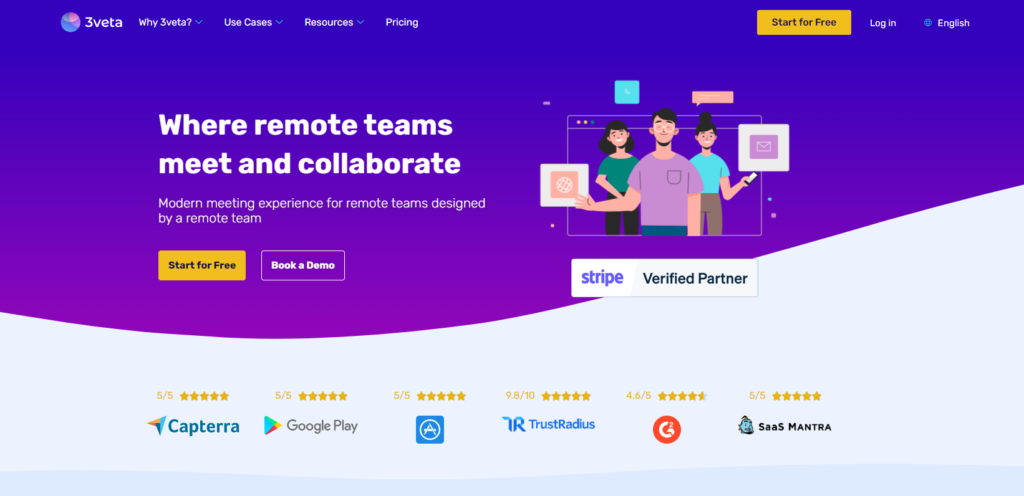 If you are looking for a tool to help you work remotely in the simplest and most effective manner possible – look no further.
With 3veta, you have complete freedom of action and control over every process. You can be always up-to-date with the help of the great team features and email reminders.
Google Hangouts
Google Hangouts provides free 24/7 video calling through your browser—no downloading necessary.
It supports multiple participants, so you can have conversations with groups of people at once.
It even supports file sharing, so you can share documents with your team members in real-time rather than having them sit around waiting for their turn to upload something via email or Dropbox.
Discord
A lot of people prefer Discord over Skype just because they think it has better features (e.g., easier team management).
If you've used Slack before and you're looking for something different, Discord is worth taking a look at.
It offers awesome features like channels that serve as virtual chat rooms, bots (that interact with users), and custom emojis (e.g., thumbs up or peace signs) that allow users to express themselves easily.
Plan regular video team check-ins to give and receive updates
It's easier for remote teams to stay connected when they have regular meetings.
Furthermore, remote team meetings keep your team up-to-date on what's going on with your product and get feedback from them.
Constantly checking in for updates and receiving periodic information about progress is a great way to keep your team engaged. And keep yourself ensured that you're maximizing your time and resources.
You need to figure out how often you want to have these meetings when they should happen, and who should attend. All of that is negotiable depending on the nature of your team and where you are as an organization.
Having a shared team calendar helps a lot with planning team (or client) meetings. It allows your team members to connect their calendars and enables them to collaborate and see each other's availability easily.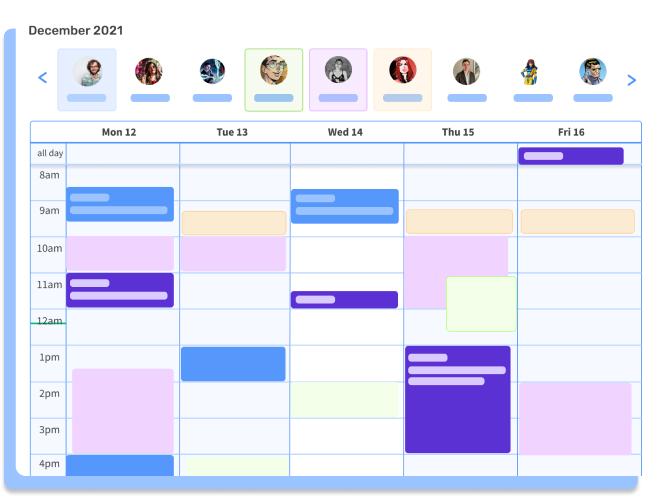 Make space for 1-on-1 communication
When you communicate with your employees, make sure to plan one-on-one meetings as much as possible.
This can be done with regular check-in calls, or just casual conversations when employees need help or have a question.
Just remember that everyone has a different communication style.
Some people prefer talking on the phone, some are better at communicating through text, and others are more visual and like video chat.
Provide the option for each employee to choose their preferred method of virtual communication.
Even if you don't have specific topics to discuss, make sure to set up regular check-ins so that your employees can talk about their work and update you on how they're feeling about being part of the team.
Make an effort to show them that you appreciate what they do for your company so they feel like they're an important member of your team (especially important when working remotely).
In turn, it will help increase productivity because employees will respond better if they feel cared for and valued by their distributed manager rather than being micromanaged from afar.
Use an online chat app for regular communication and collaboration
Using an online chat app is a great way to keep your team connected and on the same page.
It's a faster way of communication compared to emails, for example.
As your team works together on projects and tasks, you can use chat to collaborate more effectively than with email or other tools. You can ask questions, share ideas and solve problems quickly.
Chat apps often integrate with other tools you are using to manage your work, including project management software, video conferencing systems, and file-sharing platforms.
This makes it easier to communicate across workflows as you manage projects from start to finish.
And most importantly, chat apps allow for asynchronous communication.
Chose asynchronous communication
Asynchronous communication is the opposite of real-time communication.
When you communicate asynchronously, you're not required to be online at the exact same time as someone else.
Asynchronous communication can take many forms: email, Slack channels, Google Docs comments, or even just plain old pen and paper.
It is an especially powerful tool for remote teams who don't all work on exactly the same schedule.
This type of remote communication is also ideal if you manage distributed teams working in different time zones. It allows people to respond when they're physically able to do so instead of interrupting their schedules or forcing them to stay up late or wake up early.
Have a channel for non-work remote communication
While there's a tendency to discuss only work-related topics on work-related channels, having an entirely separate channel for non-work communication can be helpful.
It's easy to get swept up in the daily grind of achieving the big goal of building your product and growing your business.
Create a space for your virtual co-workers to connect with each other as human beings outside of the context of their job responsibilities.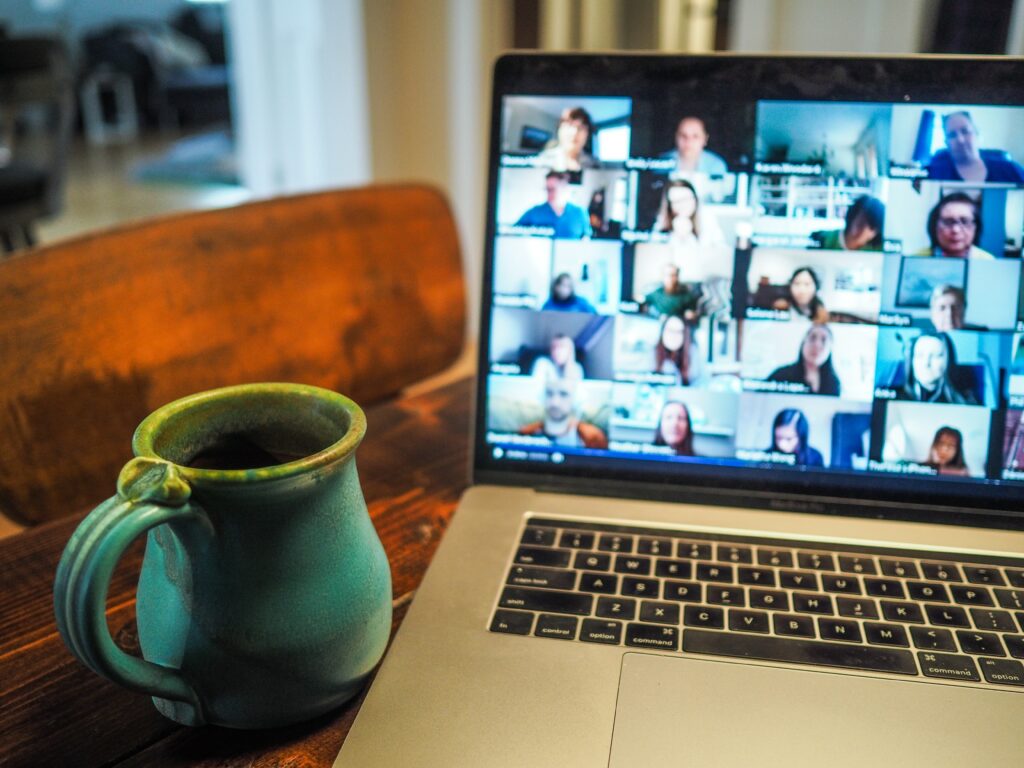 Think about it: when you come into the office every day, chances are that at least part of your day consists of connecting with teammates over non-work-related topics in a fairly organic way.
The coffee machine is a classic example: You start having a conversation about something completely unrelated to work. Before you know it, 15 minutes have passed and neither person feels like they were out of the loop because they took time to talk with each other.
The same thing can happen remotely via Slack or another communication tool if you give people space to do so.
Our company encourages this by having a channel called #watercooler where people can post gifs or fun links whenever they'd like.
Obviously, everyone has different preferences regarding how much they enjoy chatting during working hours versus doing actual productive work during working hours.
So, encourage your team members to simply mute this channel if it isn't their jam.
Schedule virtual activities to bond as a team
While these activities will be a little different than they are in person, they can still be fun and help build trust and connection. Here are some ideas to get you started:
Virtual happy hour or coffee break
A virtual coffee date or happy hour is a great way for you to get to know your coworkers better on a personal level.
You can do it after the workday ends or during lunchtime. You'll need to figure out what time that is for your entire team and make sure everyone has enough time to join in on the activity together.
Virtual lunch dates
This is an excellent way for people who work remotely as well as small teams who don't have the opportunity to sit down together every day to bond with each other over food!
To make this event inclusive, you may want to find out if any of your team members observe dietary restrictions and use this information when picking a restaurant.
Virtual exercise class
Working remotely means more sitting at your desk, which isn't great for your health.
Why not take advantage of the fact that you're all online anyway?
Scheduling regular online exercise classes where everyone works out together lets you de-stress and bond with coworkers while staying fit.
Virtual team building activities
There are plenty of virtual escape rooms, trivia nights, magic shows, museum tours, and other cool events that can be hosted online!
You can also create a poll and ask your teammates what activity they'd prefer.
Conclusion
In the end, successful remote communication is a key component of any long-term working relationship.
Of course, not all remote teams function like startups, however, regardless of an organization's size or structure, these principles still apply.
By developing strong communication skills and holding team meetings regularly, every remote team can improve their working relationship and ultimately their bottom line.