You've switched from a full-time job to building a consultancy business. You might have already reached a higher income than what you used to earn at your 9-5 job. But the growth is very slow.
Your capacity is limited, and scaling your business means having more clients and less sleep. Or not?
What if we say you can double your profits without gaining twice as many clients and sacrificing your flexibility? Here's how.
Choose a model to grow your consulting business
First, you need to choose the direction of growth.
You can grow as a solo entrepreneur or build a strong consulting firm. Any of these options is scalable – you just need to determine which one is right for you.
Solo model
Many consultants consider this model as a starting point. They work as solo entrepreneurs up until they gain a client base and feel the need to hire someone to assist them with projects.
But do you really need to follow this path to grow your online consulting business?
You can build a profitable consultancy without becoming a people manager. By having a strong personal brand and a well-thought-out customer acquisition process, you can reach the desired income level as a solo consultant.
Agency model
In this model, you hire employees or partner with freelancers to increase your capacity and be able to serve more clients. Most often, a consulting business owner manages the relationship with the client on their own, but there's also a team that handles a significant part of the work.
The agency model allows you to scale your consulting business (almost) without limits.
Although it's very lucrative to start a full-fledged agency and manage a team of experts, you need to revisit what has motivated you to go freelance. Was it the need for higher flexibility, increased revenue, or the urge for being an individual contributor?
If you didn't like being a manager at your previous job, would you be ready for it now?
This model is right for people who are willing to delegate and boost their people management skills.
Hybrid model
The hybrid model is one more way to grow your consulting business without extra resources.
The model involves the development of multiple packages that include services or products your clients typically need.
For instance, along with providing 1:1 calls, you can offer team training that requires the same amount of hours but costs more. As an additional package, you can include agency services where you do all the work for a set price.
Only when you identify the model that's best for you, it's time to build up a growth strategy.
Decide on pricing
Focusing on high-ticket clients is good, but not everyone should pursue this model.
Instead of putting all your eggs in one basket and relying on one big client, you might work on small projects that allow for more freedom. Once one of them decides they don't need your services anymore, it won't affect your income dramatically.
Of course, you can be open to small and big clients at the same time. Just develop separate packages that will fit clients with different requirements and needs.
Next, consider your consulting business model. If you already work at full capacity as a solo entrepreneur, increasing your pricing is one of a few ways to boost your revenue.
When updating your pricing, consider the following aspects:
the time you spend on sales calls, proposal preparation, and onboarding;
the time you spend preparing for consulting calls;
the money you invest in promotion campaigns;
the number of leads and sales calls every month;
the strength of your personal brand.
We don't recommend that you consider competitors' prices – this is the right way to underprice your work. A huge benefit of running a consultancy business is that it's your reputation that determines the costs of your services, not the market rates.
Last but not least, don't forget about retainer fees. When you sign small clients, you still spend as much time on preparations as you do for big clients. It can be that you can't grow your consulting business because you spend too many resources while serving small clients that disappear too fast.
Include a fee that should be paid before you start working on the project. The smaller the project is, the higher the fee should be.
Identify your ideal clients
Although you aren't obligated to focus on one type of client, it helps a lot when you know exactly what your ideal project is.
In our experience, you don't determine your ideal client by yourself. It takes a bunch of successful collaborations and several failed projects before you're able to identify the characteristics that distinguish your best clients.
After working as a freelance consultant for a few months, you should be able to determine the minimum budget, category, and business model of your ideal client. With this information in mind, you're able to pursue the most promising leads and prioritize your future clients in a way you don't lose profitable projects.
Design landing pages
The success of your consulting business depends on many factors. The average cost of building a website (development and design) is low, however, you still need to consider social media marketing strategies and content marketing strategies.
Even if you have a strong social media presence and don't plan to build a website, having landing pages that feature your services is a must.
A good landing page boosts the credibility of your consulting business and allows your prospects to better understand what you offer before reaching out to you.
There are two major strategies for scaling your consulting business: by increasing the pricing and by increasing your capacity. The latter requires finding ways to save time by streamlining the processes or/and hiring more people.
Since any consultancy business model will benefit from you having more hours that could be sold, it's extremely important that you stop wasting time on repetitive tasks. Among these tasks is the need to explain what you offer to every prospect – even when they appear to be the wrong fit for your consulting business. This is where service landing pages come in handy.
Design one or several pages featuring your packages, pricing, customer reviews, etc. – and you'll save the time you might have spent on clients who lack the budget to work with you.
And if you prefer to vet prospects who can access your pricing, you can build a separate pricing page and send it to people who reach out for a quote.
💡Pro tip
Allow people to book you through your landing page. Having a booking page is a must for any consultant so make sure you create one and embed it on your landing page.
Promote your business
When you have a landing page, it's easier to promote your consulting business. Now, you can use it in your paid advertising campaigns, link to it on your social media, or even do some keyword research and off-page SEO to drive search traffic to it.
We've already covered how you can grow your consulting business by increasing rates. This is an effective strategy for established experts with a steady flow of leads. For those who still have slots for new clients, we have a strong promotion strategy to offer.
First, optimize your landing page(s) for search engines. As consultants heavily rely on paid advertising and social media marketing to promote their services, it's still relatively easy to reach the first page of search results for experts across different industries.
For instance, the 'Google Ads consultant' query has a search volume of 320 – meaning there are approximately 320 searches per month for this specific keyword – and keyword difficulty of 46%, which means it's quite possible for new pages to outrank the ones from top-10 Google search results.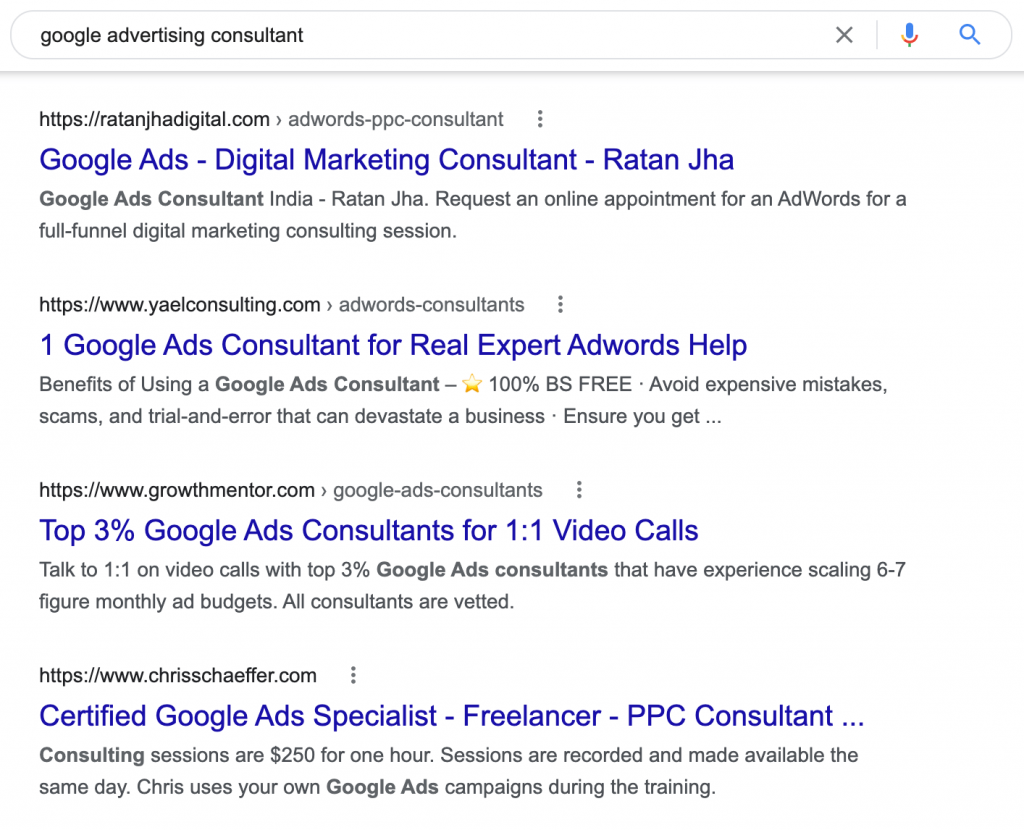 To reach and convert highly relevant audiences at scale, run paid advertising campaigns. Pick a channel your ideal customers spend time on and set up a few targeted campaigns.
But don't rush into advertising on highly competitive channels, like Facebook. Consider less costly but nonetheless effective Facebook Ads alternatives, like native advertising or Quora ads. The choice of the channel depends only on your niche.
You should also think about using an ad-tracking tool like Voluum, for example, to collect detailed data about your audience and conversions.
Pre-qualify prospects
Another time-saver is a good lead capture form (or contact form). Include questions that will help you pre-qualify prospects before you even get in touch with them.
We've already said you need to identify the characteristics of your ideal clients, and this is the step where you get a chance to single out this data.
Are you focusing on working with enterprises? Encourage your leads to specify their company size and budget. Are there specific niches you want or don't want to work with? Ask leads to choose their category from a dropdown list.
Then, you can either review submissions manually and prioritize leads that best fit your customer persona or create a simple lead scoring model. Assign each possible answer a certain amount of points so that a person who meets all the criteria gets a score of 100. This way, the more points a lead receives, the faster you need to follow up with them.
Create proposal templates
Just like a landing page, proposal templates will help you communicate with your prospects more effectively and save precious hours of work.
You know who your ideal clients are and what information your proposals always include. Create proposal templates that you can reuse for new potential clients without the need to start from scratch each time.
Here are some sections you might want to outline:
Your qualifications. Who are you and why do you qualify for this project?
Client's goals. What does your client want to achieve with this collaboration?
Scope of work. What are you offering?
Fees. What's your pricing?
Pick one social media channel & grow there
The success of your consulting business largely depends on your social media presence.
As a spiritual life coach, you can use Instagram for building a network of potential clients. As a B2B marketing consultant, you'll benefit from a strong LinkedIn presence.
YouTube, Quora, TikTok, Instagram, and LinkedIn – these are just a few channels that you can choose from. Pick one of them and grow your presence there.
With thousands of followers, you won't need to explain why your pricing is high.
Automate processes
Spend some time on automating the business processes now and save hours of work in the future.
Today, you can automate almost every part of the sales cycle. Lead generation, lead scoring, email campaigns, appointment scheduling, follow-ups, and many other tasks don't require manual effort anymore.
For instance, when you set up simple automation that sends out reminders 30 minutes before the call, you'll avoid dozens of cases when a prospect or a client doesn't show up.
There are tons of online consulting tools and apps that are built to help you organize your consulting practice and be more efficient.
Consider your business needs and pick those that tick most of your boxes.
Pick a strategy & stay consistent
That's it.
Rapid growth doesn't happen overnight. Decide on your business model and a growth strategy before you take any further steps. When you have a clear action plan, follow it and don't give up after a few weeks.
Set a time frame and take consistent action throughout this period. In a few months, look back and see whether the strategy has worked or if you need to revisit it.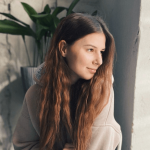 Adelina is a Content Marketer at Joinative, a native advertising agency, and SaaS. She's responsible for building marketing partnerships, establishing content collaborations, and developing actionable resources for advertisers.