The topic of remote work is not anything new or radical anymore.
In fact, it is becoming the norm with more and more companies either switching to exclusively remote work or to a hybrid work model.
One aspect of managing a team remotely, however, is often overlooked – virtual leadership.
Leading a virtual team that you cannot see every day might seem like an impossibility, but with the right skills and practices, it can be done successfully.
I dived deep into the virtual leadership role to find out what are the essential skills and best ways to lead your remote team to success. But first things first – what is virtual leadership?
What's virtual leadership?
Virtual leadership is the ability to lead a team when you are not physically present.
This can be done through various means of communication, such as video conferencing, phone calls, emails, and instant messaging.
Strong communication and organizational skills are needed to be able to effectively lead a remote team.
Furthermore, virtual leaders must also be good at delegating tasks, giving clear instructions, and providing guidance and direction.
Virtual leadership – essential skills and best practices
Leading a remote team requires you to be self-motivated, organized, and flexible. It requires you to be a good listener, communicator, and collaborator.
However, with all of those challenges in mind, you can also see the opportunity that remote work presents: the ability to build a more flexible and cohesive team.
To succeed as a virtual leader, you need to adopt a few essential skills: trust, communication, and collaboration.
Avoid being Big Brother
The workforce moving to work from home must have been a nightmare for all those team managers that like to monitor their employees' every move.
The ones that track if your lunch break was 5 minutes too long or how many times you use the bathroom. (I sincerely hope you are not one of them.)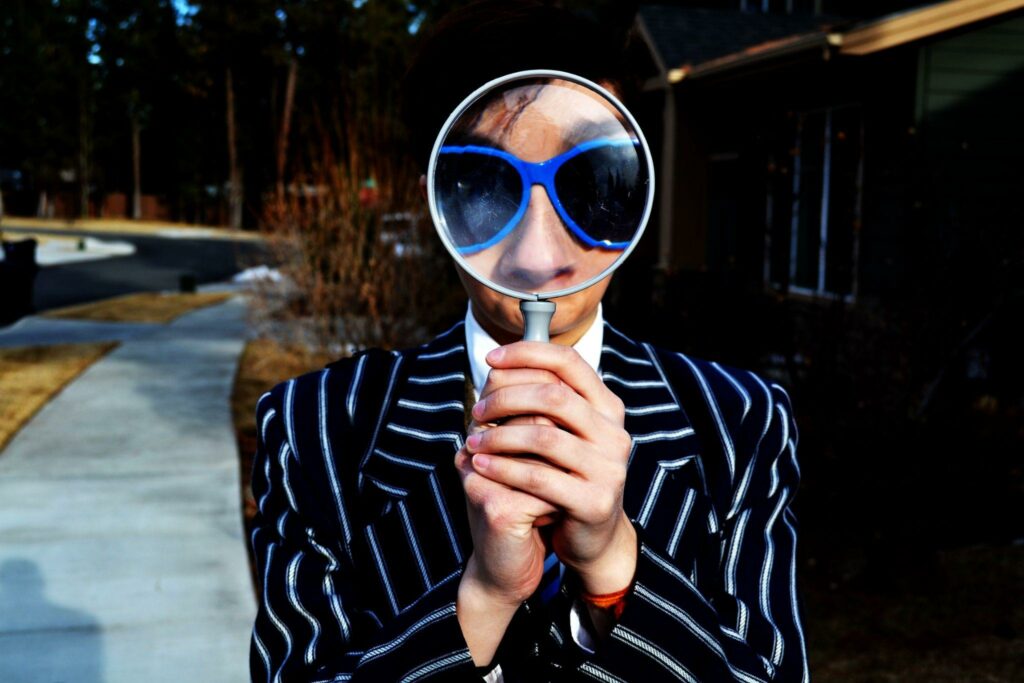 While there is software that can track what workers do remotely on their computers, resist the temptation of turning the job into an Orwellian nightmare.
The employees will resent you and the job greatly and will (always) find ways around it.
Simply put, trust that your team will not slack off or dilly-dally and that it will do its job.
Video call fatigue
What is the nearest substitute to seeing a person in real life when working from home?
You guessed right – video calls.
This might cause a lot of managers to reach the conclusion that they must hold a video call for everything.
Discussing the schedule – video call. Arranging vacations – video call. Introducing a new employee – video call. Positive/negative feedback – video call.
However, this is excessive and might even be counterproductive.
Ask yourself the question: "Do I really need a video call if an email will do the job just as well?"
Wanting video calls all the time creates pressure on the workers and can disrupt their schedules.
Trust that they are smart enough to understand an email.
Keep video calls for important matters.
And talking about video calls, finding a time slot that fits every team member's schedule might be extremely difficult.
Having a shared team calendar is one of the first things you need to arrange as a virtual team leader.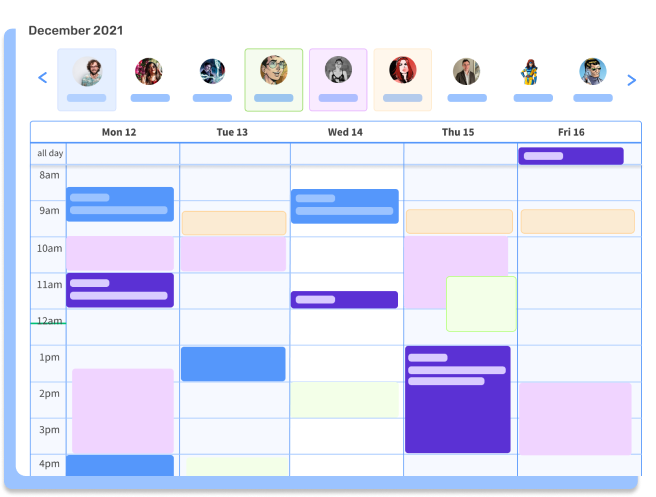 If you have a full overview of your team's availability, you'll be able to schedule one-on-ones, trainings, or daily stand-ups without going back and forth until you find a suitable time.
Maintain a clear, concise, tight communication
Good communication is the key to managing a virtual team or online workspace, this should be obvious to anyone.
This applies to every type of communication, be it email, chat, phone call, or carrier pigeon.
As a virtual leader, you should lead by example.
Avoid using confusing language, slang, or terms you are not sure the workers know.
Include all the details someone might need and avoid unnecessary information.
Take into account the Poe's law
Poe's law is an internet adage that can be interpreted as: "It is impossible to know an [internet] author's true intent."
What this means for online communications is that sometimes it is really hard to know what the other person actually means.
Can you gauge if a person is angry, happy, nervous, bored, etc. just by reading a line of text?
Probably not and neither can they.
This lack of social cues is one of the big problems for communication over the Internet.
As part of your virtual leadership role, you need to learn how to cope with Poe's law if it occurs during team communication.
For example, if you are trying to make a point about how ridiculous something is, make sure that your audience knows that you are not actually advocating for that thing.
Using emojis helps a lot to show more expression in an online conversation.
Be human
The remote working revolution has created distance between employees and employers and one of the results of that is the dehumanization of the workforce.
That one guy from Accounting you used to meet every day in the elevator is now just a name on a computer screen and you are just a number in his spreadsheet.
Don't be just a tab in an app that gives orders and feedback, and only talks about quarterly performance.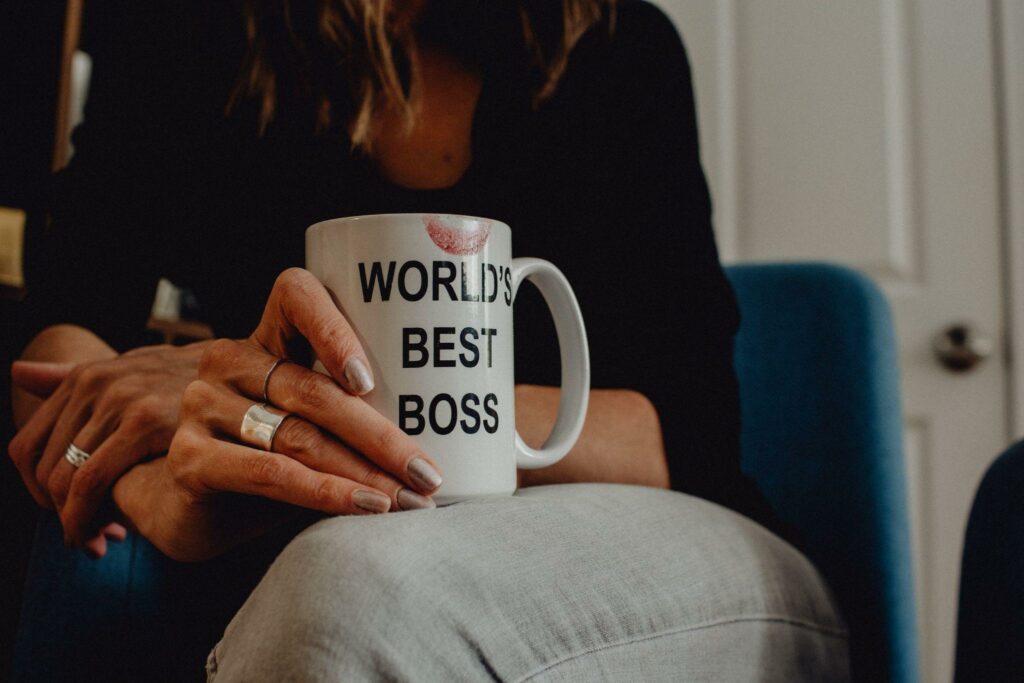 Add a joke here and there, use emojis, share memes, and don't only talk about work.
You can also create a special channel on Slack for all non-work chats and topics, a place workers can just socialize.
And don't forget to socialize too!
Get to know your team members and subordinates and build a relationship with them.
Organizing virtual team buildings is another good idea to build reliable connections with your co-workers.
With all of that said, don't force yourself to be funny or sociable. Just be yourself.
Choose the right tools
Analyze what you, your company, and your team need for proper communication.
Emails could be used for non-urgent messages and formal communication. Chat systems can be reserved for in-house channels only, and faxes are great if you live in the 1980s.
Video conferencing solutions are a great choice if you manage a remote or hybrid team.
However, having an all-in-one online tool that combines video calls, meeting scheduling, and a shared team calendar is a lifesaver for any virtual leader.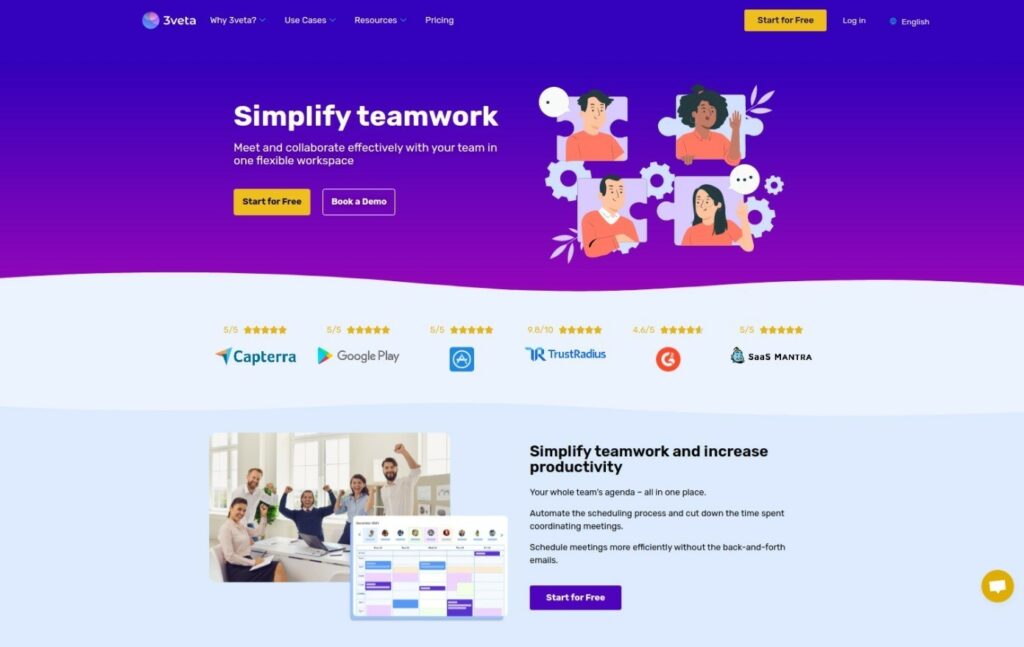 Of course, there are other types of tools that are needed for most remote work jobs – cloud storage, project management tools, productivity apps, etc.
Be flexible
Flexibility is one of the buzzwords of the working-from-home movement and it applies to remote employees, team managers, and the job itself.
Lead your remote team with empathy.
Consider offering your team members the option to choose how and when they want to work.
In such a case, an end-of-the-month (or week, or day) goal is more important than employee X being at his computer between 9 and 5.
If someone prefers several short breaks instead of one long one – make it so.
If one member of the team moves to another country and prefers working during the night – let them choose their work hours.
In short – trust that your employees are responsible and will do their jobs and will meet the goals you've set. And remember that being remote means they can always lie to you. Build an environment where they don't have to.
Set realistic goals
Pretty much everybody heard or read at least once that working from home can increase productivity.
It is one of the big advantages of the remote work movement. But this doesn't mean you should exploit this extra productivity by demanding people work more.
And definitely do not automatically assume there is extra productivity with all workers!
Talk with them, and discuss what goals are realistic and what is doable.
This way, you will show your employees that you trust them and that you care about their opinion.
Do not turn into a ruthless despot with a virtual whip!
Always that one person
While trusting your virtual team is important you can also be sure that there will be those that take advantage of this trust.
Some remote employees might treat working from home as a vacation, especially since you are not there to check on them.
Others will simply be less productive.
There is really no way to know what a worker is like when working from home – this is the Great Remote Work Lottery.
Understand that this might happen and it is important to prepare for such cases.
Final thoughts
If you read the above and thought that most of the tips apply to normal in-person jobs too, you'd be right – the overlap is significant.
Virtual leadership is not much different than in-person leadership. It just requires a new way of looking at things.
The main challenge with leading a remote workforce is that a lot of the issues come from communications hurdles and the lack of visible social cues.
As a virtual leader, your main task is to prevent these problems from impacting the work process by preparing the team for this change.
In short, virtual leadership may take more effort to learn and apply than traditional in-person leadership, but once you have it down pat, it can be gratifying for both you and your team.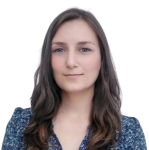 Evelina is a digital marketer who is interested in the intersection of technology, productivity, and work-life balance. Always keen on learning about new and innovative solutions in the world of marketing. She is passionate about traveling and exploring new places, and hammocks are her natural habitat.