These days, project collaboration is the name of the game.
But, how do you keep your remote team engaged?
While companies and businesses can operate seamlessly in the digital space, it doesn't happen overnight. Managing your clients, staff, and freelancers in a network of virtual offices can pose a challenge even to the most seasoned of managers.
Unlike working in a physical office, team members don't get to meet and interact with each other.
There's no corner to hang out, bond, and discuss work and other mutual interests. People are physically separated and not emotionally connected -making it difficult to build familiarity and close relationships between them. Plus, the response speed for project collaboration in remote settings is quite different. Missed messages and delayed replies will cause team members to second guess their messages which can lead to anxiety.
Remote and hybrid teams need a different mindset, tools, and processes to communicate effectively.
We've rounded up 9 essential project collaboration tips for hybrid teams.
What is project collaboration?
Project collaboration is an essential part of every project. It consists of different people or different teams working together on a set of tasks.
The job of a project manager is to make sure the project comes to life. However, a good project manager would always focus on enabling effective project collaboration.
1. Keep them video calls rolling (but maybe change their purpose)
Distributed teams are distanced by definition.
And they are distanced in several different ways. There are 3 main types of distances a remote and hybrid team experiences:
Physical
Operational (differences in skill levels, bandwidth, and size of team)
Affinity (challenges that hinder a remote team from forming meaningful, long-term relationships based on trust, shared value, and interdependence)
Of the three mentioned, affinity has the greatest impact on your team's long-term performance.
This is where video communication is proven effective as it helps improve collaboration between departments and builds emotional bonds among team members. Seeing each other regularly and communicating synchronously helps the team overcome affinity distance.
2. Use remote project collaboration tools for project management
There's a plethora of applications available to help you manage a remote team.
The key to the right tools is project collaboration. Which tools allow you to COLLABORATE better?
Just by going to the websites of several companies and reading their headlines, you can get a decent idea.
Trello
Trello is one of the go-to places for simple projects with multiple collaborators.
How do they phrase it?
'Trello helps teams move work forward.'
Just below: Collaborate, manage projects, and reach new productivity peaks.
Miro
Miro is one of the leading whiteboard software. Their headline is "Where teams get work done".
Just below you can read: The online collaborative whiteboard platform to bring teams together, anytime, anywhere.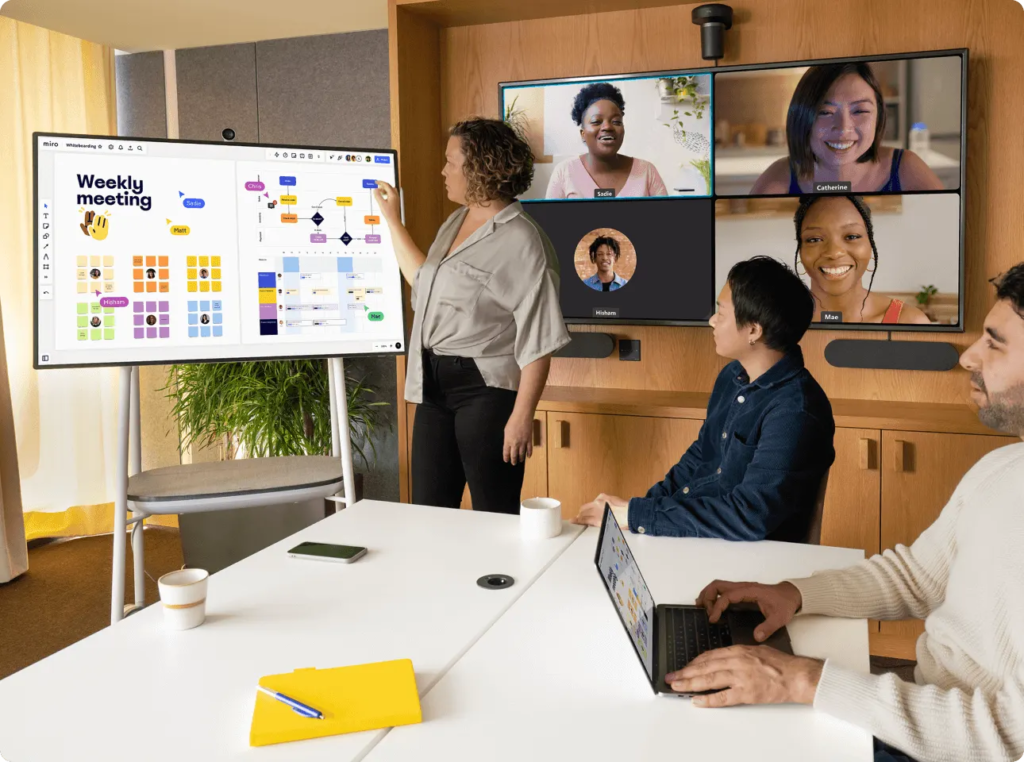 3veta
3veta is an online platform that simplifies meeting scheduling for remote teams.
Reading the headline you can immediately see: "Where remote teams meet and collaborate".
If you manage a hybrid team, you must stop thinking about how you 'used to work' and start thinking about how you should be working.
Maybe a shared team calendar is something you need? If so, go get one.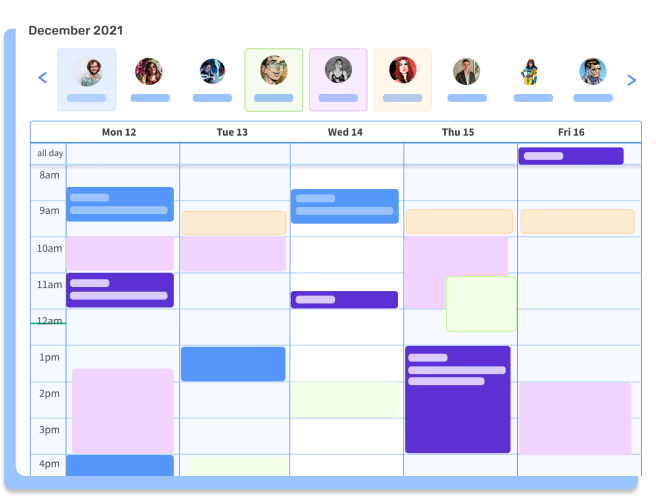 More tools
If you are looking for more tools that can help your remote project collaboration, here's a non-exhaustive list.
You may also want to read: Virtual Project Management: How to Organize Your Remote Team.
3. Take advantage of one-to-one text messages or DM (direct messaging)
The numerous short conversations you're used to having in person must continue to take place but in a new medium.
And, not necessarily through emails as it might put additional strain on team members' inboxes.
A direct messaging platform would make short exchanges possible.
And it doesn't get better than Slack or Discord. Both of them allow you to move your whole organization to one place in a very organized way.
Using group chats and instant messages will supplement your regular communication channels and help keep your team on the same page even if they aren't in the same ZIP code.
4. Celebrate team and individual accomplishments
Birthdays, festivals, sports events, and milestones are all celebrated when we were in the office. However, most remote teams disregard this since it is difficult to do.
But, even if you can't get together to decorate or share a meal, any good team finds a way to celebrate.
Just singing "Happy Birthday to You" or sharing a PowerPoint presentation to highlight someone's achievement goes a long way.
Do you want to be the best boss? There is nothing better than scheduling the last hour of the day off for everybody to celebrate someone's birthday. This elevated time together will be the best present for everyone.
5. Make use of virtual team-building activities
Loneliness is undoubtedly the most serious issue that remote workers face. It can lead to disengagement, reduced productivity, and even employee turnover. To prevent this, proactively build social bonds between team members. By connecting, team members communicate better, discuss issues more openly, and find solutions to issues before they become too big.
Building better connections while having fun is possible by hosting team-building events online, like:
Every week, have a virtual happy hour with a different themed cocktail.
Regular virtual trivia nights
Video coffee dates – conducted across teams to facilitate non-work-related chats (that's achieved quite easily with Donut)
Incentivized costume contests for special holidays like Halloween, Christmas, or Valentine's Day
With a bit of imagination and a good WiFi connection, video conferencing can be used for almost any social activity.
Any fun activity is a guaranteed way to improve project collaboration between departments.
Want to learn more about virtual team building here: Virtual Team-Building: 9 Activities to Spice Up Your Remote Workplace
6. Set up a support system for the team to enable project collaboration
Create a support system for your team's tools and processes. You can develop a knowledge base or a list of frequently asked questions (FAQ) about how to set up and utilize the tools.
The majority of the applications you use will come with their own support systems, such as a self-help website and customer service, but you may want to supplement it with information that focuses on how your company uses the tools.
If you want better ticketing, HelpScout could definitely help with that. I've used it for years and it is one of the best ways to communicate with customers.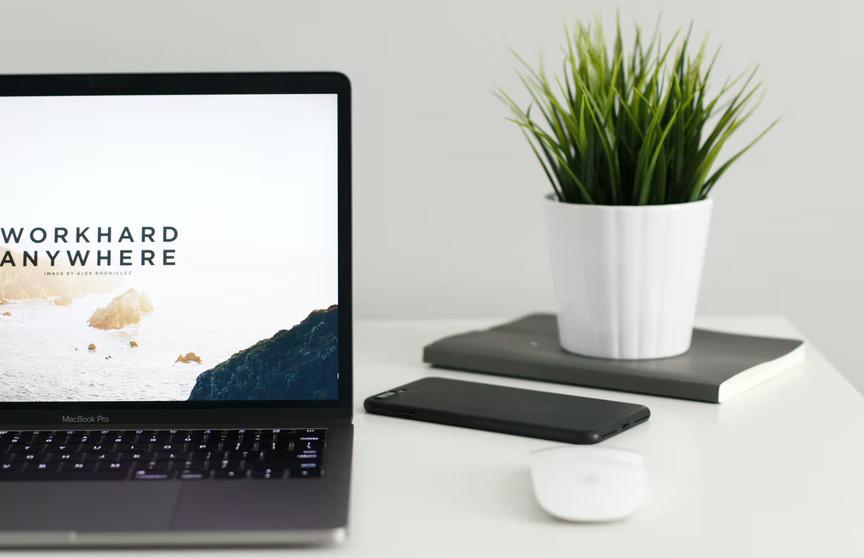 Publish and circulate links to policy documents and processes so that they can be accessed easily. Automate your routine operations, such as submitting a leave application.
Provide a single point of contact for the team to coordinate any help that the members may need. Establish specific instructions on who to contact and what to do in the event of an emergency.
7. Set up a virtual "water cooler"
Office water coolers are meant not only to quench thirst but a hot spot for people to hang out and discuss everything under the sun. Watercooler conversations are a fantastic way for people to get to know each other and form bonds based on shared values and interests.
Set up a virtual equivalent of this by creating a separate channel in your messaging tool. Encourage your team to engage by participating actively.
You may need to enlist the help of others initially until it gains traction.
People can post about movies they binge on, their pets, vacation photos, and even jokes.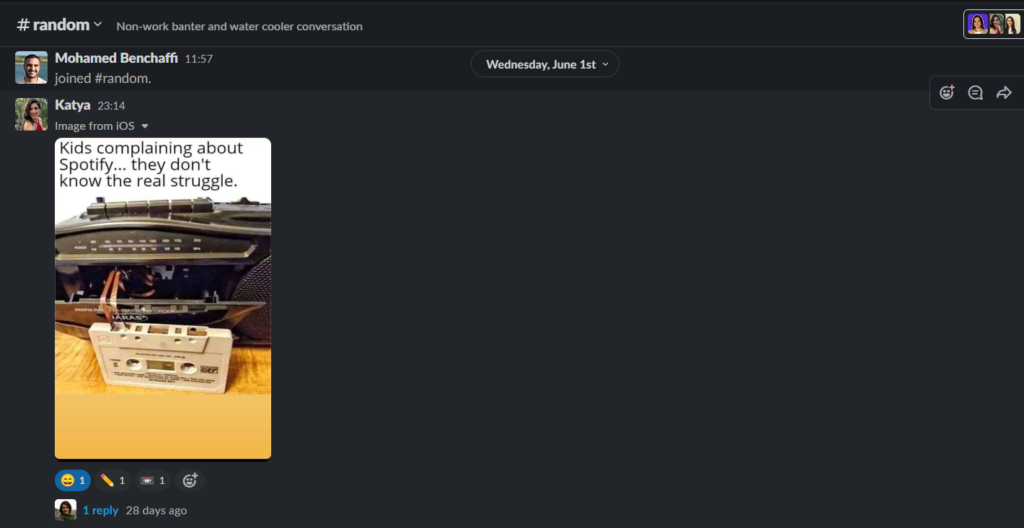 8. Share Project Updates & Foster Transparency
By encouraging your team members to be open and honest about their work, you're fostering a workplace culture that values honesty and asking questions.
If there's no transparency, teams may become quite isolated and separate. This type of division frequently leads to confusion, work duplication, backlogs, and even frustration among teams that feel "out of the loop." Regular sharing of project updates will help improve project collaboration between departments.
You can break walls and bottlenecks and encourage transparency by:
encouraging teams to express their concerns and not be afraid to ask "why?" rather than simply accepting the status quo
holding regular all-hands remote-friendly meetings with ample time for questions and answers
being straightforward and honest with team members about company changes
allowing team members to share feedback
celebrating company wins & milestones as a team effort
Once the team has nurtured a culture of transparency and a sense of ownership, accountability comes easy. When team members feel accountable, they are more empowered in their ability to explore, experiment, fail, and learn which will result in better performance and more wins.
Final words
So, why is project collaboration important?
In a digital workspace separated by time zones and different zip codes, collaboration is the glue that keeps the team together.
More importantly, we should keep in mind that any successful venture is built upon a relationship nurtured in an environment of trust.
Online remote work is no different. No matter how fast new technologies emerge and how the workplace landscape was changed with the rise of the digital age, basic principles remain true: trust is the vital element to successful project collaboration.